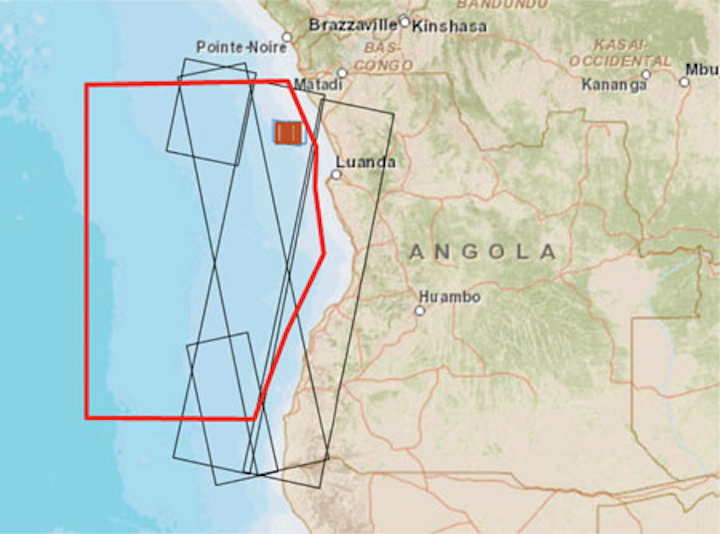 Michael Hall
Airbus Defence and Space
Observations using satellites orbiting thousands of meters above the Earth allow energy companies to regularly monitor sites for oil spills and leaks, without the costs associated with conventional monitoring techniques.
Satellites have a range of applications relevant to offshore operations including providing telecommunications between platforms and shore-based controllers and navigational data for positioning offshore vessels. Over the past couple of decades, the quality and agility of image sensors mounted on earth observation satellites, and the associated image processing technology, have improved substantially.
From the first seismic study commissioned for an oil or gas prospect to the final day of a field's decommissioning, satellite images can make a significant contribution to the monitoring needed to make sound decisions concerning oil and gas-related assets. Especially since many of these facilities are in remote, hostile, environmentally and culturally sensitive locations.
Satellites now offer image resolution down to at least 50 cm while the time taken between image capture and delivery is continually being reduced. Also, as satellite technology has improved, so has the range of application areas including offshore assessment of seabed habitats and bathymetric mapping. Current sensor technologies are enabling enhanced clarity underwater, offering sight up to around 100 ft (30 m) in clean water, which is important for example, in tropical waters.
A recent satellite-based pollution monitoring program involved use of the TerraSAR-X radar satellite over the Persian Gulf. This led to accurate mapping of ship and rig locations, with potential slicks classified into three pollution confidence levels based on context and morphology. The entire process of image acquisition, processing, information extraction, map production, and delivery was completed within 24 hours.
Offshore Angola
A group of satellites operated by Airbus Defence and Space were recently tasked to complete a pilot test for institutional interests in an evidence gathering trial of its constellation's capability. Twice daily, over an 11-day period, satellites passed over an offshore region in Angolan waters covering several thousand square kilometers, including all the country's major producing fields such as Girassol, Tulipa, and Bengo.
Using a combination of radar and optical data gathering, all offshore activity including that of fixed facilities, drillships, support vessels and tankers, was imaged and identified. Oil slicks were also documented and classified. Both the optical and radar constellation were leveraged, adapting the tasking strategy to the weather conditions: radar satellites, for example, when weather conditions led to thick cloud cover or optical satellites for the highest resolution imagery when clear weather conditions allowed high visibility.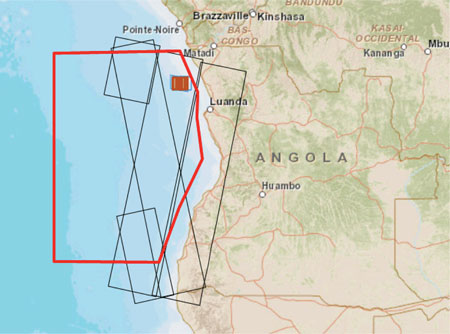 Area offshore Angola where Airbus Defence and Space-operated satellites conducted a pilot test.
Analysts used optical images from the Pléiades satellite to identify ship traffic entering the area around production vessels, and to classify whether this was tankers, support vessels, or drillships. The Pléiades satellite's optical capability was also used to assess ongoing activity such as water discharge, flaring, and helicopter movements. In addition, certain time-sensitive and irregular offshore activity could be analyzed, such as degassing.
During the trial an oil slick was identified from images taken by the SPOT 6 satellite, with the slick tracked to an FPSO. Through accurate, regular imaging it was possible to plot the course and progress of the slicks. Bespoke maps were compiled showing slick locations and related features. A classification system was also applied to assist in determining the probable source of the pollution, for example whether it was a natural subsea oil seep or from a leaking riser or flowline. The slick classification was based on various characteristics including morphology, size, location, direction of flow, and context.
The combination of radar and optical surveillance tools, proved particularly effective. Radar satellites, such as the TerraSAR-X operating in Wide Scan SAR, are effective for leakage detection over large areas of open sea based on the mirroring effect oil slicks have on the water surface, as waves are dampened by the oil presence. Optical sensors can identify the smallest items in high resolution.
Security scenario
In addition to the environmental risk associated with routine operations, offshore and near-shore infrastructure and facilities are vulnerable to malicious acts. These attacks have the potential to cause oil leaks from drilling rigs, FPSOs or platforms, posing risks to offshore personnel as well as potentially significant environmental and commercial impact.
When armed militia groups attacked oil refining and storage facilities in Tripoli, Libya's capital, fears quickly grew that many of the millions of barrels stored on site could spill. Airbus Defence and Space was commissioned to use its satellite-based Instant Tasking service to provide high-resolution imagery of the facility. Within 90 minutes of the satellite passing over the selected area, a high-resolution image became available to planners working thousands of kilometers away, allowing swift, time-sensitive decisions to be taken.
Airbus Defence and Space is launching a 24/7 emergency response subscription service, enabling customers from the upstream sector to obtain access to satellite imagery in response to the many potential emergency scenarios that may occur, from terrorist attacks to accidental oil spillage. The service makes use of pre-trained staff experienced in satellite tasking procedures to give customers access to the company's range of satellites.
Subscribers also receive data interpretation and planning for ongoing monitoring in the aftermath of an emergency.