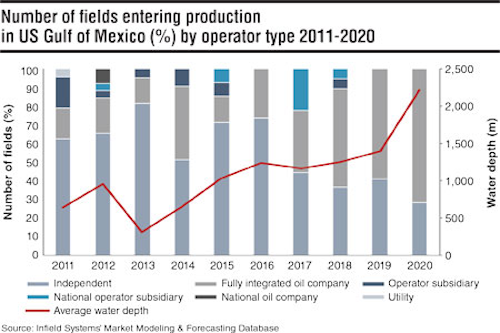 US Gulf of Mexico
This month Infield looks at field developments in the US Gulf of Mexico (GoM) which are anticipated to enter production before the end of 2020. 72% of the fields expected to start production are situated in water depths greater than 1,000 m (3,281 ft), providing potential opportunities to the subsea supply chain. Historically high oil prices and maturing shallow water production encouraged deepwater exploration before the current low oil price environment took hold.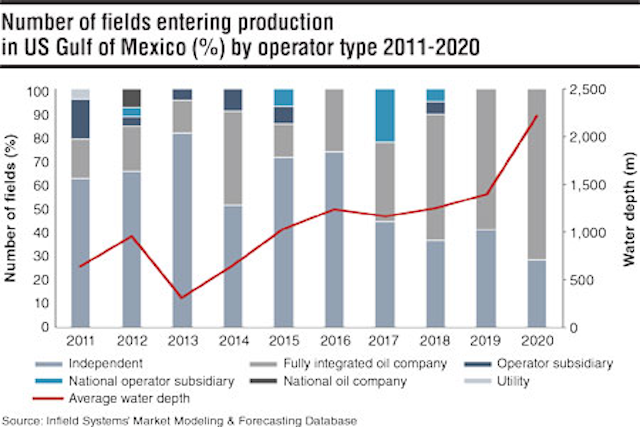 A recent development is the start of production at ExxonMobil and Statoil's Julia field in the Walker Ridge area. Shell's phased Stones development, located in water depths of around 2,896 m (9,501 ft), also is expected to start operations this year. The first phase of the project comprises eight subsea production wells tied back to SBM Offshore's Turritella FPSO, which will become the world's deepest offshore production facility. Other Shell developments which could also start production include the ultra-deepwater Appomattox field. The project is being developed using a semisubmersible production platform which will also be used to exploit the Vicksburg field. Oil will be transported from the field via the 24-in. Mattox pipeline. Other nearby discoveries may also be tied into the platform at a later stage.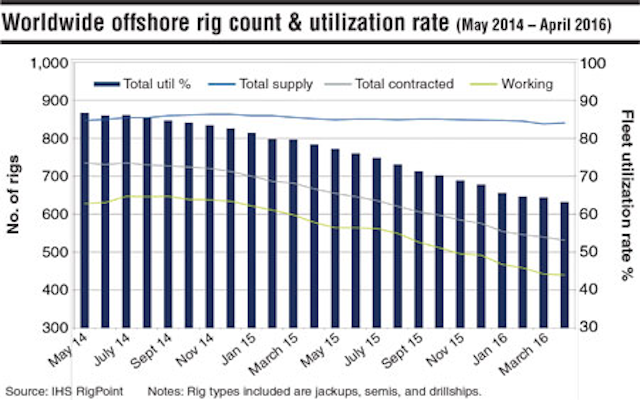 Another notable project currently under development is Hess' Stampede field, which is one of the largest undeveloped fields in the GoM. Infield anticipates Stampede to enter production mid-way through the forecast. It used a TLP supplied by MODEC. Another TLP, Chevron's Big Foot development, suffered a setback in 2015 after buoyancy modules holding the tendons failed and is now expected to start production in 2018.
-George Griffiths, Infield
Global liquids
Producing fields are the cheapest supply source, as opposed to the most expensive - non-producing oil sands - with $69/bbl. The producing fields' low breakeven price is due to past capex that we consider as sunk, cheap Middle East and shale production. Non-producing shale and oil sands are the marginal sources of supply in 2020 with high drilling/completion costs for the former and high capex/opex for the latter.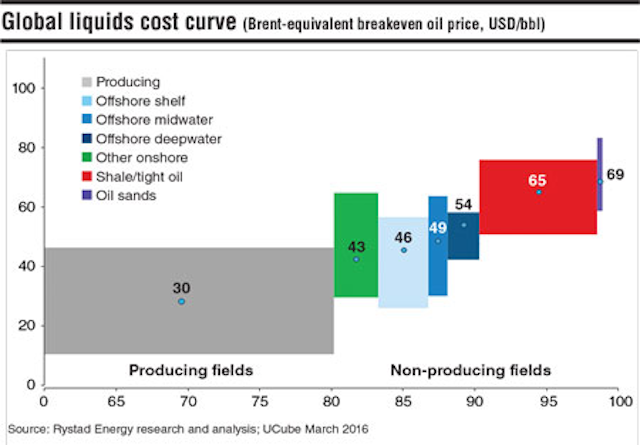 Rystad Energy's liquids cost curve is made up of nearly 20,000 unique assets by considering each asset's breakeven oil price and potential production in 2020. The breakeven price is the Brent oil price at which NPV equals zero, considering all future cash flows using a real discount rate of 7.5%.