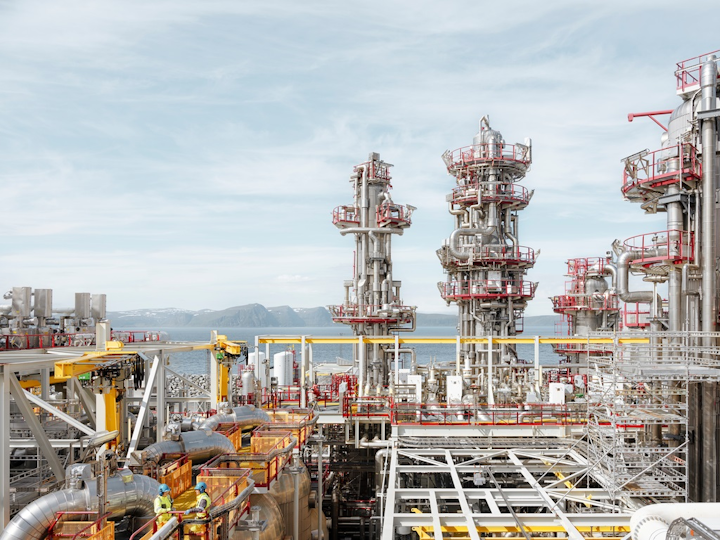 (Photo by Einar Aslaksen / courtesy Equinor)
Offshore staff
STAVANGER, Norway – Equinor plans to reduce greenhouse gas emissions from its operated offshore fields and onshore plants in Norway annually by more than 5 million metric tons by 2030.
The company has set a target of a 40% cut in emissions by 2030, 70% by 2040 and near zero by 2050.
Equinor's plan covers both 'Scope 1' and 'Scope 2' emissions of carbon dioxide (CO2) and methane.
The 2030 target will involve a combination of measures such as improved energy efficiency, digitalization and electrification projects at fields including Troll and Oseberg in the North Sea and the Hammerfest LNG plant in northern Norway that converts gas from fields in the southern Barents Sea.
Equinor and its partners expect to invest around NOK50 billion ($5.68 billion) subject to positive investment decisions across the associated licenses.
The deeper reductions toward 2040 and 2050 will entail additional measures and electrification projects, consolidation of infrastructure and development of new technologies.
In 2050, Equinor expects Norwegian oil and gas production to be less than half current levels, assuming development of certain defined projects, moves to increase production from existing fields, and continued exploration.
Currently the company is pursuing opportunities in offshore wind, carbon capture and storage, and emissions-free hydrogen based on natural gas.
At the same time, the company assumes stability going forward in Norway's tax system, and investments in the country's onshore electricity grid, supported by a continuation of the industry's NOX-fund and other measures to further reduce emissions.
CEO Eldar Sætre said: "While realizing these ambitions, we also expect our operated fields and plants to create significant value with a potential to generate more than NOK3,000 billion [$341 billion] in income for the Norwegian State towards 2030.
"New fields, field life extensions, improved oil and gas recovery and efficient operations will all contribute to substantial value creation. The new climate ambitions will strengthen future competitiveness and value creation for Equinor, while supporting industrial developments in Norway."
01/06/2020