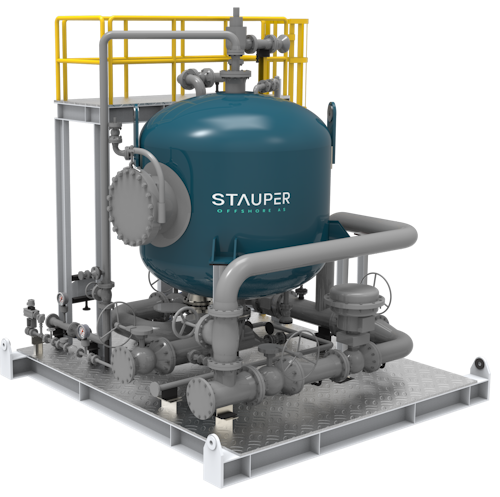 (Courtesy Stauper Offshore)
Offshore staff
SANDEFJORD, Norway – Equinor has awarded Stauper Offshore technology qualification for its latest generation Compact Flotation Unit (CFU) for removal of oil and gas from produced water.
The patented technique is deployed as the final step before discharging produced water to sea, with minimal oil-in-water levels post cleaning for environmental reasons.
Equinor and COWI tested the CFU at the Grane field in the North Sea; results showed the system had removed up to 99.5% of oil from the produced water.
The technology qualification allows for first use at Equinor installations.
Over the past 18 months Stauper has also won several orders from CNOOC for the CFU system, with units since installed on various platforms and FPSOs in the South China Sea, supplied in collaboration with Chinese engineering and construction company BOMESC Offshore Engineering Co.
The most recent of the five accepted CFU installations came online at the Caofeidian oil field development in Bohai Sea.
Stauper's CFU, which is said to consume no energy and to require minimal maintenance, 'polishes' produced water by introducing gas bubbles from the bottom of a vessel where the bubbles attach to the oil particles left in the water.
The oil is then transported upwards and siphoned off at the surface.
12/03/2019