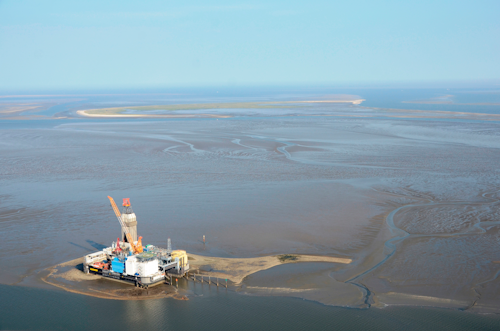 (Courtesy Wintershall Dea)
Sean Mackie, Wintershall Dea
Wintershall Dea's Mittelplate drilling and production platform in the German North Sea and nearby Dieksand land-based facility are getting a digital twin. The aim is to optimize the operations and production of the Mittelplate oilfield and improve maintenance and work processes on Dieksand by making all necessary data available and usable so that advanced analytic and predictive tools can be deployed. This requires new technology and new ways of working.
The digital twin will provide a complete virtual representation of operational reality, with both real-time and historic data, making it accessible to anyone regardless of their location or device. The objective is to gather all data, bring it into context and visualize it using dashboards in combination with powerful analytical tools to provide engineers and operators with the information they need to make better informed decisions and increase long-term profitability. To help achieve this Wintershall Dea has formed a strategic partnership with Norwegian-based technology company Cognite.
The Mittelplate platform, which started production in 1987, is in the Wadden Sea tidal flats off the Schleswig-Holstein coast and is connected to Dieksand land via two pipelines, one exporting the field's oil, the other returning associated produced water for re-injection. The platform, which is protected by 11-m (36-ft) tall sheet piling, is effectively an ultra-shallow water artificial island.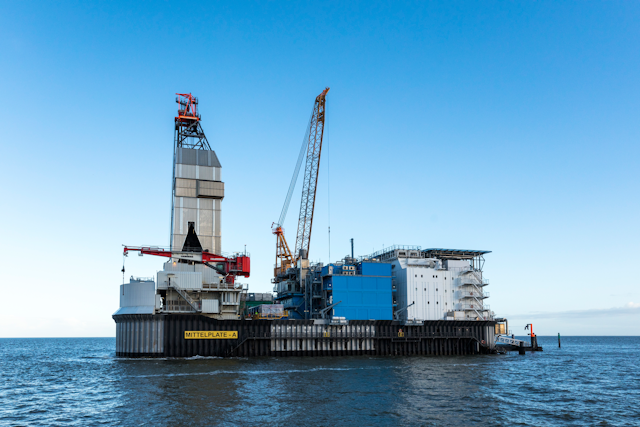 The Mittelplatte platform in the German North Sea.(Image courtesy Wintershall Dea/ Christian Bruch)

Mittelplate and Dieksand were chosen as a lighthouse digital twin project at Wintershall Dea as the field is well-known beyond Germany for its high environmental and safety standards as well as its long extended reach production wells. The fact that Mittelplate is more than 30 years old does not change what the company is setting out to achieve. In fact, there is a benefit in being able to draw upon skilled personnel with the domain knowledge needed to develop valuable digital solutions. Of course, it is a different dynamic with an older asset. There is not the luxury of implementing digital capabilities into the design like a brand new one, which is the typical scenario presented at technical conferences today. However, at Mittelplate and Dieksand the company is making significant progress and is proving that digital transformation is achievable on any asset regardless of its age.
Like many oil and gas companies, the problem Wintershall Dea faced was that access to data is cumbersome as information such as sensor data, equipment history, and other documentation are locked away in multiple systems potentially with different data owners and system experts. This meant that equipment alarms and personal experience were driving maintenance analysis and decisions – not necessarily data. Of the many problems that face data-driven decisions, a lack of liberated, usable, and sharable operational data stands out. This was one problem management wanted to tackle together with experts from the asset.
The company decided to partner with Cognite because of its cloud-native Cognite Data Fusion technology where data is not just stored but also contextualized and available as a service. Furthermore, digital transformation is not only about technology, it is in fact largely about organizational transformation. This was another area where Cognite could help as they are adept with agile ways of working, something that management was eager to implement.
In May 2019, two crews were assembled consisting of domain experts, data scientists, data engineers, and solution architects to develop digital solutions for the Digital Twin project using Scrum methodology (an agile way of working typically used for software development). This was done from a central innovation environment in Wintershall Dea's office in Hamburg.
With one crew, the focus was on the use of hand-held devices (Digital Worker) to help with maintenance-related tasks in the field; with the other it was making effective use of available data for next generation equipment monitoring and maintenance operations (Smart Operations) using dashboards and analytical tools. For the Digital Worker crew one important topic was to improve the way we work. The back and forth process of checking equipment, printing checklists and P&IDs (piping and instrumentation documents), long walks between the field and the office, scanning and sending emails is very time-consuming. Our goals were to help workers free up time, rethink and reshape routines and enable them to focus on more important tasks.
At the end of July, the Digital Worker crew piloted explosive-proof hand-held iSafe mobile and tablet devices on Dieksand with Cognite's Operations Support application as well as other standard Office applications. Operations Support is a web-based application and can be accessed both in the field and office. It enables field workers to view live and historic data trends of equipment, maintenance history, equipment documentation and upload photos directly from a mobile device. All trends and documentation can be viewed by simply taking a picture of the equipment tag number.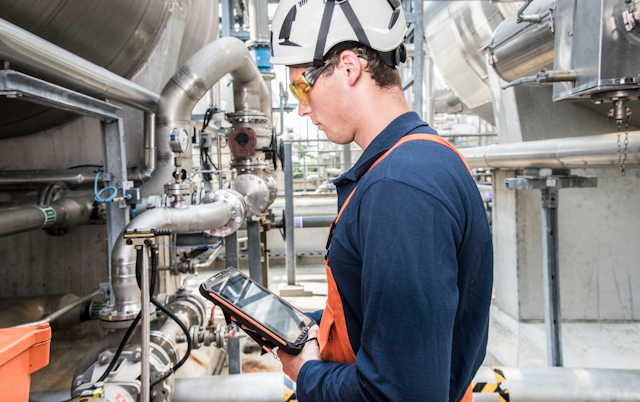 The Digital Worker crew piloted explosive-proof hand-held iSafe mobile and tablet devices on Dieksand with Cognite's Operations Support application.(Courtesy Wintershall Dea/Achim Multhaupt)

For the Smart Operations crew, another application was deployed known as Asset Data Insight - a desktop application that allows the workforce to view and compare data trends, create their own dashboards and infographics, and find all related equipment documents, events and time-series data. Furthermore, the crew also built decision support tools for critical equipment such as multi-phase and injection pumps as well as a comprehensive maintenance overview tool. Having such an overview of critical equipment and incorporating a system of rules and alerts empowers the engineers and operators giving them a better oversight of their equipment. This will ultimately increase the lifetime of equipment and reduce maintenance costs.
Prior to this project, the project team had live data stored in one system, maintenance information in SAP, and other documentation in Documentum and file drives. Now all of this has been ingested onto Cognite Data Fusion and contextualized so that all data sources are connected and linked to individual pieces of equipment within an asset hierarchy all the way down to individual sensor data. Having all this data structured and in context makes it much easier to deploy advanced analytical and machine learning tools going forward.
In addition, a 3D model of the Mittelplate and Dieksand facilities was also implemented, enabling users to view the platform and its equipment in a 3D visual environment. This allows users to, for example, click on a piece of equipment within the Mittelplate 3D model and get instant access to live streaming data as well as historic data trends and equipment documentation.
At the EAGE exhibition in London in June, I presented a small 3D printed model of the Mittelplate platform, created via taken from a smartphone. This was done using a process known as photogrammetry – similar to the technology used to create Google Maps. It demonstrated the ease of updating the actual 3D model of Mittelplate where workers could use this technology onsite to update it regularly. The neat part is that if the photo picks up the tag number of the equipment then all data will automatically be available for that piece of equipment. Photogrammetry is one technology the company is considering for updating its 3D model, if it can identify use applications of significant value.
The products that each crew has developed were built in an iterative way. The crews shared their results with end users and experts from Mittelplate and Dieksand every fortnight where they could test applications and prototypes, provide feedback and help the team define the next iteration of the product. The idea of building products in such an iterative way is to help the crew catch problems early before the final product is developed making the product development much more efficient and cost-effective. Results were also presented to colleagues across the entire organization via live demonstrations on Wintershall Dea's learning platform.
The Mittelplate Digital Twin project has now been running for close to one year and many lessons have been learned. The most important lesson is maintaining close collaboration with the asset and building strong relationships, something that was underestimated at the beginning. Their knowledge is essential and going forward we plan to be present in the asset every week in order to create products they feel comfortable with. The crews are now in the process of deploying further use cases consisting of analytical and decision support tools for turbine monitoring, gas distribution optimization, well monitoring and inspection applications for hand-held devices where they have begun collaborating with Inovex, a German-based IT company focused on digital transformation services.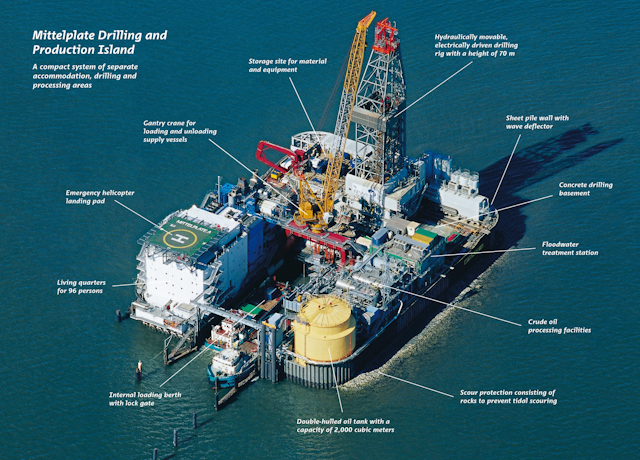 The Mittelplate platform features separate living, drilling and process areas.(Courtesy Wintershall Dea)

Next year the project team plans to extend into the domains of production and drilling optimization, where it can learn from ongoing digital activities on Wintershall Dea's Brage field platform in the Norwegian North Sea, which is also working on a digital twin. There is also a plan to scale the solutions already developed to operations in Egypt, which are already showing a keen interest - particularly with the hand-held devices. With the second Supersprint now under way, the project team hopes to showcase the new digital solutions it is developing in early 2020. •