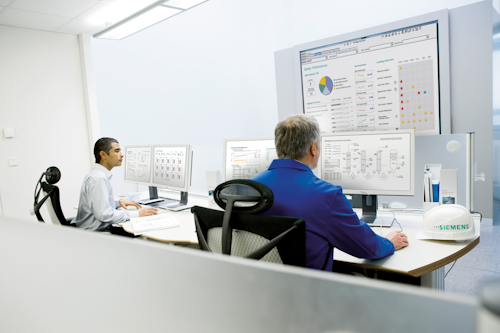 (Images courtesy Siemens)
Stig Settemsdal, Siemens
Every offshore oil and gas development is characterized by cumulative data evolution. Massive quantities of asset and production data are generated throughout all phases of the project lifecycle. The problem that many operators face, however, is that this data is often scattered in "silos" that have been developed around specific applications and within functional areas of the organization. As a result, information available to decision-makers is inaccurate, out-of-date, incomplete, and poorly synchronized. Low-level data integration only tells part of the story, creating challenges and inefficiencies that can lead to the wrong decisions being made; and in some cases, major facility damage.
For a gas condensate field development project in the North Sea, Siemens is helping to solve this problem through the deployment of an Operations Intelligence Platform (OIP) that integrates data from 21 different IT sources to create a "single source of truth" environment.
Project overview
One of the main objectives behind the deployment of the OIP, which is formally known as "Smartview," is to facilitate how data is handled, distributed, and ultimately made available to operations personnel on the platform. Creating a central information environment enables more efficient decision making and proactive management via data visualization, monitoring/alerting capabilities, and access to relevant systems and supporting documentation.
The OIP is highly unique in that it integrates data from multiple third-party IT sources, including operations, SAP, plant engineering, process instrumentation, marine, StormGeo, chemistry, etc. Data from these sources is ingested into the platform and organized into six different areas: 1) WorkBench, 2) Operations, HSE, 3) Production 4) Maintenance, and 5) Planning/Logistics.
The OIP model is highly flexible and presents information that is tailored to each user's specific needs. Information is delivered in the form of personalized dashboards with key performance indicators (KPIs), target tracking, and access to detailed drilldowns to monitor the overall health of the business.
The ultimate objective is to provide context for the level of the user receiving the information; allowing for a more complete view, which is critical to making the intelligent decisions. Customizable security tools are in place to configure the system so that confidential information can only be viewed and accessed by the appropriate individuals.
Key benefits
The OIP enables the operator to capture value by allowing all business units related to the platform and associated facilities to work together in a highly visible and collaborative environment. Key capabilities/benefits include:
• Alignment of oilfield, reservoir, and operating branch objectives with corporate HQ objectives. Production management and operational data can easily be shared with other departments to verify that inter-dependencies are understood, and overall efficiency is improved.
• Optimized production and reduced business risk by being able to intelligently identify poorly performing functional blocks, oilfields, platforms, and wells and provide supplementary, contextualized, information to support corrective business decisions.
• The ability to identify overspending cost centers and introduce control measures aimed at reducing unit and facility operating and capital cost.
• Access to real-time status information, as well as current and future oilfield production, maintenance activities, and supply plans. This allows the operator to adapt and respond to unplanned market and operational events as they occur.
• Extraction of value from existing systems by intelligently integrating and modeling business information from many disparate oilfield and platform databases – providing a consolidated, real-time, view of the operational health of the business.
• The ability to provide intelligent and intuitive real-time dashboards that display the impact of operational abnormalities on well production, injection, maintenance activity on production, and production disturbances on the bottom line, etc.
• Replacement of volatile data sources, such as spreadsheets and record historical data for strategic analysis. Promotion of standardization across different operational locations.
• Real-time and historical KPIs enable personnel to compare company- and industry-wide benchmarks. Users can derive areas of lost opportunity and provide management with relevant data to make proactive decisions to remedy issues and improve performance.
• Highlight areas in need of HSE improvement and limit the exposure of people from operating safety risks by making historical data, decision-making and intervention knowledge readily available to those who need it.
3D smart viewer
For the field development project, the operator also opted to use plant engineering software (i.e., a plant twin) from Siemens. The plant twin (also known as "COMOS Walkinside") is a smart 3D viewer for the entire topsides that provides access to equipment, maintenance, and real-time operations data for construction, commissioning, and maintenance planning. These tools provide engineering and maintenance personnel with the capability to run virtual what-if scenarios on the asset and better understand the impact of different operating conditions on the process, equipment, and maintenance.
The plant twin enables the use of 3D engineering data from the basic and detail engineering phases throughout the entire asset lifecycle. It provides a realistic viewer for very large 3D models, such as process plants, with fast navigation for non-specialists. Furthermore, it enables back and forth navigation between the 3D representation and the 2D drawings and data in engineering data hub.
For example, maintenance personnel can view in a 3D digital space where equipment is located, if it is accessible from the floor, or if scaffolding or a crane is necessary. Using the virtual environment, operators can directly access equipment characteristics, maintenance history, and documentation by clicking through on the equipment in the 3D view. Similarly, if an engineer was working with the engineering and maintenance database, he/she can click through to the 3D view of the equipment and see the spatial context of, for example, locations where work permits are issued and risk factors like hot surfaces.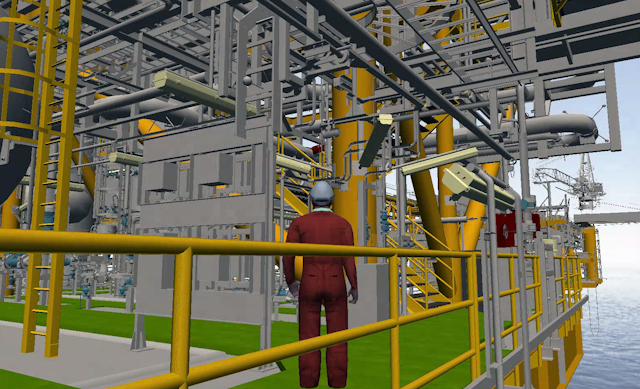 Immersive operator training with smart 3D viewer.

Specific use cases for the smart 3D viewer include:
• Reviews of EPC designs together with or by the owner-operator (OO), without complex 3D CAD tools. Closer cooperation between OO and EPC enables earlier detection of problems and fewer late-stage design changes.
• Immersive Virtual Training for field operations or maintenance where the user can move with his avatar and experience the plant as in reality. This helps personnel to pre-plan interventions before arriving on location and increases the effectiveness in the field.
• 3D plant and equipment viewing in conjunction with asset management and operational data. The 3D viewer can provide access to engineering, operations, maintenance, and asset performance information.
• Development of and training in emergency evacuation procedures without the risk and cost of having personnel offshore.
• Spatial analysis and decision support during emergencies.
Embracing digitalization
Breaking the deployment of the digital platform down into multiple phases provided the operator with a high level of flexibility and cost control, and also the opportunity to come up with a fast, efficient response to any arising challenges. Additionally, Siemens positioned its main architect for the solution onsite in the customer's office in Scotland. This improved communication and ultimately contributed to streamlined project execution. Overall, the implementation of the OIP serves as a representative example of the benefits that can be realized by fully embracing digitalization in the offshore environment. •
The author
Stig Settemsdal is CTO Offshore Solutions for Siemens in Tønsberg, Vestfold, Norway.