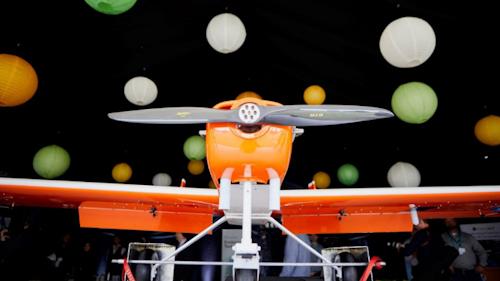 (Courtesy BP)
Offshore staff
ABERDEEN, UK – BP has conducted tests with a drone to remotely monitor methane emissions west of Shetland.
The pilot combined sensor technology originally designed by NASA for the Mars Curiosity Rover with a fixed-wing remote piloted air system (RPAS), or drone, which circled the Clair field platform at a radius of 550 m (1,894 ft) for 90 minutes.
In total, the droned travelled more than 185 km (115 mi), 85 km (53 mi) farther than the UK's previous record for a commercial drone flight, BP claimed.
Once the pre-programmed drone was airborne it managed itself autonomously, with the RPAS live-streamed data being collected by the methane sensor.
Following the success of this campaign, the company plans to deploy the drone to its North Sea/Shetland area facilities next year, including ETAP and Glen Lyon.
Project manager, Joe Godwin, Clair field environmental lead, said: "We wanted to test a method for collecting large amounts of data on our emissions over long periods of time, without having to send people or equipment offshore.
"The solution would also have to deal with the turbulent atmospheric conditions that we typically experience offshore in the North Sea.
"Ultimately, we identified the RPAS drone solution provided by UK supplier FlyLogix combined with the ultra precise sensor technology by SeekOps, as a good fit with our requirements. We set up a test project to monitor methane emissions from our Clair Phase 1 platform."
The drone was tracked and controlled remotely by three qualified pilots using satellite communications and a radio link from the island of Papa Stour, without the team having to leave their base onshore.
09/11/2019