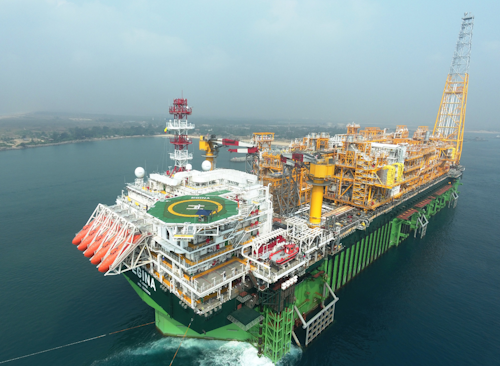 (Courtesy Total)
Offshore staff
HONG KONG – CNOOC participated in 16 new discoveries and 35 successful appraisal wells during the first half of this year, the company reported in its latest results statement.
Highlights included appraisal of the Bozhong 19-6 condensate gas field in Bohai, offshore China, lifting proven volumes by 100 MMboe, which should sustain further development of the area.
Elsewhere, the company partnered with ExxonMobil in three discoveries in the Stabroek block off Guyana, lifting recoverable resources to more than 6 Bboe.
During the first half of the year, CNOOC produced 243 MMboe net, 2.1% up on the same period in 2018.
Among the company's six new projects scheduled to start production this year, Egina, Huizhou 32-5/Huizhou 33-1 and Appomattox are already onstream.
08/29/2019