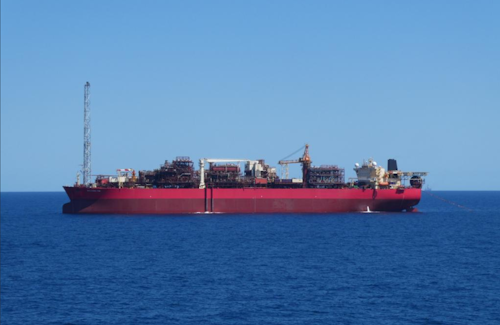 (Courtesy Woodside Energy)
Offshore staff
PERTH, Australia – The $1.9-billion Greater Enfield project has produced first oil through the Ngujima-Yin FPSO offshore Western Australia, according to operator Woodside Energy.
The Greater Enfield project was approved in 2016, to develop the Laverda Canyon, Norton over Laverda, and Cimatti oil accumulations through a 31-km (19-mi) subsea tieback to the Ngujima-Yin FPSO, located over the Vincent field, 50 km (31 mi) offshore Exmouth.
The project scope included a major refit of the Ngujima-Yin FPSO which was completed at the Keppel Tuas Shipyard in Singapore. The FPSO returned to waters off the North West Cape on May 5, 2019, and production from the Vincent wells recommenced on July 4, 2019.
Installation of subsea infrastructure has been completed, with all 12 development wells now also complete.
Woodside CEO Peter Coleman said first oil was produced on schedule and under budget.
The Greater Enfield project is a joint venture between Woodside Energy Ltd. (operator, 60%) and Mitsui E&P Australia Pty Ltd (40%).
Woodside is targeting annual production of about 100 MMboe in 2020.
08/26/2019