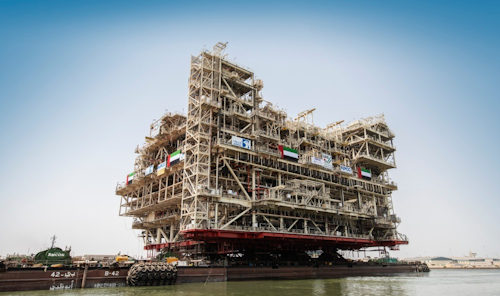 (Courtesy NPCC)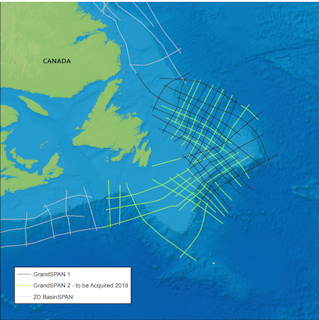 Area of coverage for the second phase of GrandSPAN program.(Courtesy ION Geophysical)North America
ION Geophysical has started shooting the second phase of its GrandSPAN 2D seismic survey offshore northeast Canada. This will be combined with two other (completed) ION BasinSPAN programs on the eastern Canadian margin to create a contiguous regional seismic data-set of over 30,000 km (18,641 sq mi).
                                                            ◆◆◆
TGS and PGS have committed to a ninth consecutive season of seismic acquisition offshore Newfoundland & Labrador. PGS' Ramform Atlas is acquiring the 5,000-sq km (1,930-sq mi) Jeanne d'Arc High Density 3D survey close to all Newfoundland's producing offshore fields, and over parts of the open acreage to be included in the Canada Newfoundland and Labrador Offshore Petroleum Board bid round in November.
                                                              ◆◆◆
Eni has produced first oil from the Miztón field in Area 1 in the Bay of Campeche offshore Mexico. A platform in 34 m (111 ft) water depth exports the wellstream through a multiphase subsea pipeline to an onshore reception plant in Sanchez Magallanes and from there to Pemex's San Ramón plant for treatment. Output from this initial development should peak at 15,000 b/d.
Early last month Mexican contractor Grupo R's newest jackup Cantarell IV spudded the Xikín-32 well, the first offshore drilling program approved by the new administration of PEMEX Exploration and Production. Xikín is the first of 16 offshore fields PEMEX plans to develop to increase its oil production.
Caribbean Sea/South America
The Dominican Republic has opened its first licensing round, offering 14 blocks across four basins. The four offshore blocks are in the San Pedro basin. According to Wood Mackenzie, exploration in the past has pointed to the presence of a working petroleum system. Blocks will be awarded based on work commitments for the first exploration phase.
                                                                   ◆◆◆
BHP expects to take an investment decision later this year on the Ruby gas project offshore Trinidad and Tobago. It follows a successful deepwater drilling campaign in 2019 on the company's northern licenses which led to gas discoveries in the Bélé-1, Tuk-1, and Hi-Hat-1 prospects.
                                                                   ◆◆◆
Peru's government has approved Tullow Oil's entry into two Pacific offshore licenses held by Australia's Karoon Gas. The two companies plan to start drilling next year on Z-38, potentially targeting the Marina prospect.
                                                                    ◆◆◆
MODEC has a letter of intent from Petrobras to supply a fifth FPSO for the Búzios field in the Transfer of Rights area of the presalt Santos basin offshore Brazil. The location is 180 km (112 mi) from the Rio de Janeiro State coast, in a water depth of around 1,900 m (6,233 ft). The vessel will be engineered to process 150,000 b/d of oil and 212 MMcf/d of gas, with MODEC subsidiary SOFEC responsible for the spread mooring system. First oil is slated for 2022.
West/South Africa
BP and Kosmos Energy have discovered gas with the Greater Tortue Ahmeyim-1 well offshore Mauritania/Senegal, drilled by the drillship Ensco DS-12 in 2,500 m (8,202 ft) of water on the eastern anticline in the Greater Tortue development area. The well encountered 30 m (98.4 ft) of net gas pay in an Albian reservoir and will be retained as a future producer for the development.
                                                                       ◆◆◆
Ghana's government has awarded Eni, Vitol, and GNPC block WBO3 in mid-deepwater in the Tano basin. This was one of five blocks offered under the country's first international bid round. WB03 is 50 km (31 mi) southeast of the FPSO John Agyekum Kufuor that produces oil and gas from the Eni-operated Sankofa field.
                                                                        ◆◆◆
Equatorial Guinea is offering 25 blocks for exploration under the EG Ronda 19 bid round, which will remain open until Sept. 27. The Ministry of Mines and Hydrocarbons expects to announce awards on Nov. 27 at a summit in the capital Malabo. A Deep and Ultra Deep round could follow in 2020.
                                                                         ◆◆◆
Keppel Shipyard in Singapore is upgrading Yinson Production's FPSO Allan to work on the Anyala and Madu fields offshore Nigeria, operated by First Exploration and Petroleum Development. The vessel will have an oil processing capacity of 60,000 b/d, with storage for up to 700,000 bbl.
                                                                          ◆◆◆
Africa Oil will become operator of block 3b/4B in the deep western mid-Orange basin off South Africa – pending approvals – after agreeing to acquire a 20% interest from Azinam. The 17,581-sq km (6,788-sq mi) concession, over water depths of 300-2,500 m (984-8,202 ft), contains prospects and play types similar to those under investigation by various IOCs in the region.
                                                                         ◆◆◆
Total has contracted Odfjell's semisub Deepsea Stavanger for exploratory drilling off South Africa in 2020, which could last for up to 280 days. The same rig drilled Total's deepwater Brulpadda gas-condensate discovery well earlier this year in South Africa's Outeniqua basin.
Mediterranean Sea
Energean has conditionally agreed to acquire Edison E&P from Italian conglomerate Edison for $450 million. A further $100 million could be payable following first gas from the Cassiopeia development offshore Sicily, in which Edison is a partner. Start-up is expected in 2022. Edison has interests in producing fields offshore Italy, Egypt, Croatia and elsewhere, with gas accounting for 76% of the company's 2P reserves of 292 MMboe.
                                                                             ◆◆◆
Israel's Energy Ministry has received proposals from five companies for 12 of the offshore blocks offered under the country's second bidding round. Two consortia submitted applications for multiple blocks: Energean and Israel Opportunity; and Cairn Energy, SOCO International, and Ratio Oil. A third Israeli licensing round could follow in 2021.
Black Sea/Caspian Sea
OMV Petrom has contracted the jackup GSP Uranus to drill two new development wells on the Leba˘da East field in the Istria block in the Romanian sector of the Black Sea. The wells will target additional production at a subsurface depth of over 2,000 m (6,562 ft) from the declining field, which was discovered in 1979. Output from this and four other fields across the block is currently around 25,000 boe/d.
                                                                                ◆◆◆
Eni and KazMunayGas are negotiating E&P rights to the ultra-shallow water Abay block in the northern Kazakh sector of the Caspian Sea. The concession – highly prospective, according to Eni – is 50 km (31 mi) from the coast in water depths of less than 10 m (33 ft). Isatay Operating Co., the existing joint venture between the two companies for Kazkahstan's offshore Isatay block, would manage operations.
Middle East
Saudi Aramco aims to raise production capacity from its offshore Marjan and Berri fields by 550,000 b/d of crude and 2.5 bcf/d of gas. It has awarded associated engineering, procurement and construction contracts to 16 companies with a total value of $18 billion.
For Marjan, Aramco plans a new offshore gas/oil separation plant and 24 new oil, gas and water injection platforms, while at Berri, investments will include a new water injection facility, 11 new offshore oil and water platforms, and nine onshore oil production and water supply drill sites.
One of the biggest winners was McDermott International which secured two contracts with a total value of over $4.5 billion for the Marjan project – one via a consortium with China Offshore Oil Engineering Co. McDermott will be responsible for construction and installation of over 20 of the platforms and 772 km (480 mi) of subsea cables, infield pipelines, and trunklines.
                                                                                 ◆◆◆
Halliburton will provide comprehensive offshore drilling services next year to Kuwait Oil Co. for six HP/HT exploration wells offshore the Arabian peninsular. The contractor will also provide the two jackups, supply vessels, and all related logistical services. The program is due to start in July and continue into 2021.
                                                                                  ◆◆◆
Two platforms were nearing completion last month at the ISOICO yard in Bandar Abbas, Iran for IOOC's Hendijan oilfield development in the northwest of the Persian Gulf. The location is 10 km (6.2 mi) northeast of the existing Bahrengansar platform.
                                                                                   ◆◆◆
NPCC has completed construction of the new 32,000-metric ton (35,274-ton) Umm Lulu gas treatment platform for ADNOC's Umm Lulu package 2 full-field development offshore Abu Dhabi. The new facility will mainly handle produced gas and will provide compression, dehydration, and sweetening. It was due to sail to the field for installation via a float-over.
East Africa
Anadarko Petroleum has issued the main engineering contracts for the long-distance subsea-shore Area 1 LNG project offshore Mozambique. TechnipFMC will provide the subsea trees, workover riser, subsea controls and other equipment, which the company will install in partnership with Van Oord. Oceaneering International will supply the umbilicals, and Cameron and ATV the subsea valves. The Area 1 co-venturers recently took FID on the $20-billion project.
Asia/Pacific 
PTTEP has discovered a potentially large gas field with its first well on the shallow-water SK410B block offshore Sarawak. The Lang Lebah-1RDR2 well delivered 252 m (827 ft) of net gas pay from a Mid-Miocene carbonate reservoir, testing 41.3 MMcf/d and 246 b/d of condensate. Wood Mackenzie estimated the size of the find at 2 tcf.
                                                                                  ◆◆◆
Indonesia's government has approved INPEX's revised plan of development for the Abadi LNG project. This will harness gas from the Abadi field, offshore Saumlaki in Maluku province for export to a new onshore LNG plant. •