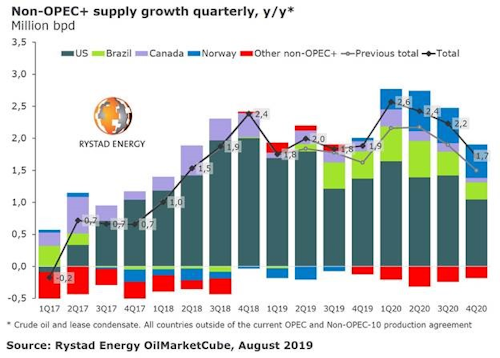 Offshore staff
OSLO, Norway – Rystad Energy is reconsidering its optimistic forecast of oil and gas activity during the first part of 2020.
"Economic recession risk and further escalation of the US-China trade war are key concerns in the near term," said head of oil market analysis Bjørnar Tonhaugen.
"How long OPEC+ is willing to continue to manage production adds uncertainty."
Although Rystad's current base case scenario does not assume an imminent recession, it has identified various negative indicators.
One is the slowdown in China's economy, with the most recent growth rate down to 6.2%. The US too shows signs of slowing down, and this, combined with the escalation of trading issues between the two countries, could reduce demand growth by 200,000 b/d to 1 MMb/d in 2020, Tonhaugen said.
Although OPEC's production cuts have helped sustain oil prices this year, plenty of production is building up among the non-OPEC nations. This could lead to oil growth of 3 MMb/d or more for much of next year, if OPEC+ does not extend or deepen production cuts in 2020.
At the same time, Rystad says the market is not taking into account the positive effect on crude demand that the new IMO 2020 shipping fuel regulations will introduce.
"However, if the IMO effect on crude demand is less than expected, OPEC intervention may be needed as early as the first quarter of 2020 to avoid imbalances in the oil market," Tonhaugen claimed.
08/09/2019