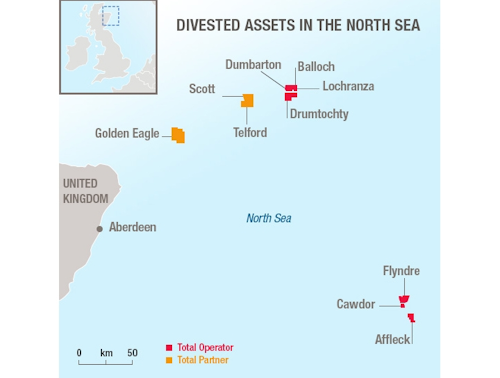 Total
Offshore staff
PARIS – Total has agreed to sell stakes in 10 fields in the UK central North Sea to Petrogas NEO UK for $635 million.
Petrogas is the E&P division of Oman-based MB Holding and is supported by Norway-based private equity investor HitecVision.
Total inherited these interests when it acquired Maersk Oil. Pending approvals, the transaction is expected to close in December.
"This transaction is consistent with our portfolio management strategy, aiming at lowering our break-even point by optimizing capital allocation and divesting high technical costs assets," said Arnaud Breuillac, Totals' president Exploration & Production.
Fields included in the transaction are as follows:
Field
Interest sold
Operator
Dumbarton
100%
Total
Balloch
100%
Total
Lochranza
100%
Total
Drumtochty
100%
Total
Flyndre
65.94%
Total
Affleck
66.67%
Total
Cawdor
60.6%
Total
Golden Eagle
31.56%
CNOOC
Scott
Telford
5.16%
2.36%
CNOOC
CNOOC
According to Wood Mackenzie, the asset package includes operated and non-operated assets, which will produce 25,000 boe/d this year. The assets hold more than 30 MMboe in remaining reserves.
Ross Cassidy, a senior research analyst on Wood Mackenzie's North Sea team said: "The key asset in the package is the CNOOC-operated Golden Eagle field, which accounts for over half of this year's expected production and most of the remaining value. The field is expected to produce to 2030.
"Several of the fields are due to cease production by 2025 and have near-term decommissioning liability. The new operator will no doubt aim to extend the life of these fields with fresh investment."
07/10/2019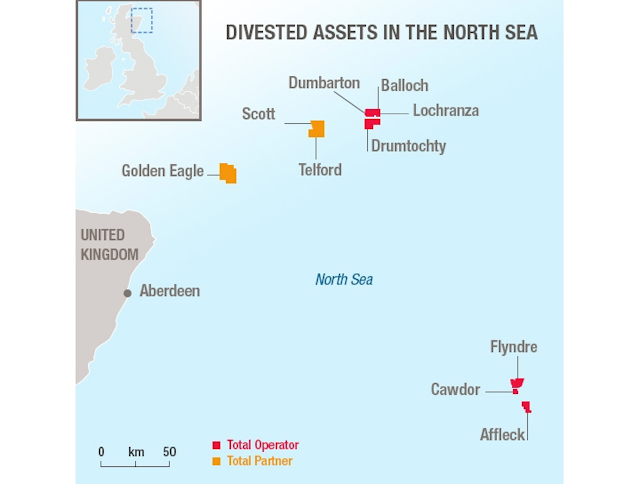 Map of Total's divested assets in the UK central North Sea.Total