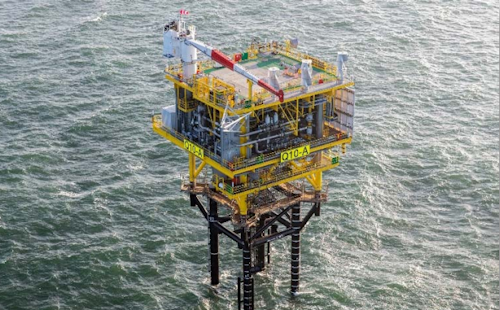 Tulip Oil
Offshore staff
THE HAGUE, the Netherlands – Tulip Oil Netherlands Offshore has issued an update on operations at the Q10 field in the Dutch North Sea.
Since the field produced first gas in mid-February from the Q10A-01 well, three further wells have been drilled.
The second and third wells are online and the fourth will be put into production in the next few days.
Combined flow from the first three wells to the Q10-A platform is around 3.1 MMcm/d, or 20,000 boe/d.
Despite intermittent production shut-ins due to commissioning, drilling operations and infrastructure maintenance, the field has so far produced around 145 MMcm of sales gas, equivalent to round 920,000 bbl of oil.
Tulip's development plan is based on five wells, with an option to add a sixth from the platform which has an estimated production capacity of around 5 MMcm/d.
Otherwise, commissioning of the platform and the export pipeline is complete, with only minor issues to take care of later this year.
07/09/2019