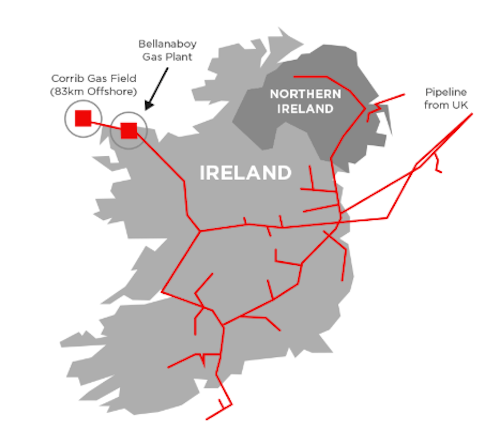 Vermilion Energy Inc.
Offshore staff
DUBLIN, Ireland – The Irish Offshore Operators' Association (IOOA) has applauded the decision by Ireland's government not to proceed with the proposed Climate Emergency Bill.
There were widespread concerns that the bill could have stalled future E&P activity in the country's offshore basins.
The Kinsale and Corrib gas fields offshore southeast and northwest Ireland currently supply 60% of the gas consumed by Irish homes and businesses, the IOOA pointed out.
Mandy Johnston, the association's CEO, said: "Government has recognized that using our own natural resources is not only good for energy security but also good for the environment and jobs.
"The facts speak for themselves: Russian gas imported to Ireland creates 34-38% more greenhouse gas emissions than using Irish gas, while liquefied natural gas imported from Qatar creates 22-30% more.
"There is no realistic scenario under which gas and oil will not be required to contribute a major part of Ireland's energy supply in the short to medium term.
Brexit, and political instability in the Middle East and Russia, together with the lack of established gas interconnection with mainland Europe, leave us extremely vulnerable to massive major gas and energy disruptions."
Johnston pointed out that the only European country to impose an outright ban on offshore exploration is France, which has a stable nuclear infrastructure that supplies more than 50% of its power needs.
At the same time, Norway, the largest producer of oil and gas in northwest Europe, is known to be one of the most progressive low carbon economies worldwide.
She added that the IOAA remained committed to co-operating with all parties in Ireland on identifying and implementing policies "based on science, evidence, and facts.
"We must work together to create progressive policies which can make a meaningful and positive impact, without undermining the prosperity of Ireland for our future generations."
07/09/2019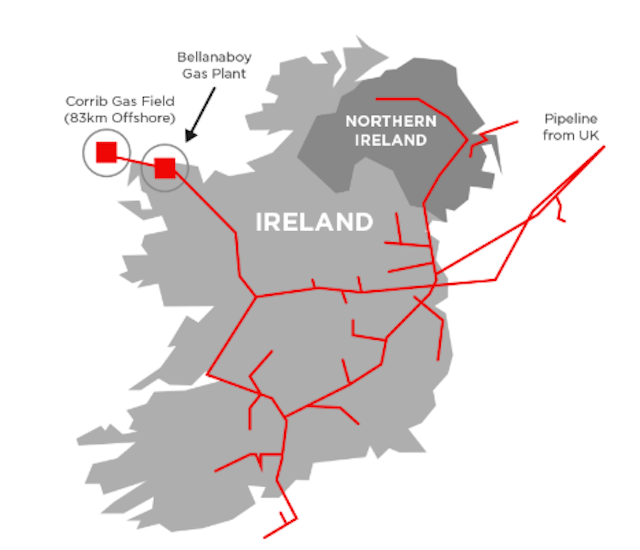 The Corrib gas field is about 83 km (52 mi) offshore northwest Ireland. Gas is transported to the Bellenaboy Bridge gas plant through 90 km (56 mi) of pipeline where it is then processed prior to being delivered to the national grid.Vermilion Energy Inc.