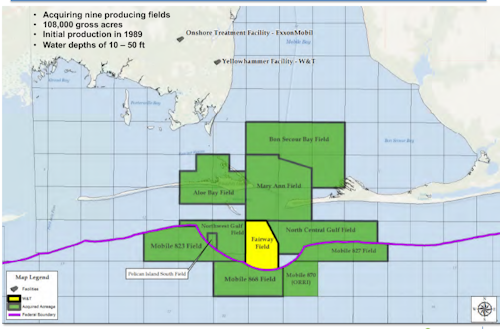 W&T Offshore
Offshore staff                                
HOUSTON – W&T Offshore Inc. has entered into a purchase and sale agreement with ExxonMobil Corp. to acquire its interests in and operatorship of nine oil and gas producing properties in the eastern Gulf of Mexico, offshore Alabama, and related onshore processing facilities for $200 million.
The acquisition consists of working interests in nine shallow water producing fields and related operatorship in the Mobile Bay area. W&T will become the largest operator in the area.
The purchase also includes ExxonMobil's onshore treating facility which, along with the company's existing treating facility, will allow for flexibility in processing the produced gas and allow for future consolidation of operations, the company said. 
The transaction is expected to close on or about Aug. 30, 2019. 
Total net proved reserves to be acquired are 74 MMboe, of which 22% are liquids. Most of the reserves are classified as proved developed producing. For 1Q, average production was about 19,800 net boe/d, of which 25% was liquids.
Chairman and CEO Tracy W. Krohn said: "These low decline assets are highly accretive, free cash flow positive, and adjacent to our current operations thereby providing us the opportunity to recognize increased scale, rationalize operations, and capture cost efficiencies to further grow cash flow. In addition, we also have the opportunity for further growth in reserves from potential field life extensions and drilling and facility upgrade opportunities…"
07/01/2019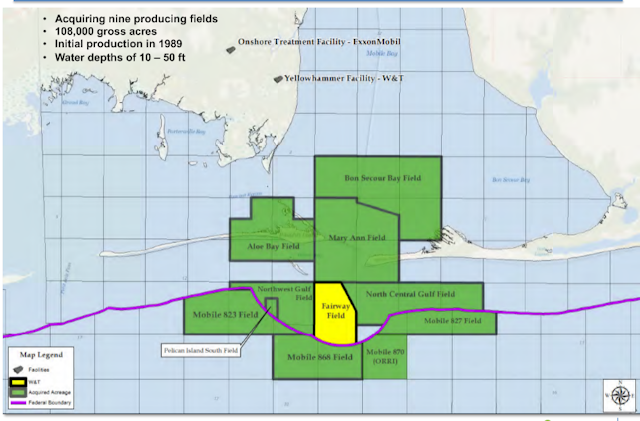 The acquisition consists of working interests in nine shallow water producing fields and related operatorship in the Mobile Bay area in the eastern Gulf of Mexico.W&T Offshore