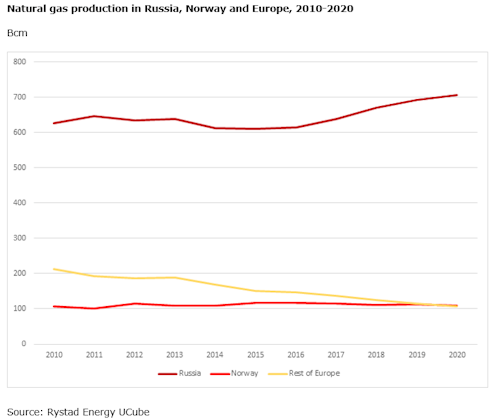 Offshore staff
OSLO, Norway – Gas exports from Russia and Norway to other countries in Europe reached new highs last year of respectively 194 bcm and 122 bcm, according to analyst Rystad Energy.
This represented a year-on-year increase of more than 15 bcm in Russia's case and 9 bcm for Norway.
Carlos Torres Diaz, Rystad Energy's vp Gas Markets, said: "The higher exports have provided reliable supply for Europe and give an indication that the strategy followed by both Russia and Norway has been to maintain their market share, benefiting European consumers as prices in NW Europe have remained rather stable.
"This has also kept new US supplies of LNG out of the region, enabling American gas to meet increasing demand in Asia and Latin America."
However, output from various large Norwegian gas fields such asOrmen Lange, Åsgard, and Kvitebjørn looks set to decline by 10 bcm by 2020, and will be only part-offset by the 8.6 bcm increase to be provided over the same period through start-up of Statoil's Aasta Hansteen field in the Norwegian Sea.
Gas production in other European countries will likely also drift downward, Rystad added.
Russia, however, continues to power ahead, with various new gas export projects in the pipeline or under construction, such asNord Stream 2 and TurkStream in the Baltic and Black seas.
02/14/2018