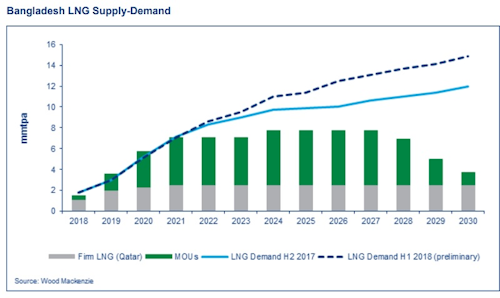 Offshore staff
SINGAPORE – Excelerate Energy's floating storage and regasification unit (FSRU) Excellence has arrived at Moheshkhali Port in Bangladesh, bringing its first cargo of LNG from Qatar.
According to analyst Wood Mackenzie, the cost of the project – co-developed by Petrobangla, Excelerate Energy, and the IFC – was $180 million.
Bangladesh has severe shortages of electricity and gas, and the introduction of LNG into the country's energy mix is viewed as major step in addressing the challenges.
The FSRU has an annual capacity of 3.8 MMt. Excelerate Energy will operate the terminal for 15 years, for a fee of $90 million/yr; thereafter, ownership will transfer to Petrobangla.
An onshore gas pipeline connects the vessel to the main demand center in Chittagong, with the gas sent to existing power plants running short of gas.
QatarGas will supply 1.8 MMt/yr of LNG between 2018 and 2022 and 2.5 MMt/yr during 2023- 2032.
Bangladesh's second terminal, due to start up next year, is another 3.8-MMt/yr Excelerate FSRU which will also be located at Moheshkhali.
This January, Bangladesh Power Development Board signed an MoU with Indonesia's Pertamina to develop 1.4 GW of new gas-fired capacity, along with a dedicated FSRU and related LNG supply.
04/25/2018