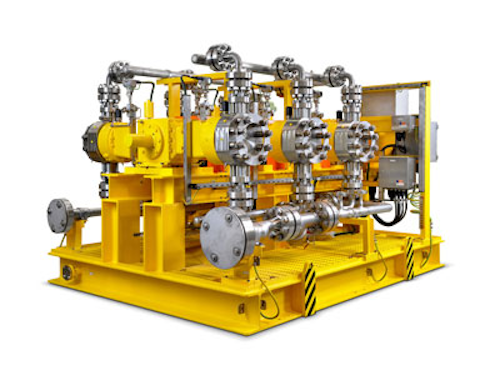 Offshore staff
LEONBERG, Germany – Lewa has won a €30-million ($41.6-million) order for 40 process diaphragm pumps for two large gas fields offshore Saudi Arabia.
The development project is designed to process 70 MMcm/d (2.5 bcf/d) of ethane, propane, butane, and natural gas from the two fields, producing on average around 50 MMcm (1.8 bcf) of market-ready gas. However, peak demand could reach 86 MMcm (3 bcf).
The Lewa pump systems will be installed on 13 wellhead and two tie-in (drilling and export) platforms and will work at operating pressures of 140 to 500-plus bar (2,030 to 7,252 psi) to inject monoethylene glycol (MEG) and sulfur solvent.
The MEG will circulate continuously between the platforms and the glycol regeneration units in the onshore preparation facilities, reducing the risk of hydrates in the two subsea pipelines.
One issue is that the sulfur content of the two gas fields is at a significantly higher concentration than in other areas, and starts to solidify at high temperatures. To prevent blockage of the pipeline and ensure reliable transport on land, a solvent for the sulfur must be injected continuously and reliably, Lewa says.
03/07/2014