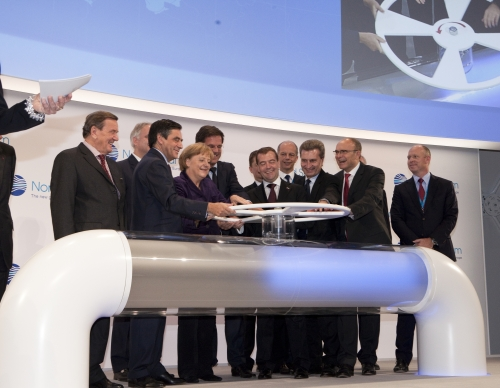 Offshore staff
LUBMIN, Germany/ZUG, Switzerland – The Nord Stream consortium reports that Line 1 of its Baltic Sea pipeline became operational on Nov. 8, and was commemorated by political and business leaders as making a significant contribution to Europe's long-term energy security.

German Federal Chancellor Angela Merkel, Russian President Dmitry Medvedev, the Prime Ministers of France François Fillon and the Netherlands Mark Rutte, and EU Energy Commissioner Günther Oettinger formally inaugurated the first of Nord Stream's twin 1,224-km (760-mi) gas pipelines through the Baltic Sea.

When fully operational in late 2012, Nord Stream's two lines will have the capacity to transport 55 billion cubic meters of Russian gas a year to the EU for at least 50 years.

The heads of government and other political and business leaders were among the 500 guests who gathered at Lubmin on Germany's Baltic Sea coast for a formal ceremony to celebrate the arrival in Europe of gas through the Nord Stream pipeline. The formal ceremony was held next to the site in Lubmin, Germany, where the Nord Stream Pipeline is connected to the European gas grid, specifically to the onshore pipelines OPAL and NEL.

"Nord Stream has provided Russia's Gazprom with a safe, modern and efficient additional route through which to supply gas to its partners and customers in the EU, in addition to the existing transit routes through Ukraine and Belarus," said Matthias Warnig, Nord Stream Managing Director. Nord Stream is a commercial project based on long-term contracts by Gazprom Export to supply customers in Germany, Denmark, the UK, the Netherlands, Belgium, France, the Czech Republic and other countries.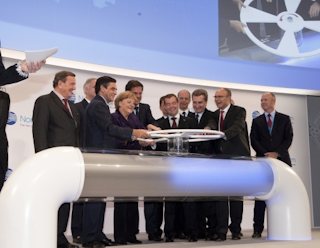 (From left to right, first row) French Prime Minister Francois Fillon; German Chancellor Angela Merkel; Dutch Prime Minister Mark Rutte; Russian President Dmitry Medvedev; and European Union Energy Commissioner Guenther Oettinger turn a wheel to symbolically start the flow of gas through Line 1 of the Nord Stream twin pipeline system.

11/08/2011