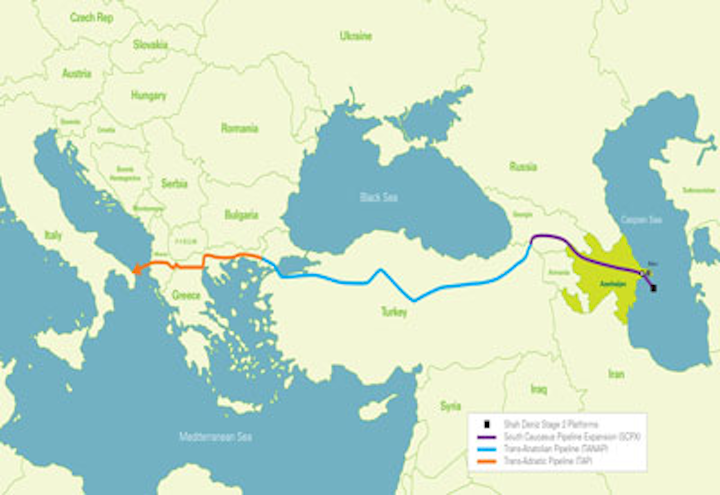 Offshore staff
BAKU, Azerbaijan – The BP-led Shah Deniz consortium have taken a final investment decision for the Stage 2 development of the gas field offshore Azerbaijan.
This involves expanding the existing overland South Caucasus pipeline through Azerbaijan and Georgia, and constructing the Trans-Anatolian Gas Pipeline (TANAP) across Turkey and the connectingTrans-Adriatic Pipeline (TAP) through Greece, Albania, and into Italy.
These projects, along with gas transmission infrastructure to Bulgaria, will create a new Southern Gas Corridor to Europe.
Investments at Shah Deniz will include drilling and completion of 26 new subsea wells and construction of two bridge-linked platforms. Onshore there will be new processing and compression facilities at Sangachal.
BP estimates the total cost of Shah Deniz Stage 2 and the various pipeline projects at around $28 billion. These will transport 16 bcm/yr (565 bcf/yr) of gas from the giant offshore field around 3,500 km (2,175 mi) to consumers in Georgia, Turkey, Greece, Bulgaria, and Italy.
The consortium is targeting first gas for late 2018, starting with sales to Georgia and Turkey. Deliveries to Europe will follow a year later.
Condensate production from Shah Deniz should increase from the current level of 55,000 b/d to 120,000 b/d.
In the short term, the consortium has agreed with the Azeri state oil company SOCAR to expand gas production through the existing facilities by 1.4 bcm/yr (49 bcf/yr). The new level is likely to be attained by the end of 2014.
SOCAR has additionally agreed on terms for extending the Shah Deniz production-sharing agreement (PSA) up to 2048. The partners have agreed to perform exploration and appraisal on prospects within the PSA area.
Bob Dudley, BP's group CEO, said: "BP's discovery of the new Shah Deniz Deep field in 2007 demonstrates the potential in this area beyond Shah Deniz Stage 2."
Gas sales contracts with nine European companies now come into effect. Around 10 bcm/yr (353 bcf/yr) should be delivered for 25 years to customers in Italy, Greece and Bulgaria, and 6 bcm/yr (212 bcf/yr) to consumers in Turkey. Azerbaijan Gas Supply Co., established by the partners under SOCAR's operatorship, will manage all gas sales and transportation contracts.
Shah Deniz was discovered in 1999. Azerbaijan has exported gas to Georgia and Turkey from the Stage 1 development since 2006.
SOCAR and BP have acquired 6.7% and 3.3% equity respectively from Statoil in both Shah Deniz and the South Caucasus Pipeline. Both transactions are expected to be completed next year.
Post-acquisitions, BP as operator will hold 28.8%; SOCAR 16.7%; Statoil 15.5%; Total 10%; Lukoil 10%; NICO 10%; and TPAO 9%.
The TAP partners are: SOCAR (20%); BP (20%); Statoil (20%); Fluxys (16%); Total (10%); E.ON (9%); and Axpo (5%).
12/17/2013