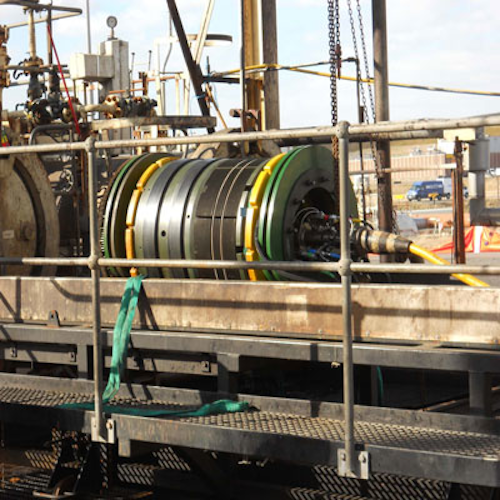 Offshore staff
ABERDEEN, UK – STATS Group has completed an isolation project on TAQA's Brent pipeline at the Sullom Voe terminal in the Shetland Islands.
BP wanted a valve refurbishment on the 36-in. pipeline's pig receiver while the line remained in normal operation.
The company brought in STATS to provide a double block isolation to facilitate the valve works. The STATS team proposed the use of a 36-in. Tecno Plug controlled via composite umbilical hydraulic lines to allow safe change out of the valve.
The single-module device was set in the short section of pipe work upstream of the production tee, with production exports continuing through the Brentpipeline.
To allow facilitate deployment of a tethered Tecno Plug, STATS applied a temporary receiver door with a "stuffing box" arrangement so that the umbilical could pass through the system while at pressure.
Following a leak test on the receiver, temporary door, and stuffing box, the isolation plug was pigged with water to the set location. Accurate plug location was determined by umbilical markings, with further positional verification confirmed by an ultrasonic signaler outside the pipe.
The Tecno Plug was set via the umbilical using a hydraulic system. An annulus test verified the integrity of the primary and secondary seals. Both seals were independently tested with full pipeline pressure and monitored for 12 hours.
With the receiver and valves depressurized and the Tecno Plug providing a verified isolation against the pipeline pressure, the receiver was rigged away, allowing the main umbilical to be disconnected. Temporary control umbilicals were then attached to ensure constant communication with the Tecno Plug, allowing the main umbilical to be removed through the valve. On completion of valve maintenance, further umbilical management was conducted to repositioned the valve.
After reassembling the valve, STATS performed a reinstatement service test on it to confirm integrity at pipeline operating pressure. The team unset the plug and repositioned it in the minor barrel of the receiver, while full in situ testing was performed on the valve.
On completion, the plug was unset and recovered fully into the receiver. Once the valves were closed, the receiver was isolated to allow recovery of the plug and replacement of the receiver door.
6/20/2013