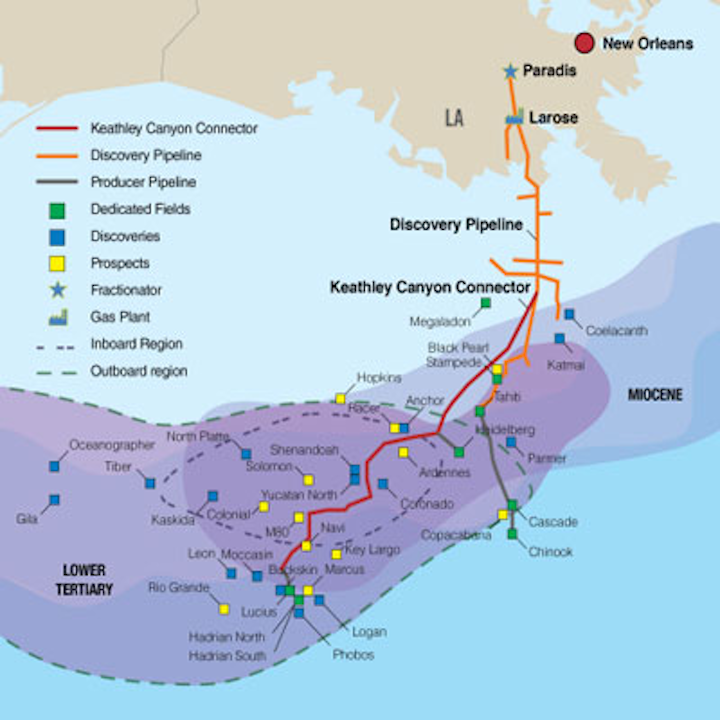 Offshore staff
TULSA, Oklahoma – Williams and DCP Midstream Partners, LP announced that the new extended Discovery natural gas gathering pipeline system has come online. The Keathely Canyon Connector deepwater gas gathering pipeline system and the South TImbalier block 283 junction platform are serving producers in the central ultra-deepwater Gulf of Mexico.
The 20-in., 209-mi (336-km) Keathley Canyon Connector, which is capable of gathering more than 400 MMcf/d of natural gas, originates in the southeast portion of the Keathley Canyon protraction area and terminates into Discovery's 30-in. diameter mainline at Discovery's new junction platform. The pipeline was constructed in depths of up to 7,200 ft (2,195 m) of water approximately 300 mi (483 km) south-southwest of New Orleans.
The Keathley Canyon Connector extension is supported by long-term agreements with the Lucius and Hadrian South owners, as well as the Heidelberg and Hadrian North owners, for natural gas gathering, transportation and processing services for production from those fields. In addition, the new pipeline system is in proximity to other high-potential deepwater Gulf of Mexico discoveries and prospects.
Williams owns the controlling interest in and is the general partner of Williams Partners L.P., which owns 60% of the Discovery system and operates it. DCP Midstream Partners, LP owns the remaining 40% of the Discovery system.
02/10/2015