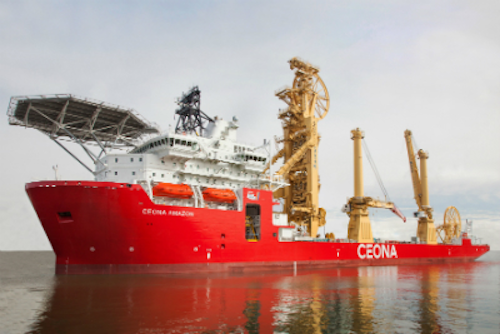 Offshore staff
LONDON – Ceona has secured a letter of intent from Walter Oil & Gas Corp. to use the Ceona Amazonon what will be Ceona's first rigid pipelay project in the Gulf of Mexico.
TheCeona Amazon will be deployed for the Coelacanth Export Pipelines project with the scope of work encompassing the installation of an oil and a gas export line tying the new Coelacanth Platform into existing pipeline infrastructure. Each 10-in. line will be approximately 11 mi long, for a total of 22.6 mi (36 km). The pipelines will each terminate at two pipeline end termination  structures installed by the Amazon. 
The Amazon is due to enter service this month. It was equipped with inclined multi-lay VLS with a top tension of 600 te, and with two 400 te active heave compensated masthead cranes able to work in tandem. The two 18 m (59 ft) diameter wheels on the top tower and deck are also being installed. All deck installation work has been carried out at the Huisman yard in the Netherlands. TheCeona Amazon is 199.4 m (655 ft) long and 32.2 m (106 ft) wide, drawing 8.0 m (25 ft) with a gross tonnage of 33,000 te.
03/10/15