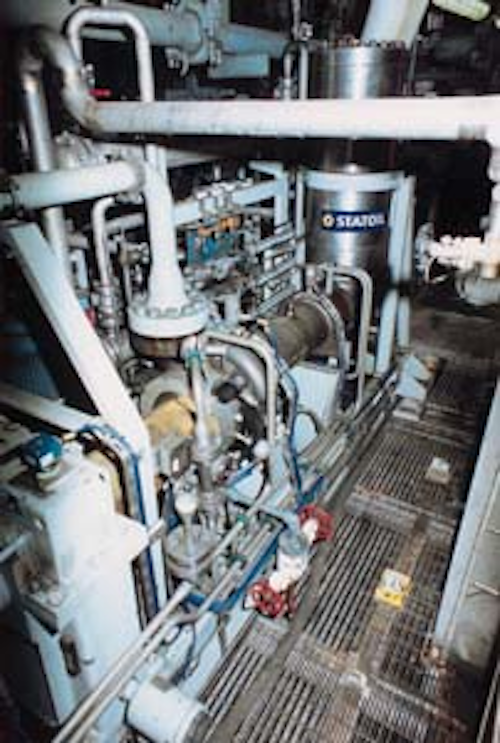 Nick Terdre
Contributing Editor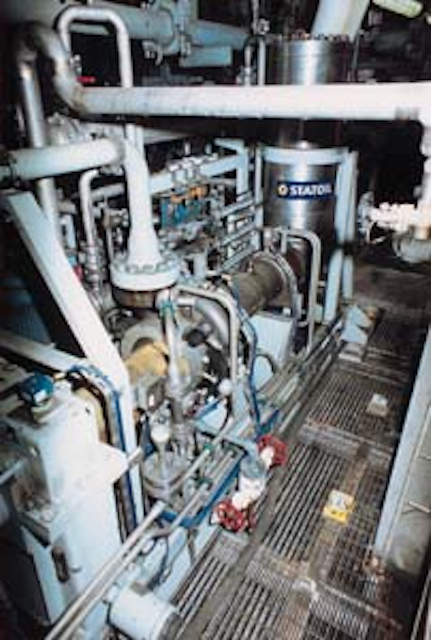 (Left) After successfully completing endurance tests on Statoil's Gullfaks A platform, the Poseidon P301 multiphase booster pump is to be permanently installed on the platform.
(Above) A thermocamera detects the presence of a hydrate plug. Such plugs were created and melted in tests on Statoil's Tommeliten pipeline.
An important milestone in the development of multiphase pumps was reached last summer with the completion of long-term endurance testing of a prototype on Statoil's Gullfaks A platform.
The program, under which the Poseidon P301 pump was operational for almost 7,000 hours, successfully achieved its objectives, according to Morten Moerch, department manager for field development technology at Statoil's Trondheim Research Center.
Technically, the pump functioned very well, he said. Some leakage problems were solved by modifying the mechanical seals. Placed on the A-28 well, the 740kW unit increased production by some 20% at a minimal operational cost.
In a topsides application, a multiphase pump is used to improve the flow of a well by lowering the wellhead pressure. Manufactured by Framo Engineering, the P301 is a helico-axial rotodynamic pump, based on the Poseidon design, developed under a previous program involving Statoil, Total, and IFP.
Pumping, metering
After being brought back to land for inspection - all parts were found to be in good condition - the pump will be returned to the platform for further use. Statoil's next step is to marinize a multiphase pump, a move which it is undertaking in conjunction with Norske Shell.
Framo is responsible for engineering and manufacturing a further development of the basic Poseidon design with an electric drive. The partners plan to test the pump, known as Elsmubs, on Framo's underwater test rig during 1996.
In a subsea context, the pump can either be used to enhance the well-flow, as in the topside applications, or to transport the wellstream over a longer distance than it would naturally flow to a processing center. Statoil is also about to take multiphase meters subsea, with plans to install them both on the Gullfaks satellites and Aasgard. The company has amassed a lot of operational data on such multiphase meters.
MFI and Framo units were tested during the Gullfaks pump project, and products from these manufacturers, plus Fluenta and Kongsberg Offshore, underwent an exhaustive test program at Norsk Hydro's Porsgrunn research facility earlier this year, as part of the joint multiphase
development program set up by Statoil, Saga, and Norsk Hydro.
Multiphase meters enable well tests to be carried out in a matter of minutes rather than the hours required by test separator systems, which are also more expensive and more space consuming. By providing real-time feedback on the wellstream flow, they make it possible to fine-tune production control, thus enhancing productivity.
Hydrate formation
Another important area of research - perhaps the most important, according to Moerch - is the study of hydrate formation and the means of combating it. Hydrates can bring production to a standstill, as Lasmo discovered on Staffa in the UK sector. They have also caused accidents on offshore platforms.
Statoil is part of a consortium which is screening hundreds of chemicals for their inhibiting effect on hydrate formation. "If we find a promising chemical, we try and refine it," Moerch says. Ultimately, Statoil is looking for inhibitors which can be used on a ppm scale. Full-scale tests have been carried out on fluids travelling in the 6-in test line from the Tommeliten Field, involving the creation and melting of some 20 hydrate plugs.
"This has given us a very unique experience," says Moerch. "But we still don't understand all aspects of the hydrate formation and melting processes."
An alternative method of controlling hydrate formation is to heat the pipeline contents. Statoil has developed the Combipipe system, which uses a technology known as "induction through thermal insulation" which the company has patented. It recommended that Combipipe be used on the Sleipner West development for hydrate control in the pipeline running from the field to the process platform, but partners voted to use more conventional methods.
Modeling flows
Another important front in multiphase research is the mathematical modeling of multiphase flow. The OLGA two-phase flow program (oil and gas) originally developed by Statoil, Sintef, and the Institute of Energy Technology (IFE), has since been extended to a three-phase program (water, oil and gas).
The models are tested and refined in real field applications, and now make an important input into the design code for new projects. For the Troll Gas development, a real-time simulation program is being developed to help optimize production.
Another important input into the flow models is the fluid composition. Each reservoir yields crude with different properties, Moerch points out, and these must be taken into account in attempting to understand and predict phenomena such as flow behavior and slug formation.
To understand and describe the fluid properties is also therefore an important aspect of multiphase research, he says.
Copyright 1995 Offshore. All Rights Reserved.