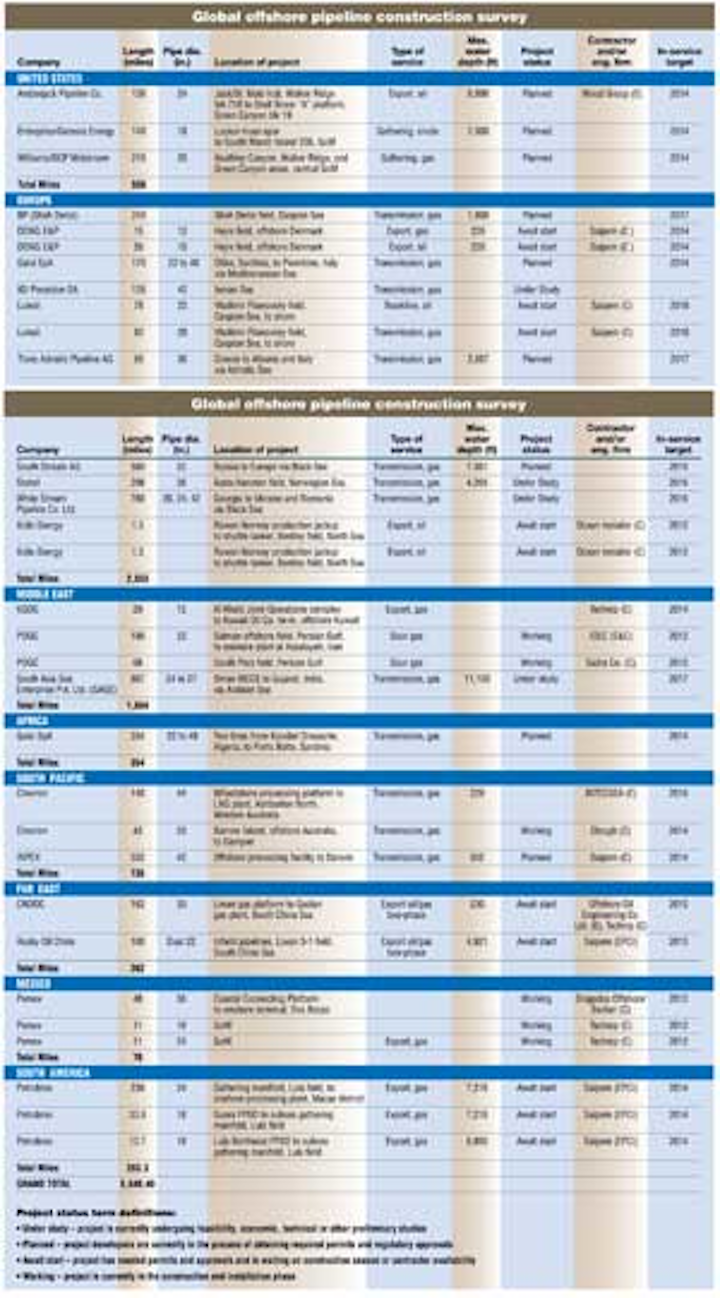 Bruce Beaubouef
Managing Editor
Operators and developers are studying, planning, and building more than 5,800 mi of oil and gas pipelines to bring these supplies from offshore fields to onshore markets.
Europe is the clear leader in offshore pipeline projects, with more than 2,500 mi of systems being built and planned. The largest project being planned offshore Europe is the proposed South Stream pipeline. It would move Russian gas through the Black Sea to Bulgaria through a 560-mi, 32-in. pipeline to be installed in waters down to more than 7,300 ft. Gazprom and Eni, the developers of South Stream project, announced earlier this year that they will make a final investment decision in November and start construction in December.
The Middle East is the next most active region, with nearly 1,100 mi of oil and gas pipelines being built and planned. The most notable project in this region – and a big contributor to the region's total – is the proposed South Asia Gas Enterprise (SAGE) pipeline project, which proposes to move natural gas from the Oman Middle East Compression Station (MECS) to Gujarat, India, by building 807 mi of 24 to 27-in. pipe through the Arabian Sea, in waters down to 11,100 ft. The project is currently under study, and project developers are looking at a 2017 in-service date.
The South Pacific is another active region for offshore pipeline activity, with Chevron's Gorgon and Wheatstone projects both having associated pipeline systems as part of the development projects. Work is currently underway on the 43-mi, 20-in. Gorgon gas trunkline, with installation contractor Clough working to complete the line before the end of the year. The biggest offshore pipeline project in this region is associated with the Ichthys project offshore Western Australia. It calls for 552 mi of 42-in. pipe to move gas from an offshore processing facility to Darwin, Australia. An installation contract has been awarded to Saipem, who will work toward a 2014 completion date.
In the Gulf of Mexico, Williams and DCP Midstream Partners are pushing forward with plans to extend the Discovery natural gas gathering pipeline system. The Keathley Canyon Connector involves the construction of a 215-mi, 20-in. pipeline. It will gather production from the Keathley Canyon, Walker Ridge, and Green Canyon areas in the central deepwater Gulf. Construction is expected to begin next year, and work toward a mid-2014 in-service date.
Also in the Gulf, Enterprise Products Partners and Genesis Energy are developing plans for a new crude oil gathering pipeline serving the Lucius development area. The 149-mi, 18-in. SEKCO oil pipeline is would connect the Lucius truss spar floating production platform to an existing junction platform at South Marsh Island 205. There, it would connect to the Enterprise-operated Poseidon pipeline system. The SEKCO oil pipeline is expected to begin service by mid-2014.
Offshore South America, Petrobras is also moving forward with plans to move gas from the Guara and Lula Northeast FPSOs in its Lula field to other systems that will take the gas to onshore markets.
The inauguralGlobal Offshore Pipeline Construction Survey – a detailed project-by-project listing of all the major, large-diameter offshore oil and gas pipeline systems being built, planned and studied – makes its debut below.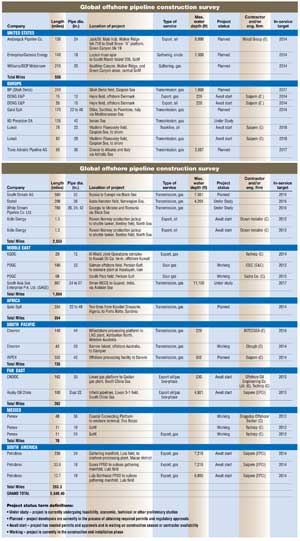 Click here to view Global offshore pipeline construction survey