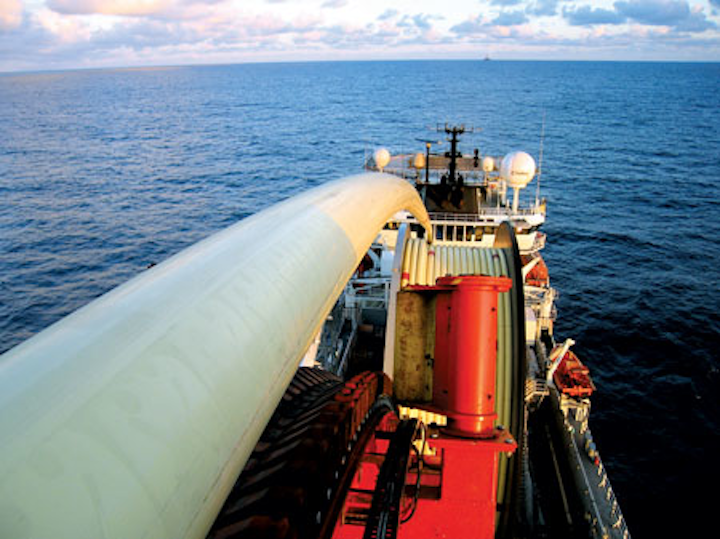 Junkan Wang • Ali Mirzaee-Sisan • Jens Petter Tronskar • Dag Øyvind Askheim
DNV GL
Loss of production time due to repair operations offshore can equate to millions of dollars per day in lost revenue. As a result, pipeline "live" repair, i.e. repair operations without any downtime, is an attractive option for operators, and is often preferred since it yields considerable flexibility and is highly opex-efficient. It is however, technically challenging.
Offshore pipelines are designed to last for more than 20 years, but damage can prevent them from reaching their optimal design life. Damage to oil and gas pipelines can occur during installation or during the operational stages. The Pipeline and Riser Loss of Containment (PARLOC) report published in March 2015 presents loss of containment incidents that occurred on pipelines and risers on the UK continental shelf (UKCS) during the 12-year period 2001 to 2012. The PARLOC report mentions 183 loss of containment incidents of which 160 happened during operation. According to PARLOC, full descriptions of all incidents are not available due to missing reported anonymous data. These statistics differ in other parts of the world, but nevertheless highlight the importance of offshore asset integrity, and the need to access the latest repair technology to respond when required.
During operation, damage can be caused by internal and external corrosion, hydrogen-induced stress cracking (HISC), environmental factors such as unstable seabed conditions or seismic related damage, and third-party impacts such as anchors and other dropped objects. The risk of damage depends on many factors, but typically includes the design of the pipeline, the environmental conditions, and the intensity of adjacent human activities. Additional logistical challenges also apply if the offshore repair operations involve isolating topsides on a production platform.
The extent of possible damage can vary from insignificant to a fully buckled or parted pipeline, and governs the repair preparedness strategy. For extensive damage of large sections of the pipeline, repair options are usually limited to cut and replacement using hot tap and bypass technology with substantial opex implications due to lost production time. For most local damage, such as external or internal corrosion and mechanical damage on a local scale (i.e. dents, wrinkles, buckles or girth weld defects), repair methods that involve minimal or no lost production time can be viable. These repair methods are collectively referred to as "live" repair.
Most subsea pipeline repair technologies involve fittings that can be connected to the pipeline via mechanical means, such as couplings, clamps, T-branch connections, or by welding. Isolation plugs are used to limit emptying volume of internal fluid and sea water filling of the pipeline during the repair. Offshore repairs can also be challenging and costly in terms of logistics. Most shallow-water repairs (down to 180 m/591 ft water depth in Norwegian waters) have historically been performed by divers. In deeper waters, pipeline repairs have to be conducted via remotely controlled technologies. Qualification of such technologies and equipment requires in-depth knowledge of the pipeline design parameters and operational experience. To date, there are very few options for deep and ultra-deepwater pipeline repair.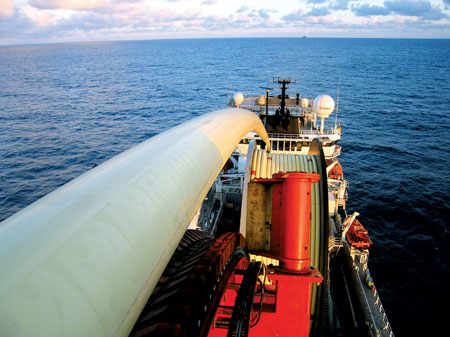 Damage to oil and gas pipelines can occur during installation or during the operational stages. (Courtesy DNV GL)
DNV GL has served as an independent technical advisor on several pipeline repair projects in the past few decades, to enable "live" pipeline repair without compromising on safety and integrity. The company has developed a number of practical repair procedures and a range of "live" repair solutions. These include plugging and grouted repair clamps for pipelines, and in-service welding of split-sleeves and stand-off sleeves with internal gas containment for repairs on leaking lines, grouted sleeves, and tees for pipelines.
Responsible for 170 world leading offshore standards and recommended practices (RPs), DNV GL is currently updating one of its leading RPs for offshore pipeline repair - DNV-RP-F113 - through a fasttrack joint industry project (JIP). The RP is widely referenced for the qualification of fittings and systems used for pipeline subsea repair and/or modifications and tie-ins. The guidelines include aspects relating to the design, manufacture, installation, and operation of such fittings and systems. However, the latest version of this RP was published eight years ago and a number of new technologies have been developed since then. This new JIP aims to capture the latest best practices, experiences, and expertise from the main providers and operators of pipeline repair equipment and tools, and to formalize pipeline subsea repair criteria and procedures into an internationally recognized standard.
The new edition of the RP will be harmonized with the latest revision of the Offshore Standard, DNV-OS-F101, on subsea pipelines, and will extend coverage to repair of clad and lined pipe, surface pipeline recovery, damage assessment, including root cause assessments, inspection methods, criticality assessment, selection of mitigations and repair methods for given damage levels, and lifecycle management of pipeline repair operations.
The new edition will also provide more guidelines on the safety (including topside and landfall) and barrier philosophy related to offshore pipeline repairs, and will provide further assistance on considerations for post-lay ovality of the pipe, and test requirements after the repair operation.
Other improved design and qualification guidelines will relate to pipeline isolation plugs; sour service; high temperature/high pressure (HT/HP) pipeline repair; the lifetime performance of elastomeric seals; and acceptance criteria for possible effects on the pipeline surface from coating removal tools. It will also address updated guidelines and acceptance criteria on hyperbaric welding, burst capacity check for welding on in-service pipelines, and installation aspects such as longitudinal seam weld removal.