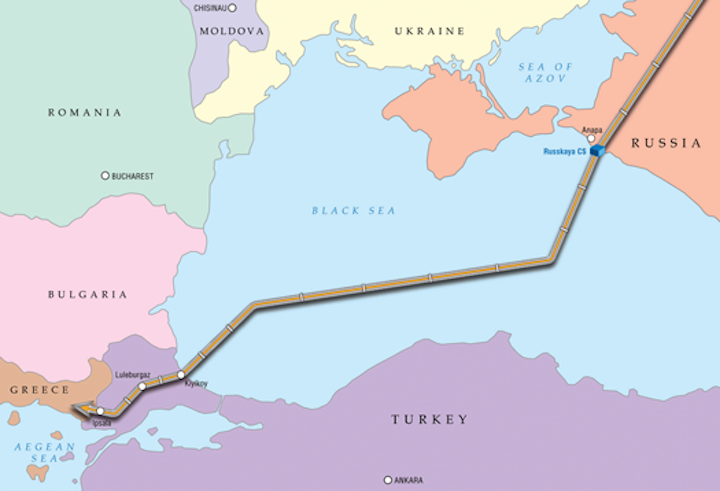 Bruce Beaubouef
Managing Editor
Officials from the Russian and Turkish governments, along with their national oil and gas companies, are still weighing their options for the construction of the proposed Turkish Stream natural gas pipeline system. Despite a number of apparent setbacks over the summer, Turkish and Russian officials insist that the project is still on course and will be built.
Turkish Stream calls for the construction of four 565-mi (909-km) offshore pipelines to move Russian gas through the Black Sea to Turkish and possibly European markets.
Turkish Stream was first announced last December, when officials from Gazprom and Turkey's Botas Petroleum Pipeline Corp. signed a memorandum of understanding to construct an offshore gas pipeline across the Black Sea toward Turkey.
As originally proposed, Turkish Stream would move 63 bcm (2.2 tcf) on an annual basis to Turkish and European markets, of which 14 bcm/yr (494 bcf/yr) would go to Turkish consumers. The remainder would be conveyed to a delivery point on the border between Turkey and Greece, and distributed from there to European markets.
The Russkaya compressor station in Russia's Krasnodar Territory, under construction for South Stream, would serve as the pipeline starting point.
Gazprom said that 410 mi (660 km) of the route would be laid within the old corridor of the shelved South Stream project and that roughly 155 mi (250 km) would be laid within a new corridor toward the European part of Turkey. These initial plans called for the first string of Turkish Stream to come online in December 2016.
But, various reports issued over the summer indicated that Turkish Stream had been delayed due to differences between Russia and Turkey over the structure of the project. A report on the Russia Today website said that talks between the two governments had been de facto halted in June.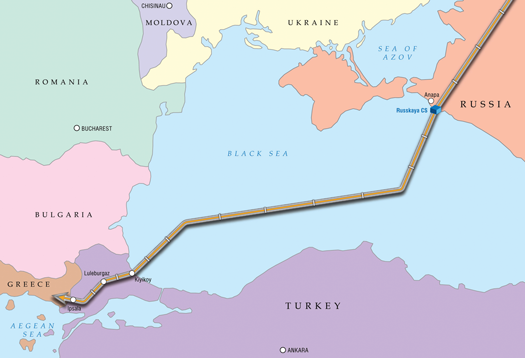 The proposed Turkish Stream system calls for four 565-mi (909-km) offshore pipelines to move Russian natural gas across the Black Sea to Turkish and possibly EU markets. (Courtesy Gazprom)
According to the report, Russian officials indicated that the main obstacle to the negotiations was the fact that Turkey had no cabinet of ministers at that time. The issue of the project's number of pipeline strings and gas price - ostensible stumbling points, according to several reports - did not play such an important role, officials said.
Subsequently, Russian Energy Minister Alexander Novak and Turkish Ambassador to Russia Ümit Yardim denied rumors that the project had been suspended.
In August, Russian officials sent two offers to Ankara relating to the project, apparently showing readiness to decouple the construction of a pipeline for gas deliveries to Turkey from the proposed pipes for transit of Russian gas to Europe.
At that time, Russia's Energy Minister Alexander Novak said that Moscow was ready to sign an intergovernmental agreement for the construction of one line of Turkish Stream that would supply gas for the Turkish market. Novak also said the Turkish side was studying that proposal.
But on Sept. 11, Turkish officials said that discussion on the proposed pipeline had been suspended due to preconditions imposed by Gazprom over the discount Turkey wants in the price of Russian gas imports. At a conference in Istanbul, Turkish energy ministry official Sefa Sadik Aytekin said that while the two sides had not "walked away from the table," the talks were, however, "frozen." Aytekin's comments were quoted in a Radio Free Europe/Radio Liberty online report.
That statement was followed by a meeting of Russian President Vladimir Putin and Turkish President Recep Tayyip Erdoan in Moscow on Sept. 23. That meeting seemed to get the project going again, as both leaders agreed that "work would continue" on the project.
At a meeting in Moscow, Russian President Vladimir Putin and his Turkish counterpart Recep Tayyip Erdoan agreed that "work would continue" on the project, Kremlin spokesman Dmitry Peskov said.
"It is complex work which implies difficulties, but it will all follow its course," Peskov was quoted to say by Radio Free Europe/Radio Liberty. Peskov also indicated that two leaders would meet again before the year's end "to coordinate their approaches" to the partnership.
Following that meeting, a source at Russia's Energy Ministry told TASS that the presidents of Russia and Turkey had agreed on a phased implementation of the project. Reportedly, a separate intergovernmental agreement will be concluded for the construction of pipes 2 to 4, which are projected to carry gas to the EU via Turkey.
Negotiations between Russia and Turkey over the first stage of Turkish Stream are expect to continue in November, when Ankara's new government is to be formed. The first line of the Turkish Stream project is expected to cost €3.3 billion ($2.9 billion).