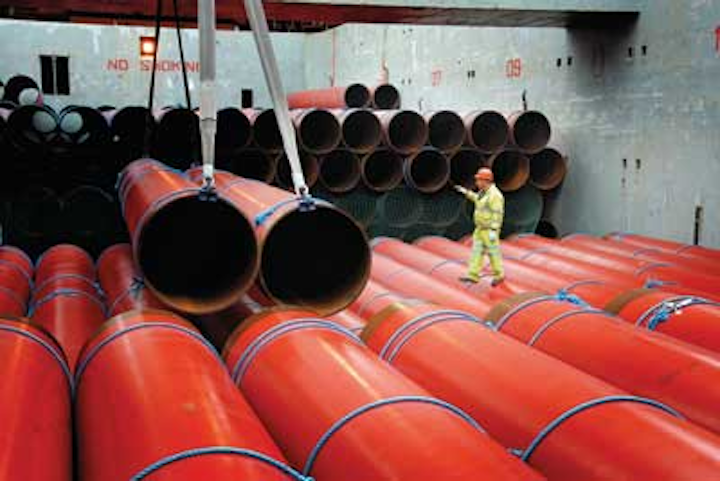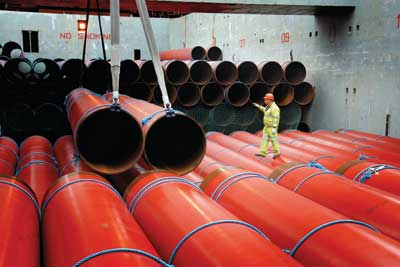 The European outlook for the offshore pipeline industry in 2014 is positive, according to a recent report conducted byTata Steel. (Photo courtesy Tata Steel)
Bruce Beaubouef
Managing Editor
Operators and developers are studying, planning and building just over 7,050 mi (11,346 km) ofoil and gas pipelines to bring these supplies from offshore fields to onshore markets. The total reflects a significant increase from last year's survey, which showed a total of almost 5,600 mi (9,012 km). This year's total represents a 26% increase over last year.
The increase is driven in very large part by the development of theSouth Stream pipeline project, and the decision by the developers to build four 578-mi (930-km) pipelines to move natural gas from Russia to Bulgaria (and then to European markets) via the Black Sea. If all four lines are built according to plan, South Stream will include more than 2,300 mi (3,701 km) of pipe.
Installation of the first South Stream pipeline is expected to begin this fall, and will be undertaken by Saipem, who will use itsCastoro Sei vessel to work toward a 2015 completion date. Construction on the second line will be undertaken by Allseas, using its new PieterSchelte vessel. Work on this second line is scheduled for a late 2016 completion timeframe.
Due to the increase in South Stream's project scope, Europe is the clear leader in the survey for the third year in a row, with 4,178 mi (6,724 km) of pipeline systems being built and planned.
It should be noted that the long-planned GALSI pipeline project, which called for a 937-mi (1,508-km), 22- to 48-in. pipeline to move natural gas from Algeria to Sardinia and then to Italy, has been removed from the survey. Some 347 mi (558 km) of that would have been offshore, in the Mediterranean Sea. The project, announced in 2005, has suffered a number of delays and setbacks that have undermined its viability. Recent reports have indicated that this project will not proceed.
At the same time, the White Stream natural gas pipeline project remains in the survey. First announced in 2005, it calls for a 635-mi (1,022-km), 20-, 24-, and 42-in. pipeline to move natural gas from the Caspian region to Romania, Ukraine, and other European markets. White Stream may ultimately be another project that falls by the wayside, but there is some evidence that developers continue to support the project; and so it remains in the survey for this year.
TheMiddle East once again comes in second (as it did last year), with 1,103 mi (1,775 km) of pipelines being built or planned. Most notable here is the proposed South Asia Gas Enterprise Pvt. Ltd. (SAGE) project, also known as the Middle East to India Deepwater Pipeline (MEIDP). It calls for the construction of an 807-mi (1,300-km), 24- to 27-in., pipeline to move natural gas from the Persian Gulf and Middle East regions to India. This project it still under study, with a projected 2017 completion date.
Also in the region, Delek Group's gas partnerships have applied to export natural gas to Cyprus through a pipeline from Israel's deepwater Leviathan field. The aim is to start gas deliveries in early 2016, but the project requires agreement between the bidders and the Cypriot government no later than Aug. 21, 2014. There is also a proposal to build a pipeline from the Leviathan to Egypt. But no details have been announced for either, so they are not included in the survey.
Similarly, there have been reports of a possible long-distance subsea pipeline to move Iranian natural gas to markets in Oman. Iranian Petroleum Minister Bijan Namdar Zanganeh has said that the two countries have discussed five options for gas transmission, and that they hoped to finalize a deal this year. Again, with no details on route, length and diameter announced, this project has not been included in the survey.
Continuing the trends from last year, the South Pacific region once again comes in third, with 813 mi (1,308 km) of systems being planned and built. Most notable here are the Wheatstone and Ichthys pipelay projects, which have both begun construction. Allseas is building the 140-mi (225-km), 44-in. natural gas trunkline from the Wheatstone processing platform to an LNG plant in Western Australia. Saipem is building the 552-mi (888-km), 42-in. Ichthys natural gas pipeline, which will run from an offshore processing facility to Darwin, Australia. Saipem is using its semisubmersible laybargeSEMAC-1 for the shallow-water portion and the laybarge Castorone for the larger deepwater portion.
Offshore South America, Petrobras is moving forward with plans to move gas from the Guara and Lula Northeast FPSOs in its Lula field to other systems that will take the gas to onshore markets. Petrobras has contracted Saipem for construction of subsea facilities for the Lula Norte, Lula Sul, and Lula Extremo Sul projects offshore Brazil. The location is in the Santon basin presalt region, around 300 km (186 mi) from the coasts of Rio de Janeiro and São Paulo states.
Saipem will engineer, procure, fabricate, and install three offshore pipelines, associated pipeline end terminations, and free standing hybrid risers for the gas export systems to be installed in the Lula field in water depths of up to 2,200 m (7,218 ft). TheSaipemFDS2 will perform most of the offshore work within the first half of 2016.
Offshore pipelay in theGulf of Mexico has slowed considerably, as many larger projects have been completed or are in the final testing phase. Among the remaining projects is Enbridge's Heidelberg pipeline lateral project, which involves the construction of a 36-mi, 20-in. pipeline in Green Canyon block 860 to move crude oil from Anadarko's Heidelberg development to an existing third-party system. It is expected to be complete in 2016.
Click here to view theGlobal Offshore Pipeline Construction Survey