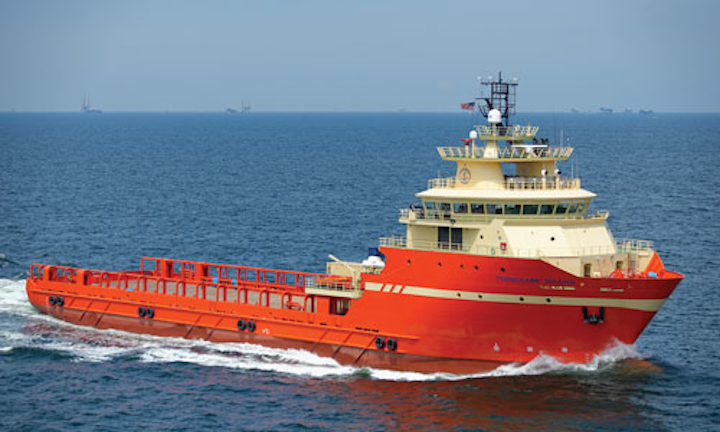 Richard Sanchez
IHS Markit
Over a period of 70 years, the offshore supply vessel (OSV) industry has grown and evolved to meet the needs of ever-more challenging offshore oil fields. The cyclical nature of the oil and gas industry generates a repeated succession of boom and bust business cycles, which periodically roil the OSV industry.
At the present time, the value of offshore equipment is down, the value of oil service companies is down, and stock values are down. Such a profound market-driven fall in values, paired with an apparent imminent recovery, creates significant opportunities for investors and entrepreneurs. According IHS Markit'sGlobal Supply Vessel Forecast, demand for platform supply vessels (PSVs) greater than 3,000 deadweight tonnes in the Americas will bottom out in 2017 with gradual increases in demand through 2018.
Looking back to when the OSV industry first began in the Gulf of Mexico can be very instructive in understanding how the industry came to be so oversupplied.
Where it all started
Many think that the OSV industry started in 1955 with Alden J. Laborde'sEbb Tide, one of the world's first purpose-built offshore supply vessels. The launch of that vessel also marked the foundation of Tidewater, which went on to become a leader in offshore supply transport. However, the boatmen of Louisiana had been supporting oil fields in the bays and inland waterways as early as the 1940s. By the mid-1950s, competition among the US fleet of workboats had grown to include many crew boats and tugs. Minor Cheramie of L&M BoTruc Rentals had a fleet of oil service boats, but he wanted to offer his clients even better boats. He learned about a shipbuilder in Rhode Island, Luther Blount, who had already designed a workboat with the cabin located at the front and an open deck at the rear, which he called the Botruc. As often happens with technological innovation, Blount and Laborde almost simultaneously took a significant leap forward in OSV design with the forward-positioned cabin and an open clear deck aft. While the two designs were different, they were both a major evolutionary step in the development of modern PSVs and anchor handling tug supply (AHTS) vessels.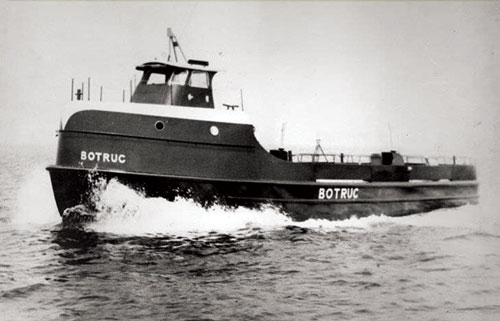 BoTruc built for L&M BoTruc Rentals was one of the first workboats to have a cabin at the front and an open deck at the rear. (Courtesy L&M BoTruc)">
TheBoTruc built for L&M BoTruc Rentals was one of the first workboats to have a cabin at the front and an open deck at the rear. (Courtesy L&M BoTruc)
The history of offshore supply vessels is one born out of cycles of prosperity and ruin. It is a grand story full of people who had the imagination to identify a particular need and the force of will to fulfil that need. The story has been repeated over the decades, with OSV companies rising and falling in parallel with the global demand for oil.
The oil service industry is always at the mercy of E&P spending budgets. Supply and demand for OSVs drives utilization and day rates for the oil service sector. Excess capacity drives down utilization and day rates. Insufficient capacity drives up rates and creates demand for the construction of new equipment.
OSVs are sticky
OSVs have a knack for sticking around in the market well past their technological obsolescence. With proper maintenance, an OSV can continue to work for over 40 years. However, the vessel's marketability decreases as competitors offer newer vessels with better technological solutions, like faster pumps, fuel efficiency, or dynamic positioning. OSVs have a relatively low negative carry when compared to their earning potential in a reasonably balanced market.
Remnants of the past
Running up to the infamous 1980s downturn, US shipyards delivered over 280 OSVs between 1977 and 1983. Of those 280 vessels, only 116 have been scrapped or retired, while 164 (58%) are still in service today in West Africa, the Middle East, Mexico, Southeast Asia, South America, and the US Gulf (Source: IHS Markit MarineBase). Of those 164 PSVs and AHTS vessels in service, 17 continue to work term charters, 62 are trading on the spot market, and 85 are either stacked, inshore, or idle.
OSV construction cycle
The current downturn in offshore services began in the middle of a major OSV construction cycle which started ramping up in 2011. While the US drilling moratorium of 2010 and subsequent changes in drilling permits slowed activity for many months, rig and OSV demand came roaring back in 2011.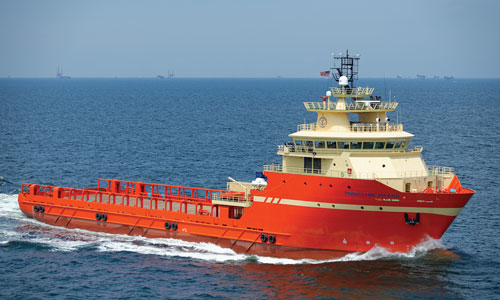 Timbalier Island platform supply vessel. (Courtesy Edison Chouest)">
State of the art: theTimbalier Island platform supply vessel. (Courtesy Edison Chouest)
But the OSV market had changed during the moratorium. According to IHS Markit'sOffshore Marine Monthly, over 50 Jones Act vessels had left the US Gulf, creating a shortage of workboats. Many of the OSVs involved in the exodus found long-term charters in Mexico, Brazil, and West Africa. In 2011, oil companies in the US Gulf led the charge for new capacity with a surge in rig demand, building up a substantial backlog of long-term rig contracts stretching out past 2020 (Source: IHS Markit's RigBase).
The market for Jones Act OSVs was tight with utilization in the 90-100 percentiles for the larger market categories. The other factor which led to a major increase in new vessel construction was easy money. The success of the offshore supply vessel industry attracted bankers and financiers who added fuel to the fire.
Pile on the debt
US vessel owners took on large amounts of debt as they strove to meet demand and grow their market share. Hornbeck Offshore Services and Edison Chouest Offshore entered into a virtual arms race to capture more of the fast-growing deepwater supply vessel market. In December 2011, Hornbeck Offshore Services ordered 16 large PSVs (5,500-6,200 dwt) plus 16 newbuild options, as was reported by IHS Markit'sPetrodaily Marine Newswire America's Edition.
The PSV orderbook kept growing in 2012 with GulfMark, Tidewater, Bordelon Marine, Thoma-Sea Shipyard, Gulf Offshore Logistics, and Abdon Callais Offshore all placing multi-vessel orders for PSVs ranging from 3,500-6,200 dwt. The icing on the cake came in July 2013 when Edison Chouest Offshore announced that its US orderbook had surged to 17 newbuilds plus 20 newbuild options. Later in October, Harvey Gulf International Marine embarked upon an acquisition campaign, amassing much of the newer shallow-water tonnage under its own banner.
This was also the time when supply vessel owners began to build up the fleet of Jones Act MPSVs (multi-purpose supply vessels) and subsea construction vessels. Supported by strong oil prices, shipyards were sprinting to complete new vessels as soon as possible. The new PSVs were invariably finding long-term contracts at attractive day rates, often before they left the shipyard. In the first half of 2014, the market outlook continued to look favorable, but everything was about to change for the worse.
Market downturn
In mid-2014, at the peak of OSV construction in the United States, the industry began a downward slide through the latter half of the year as oil prices began to fall. Oil companies dramatically pulled back from investing in offshore exploration and production. US shipyard capacity peaked in 2014 with 37 OSV deliveries. By 2015, owners with a large backlog of newbuilds began to seek ways to slow or delay vessel delivery, in part because taking delivery of a newbuild triggers financial responsibilities. Some large PSVs close to delivery were sent back to the yard to be repurposed to support subsea construction. Several PSVs were outfitted with large cranes, ROV spreads, accommodation packages and/or helipads. The latest orderbook for US shipyards has been whittled down to 13 PSVs; and some owner-operated shipyards are in even less hurry to finish vessel construction.
State of the market
The US Gulf is currently saturated with excess OSV capacity. Furthermore, the foreign markets like Mexico, Brazil, and West Africa, which once absorbed excess capacity, are also suffering from their own oversupply of available equipment. As of February 2017, IHS Markit's RigBase reported six jackups and 28 floating rigs contracted in the US Gulf, and those figures are more likely to fall in 2017. Oilfield service markets are expected to bottom out in 2017, followed by a gradual rise in activity in 2018 (assuming oil prices continue to improve going forward). The recovery in oilfield demand is expected to be slow, and OSV markets will continue to face strong headwinds, in the form of excess capacity competing for the same pool of term charters.
Structural changes
The US Gulf of Mexico is one of the most mature oil provinces in the world. Historically speaking, the region has consisted of both shallow and deepwater drilling. However, the future of the US Gulf is in its deepwater regions; shallow-water exploration and production are expected to play a much smaller role going forward. This structural change in the demand for oilfield services presents a major problem for the industry, which has built up significant capacity to support shallow water operations over the last 70 years.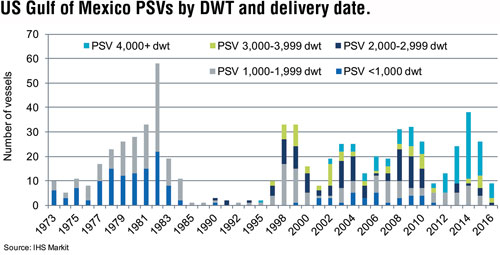 Today, the US GoM OSV market is severely oversupplied with both large and small PSVs. The current fleet of PSVs of less than 2,999 dwt were largely built to support shallow exploration and production. The US Gulf has a long history of robust activity on the continental shelf. At its peak in 1984, there were over 160 jackups and nearly 40 floaters working in the US GoM. By way of contrast, the top of the market in 2014 had 19 jackups and 53 floating rigs under contract.
The economics of offshore drilling have changed with the rise of onshore unconventional oil and gas production. The resources that are left out on the continental shelf are largely natural gas, and that gas is not commercially viable at current prices. Furthermore, the success of unconventional drilling is likely to keep North America natural gas prices depressed well past 2020. The US Gulf oil service providers will face very different challenges for shallow and deepwater operations going forward. IHS Markit'sGlobal Supply Vessel Forecast indicates that OSV demand for deepwater work will rebound with rising oil prices; however, shallow-water demand is not projected to rebound. This creates a rather dismal forecast for the massive fleet of shallow-water OSVs, which were built to support robust jackup demand over a period of 70 years.
Desperate vessel owners have been forced to fight over the remaining charters, driving day rates below break-even costs. While many analysts say that this is an unsustainable situation, most shallow-water vessel owners have little to no debt on their boats, and are able to run their companies with extremely low overhead. What is unsustainable for a corporate service company might just be enough to keep some of these small, family run companies going. It is simply not in their interest to scrap their boats so that newer tonnage can earn a "sustainable" day rate. Some small OSV companies have even gone dormant; tying up their boats and simply waiting for better market conditions.