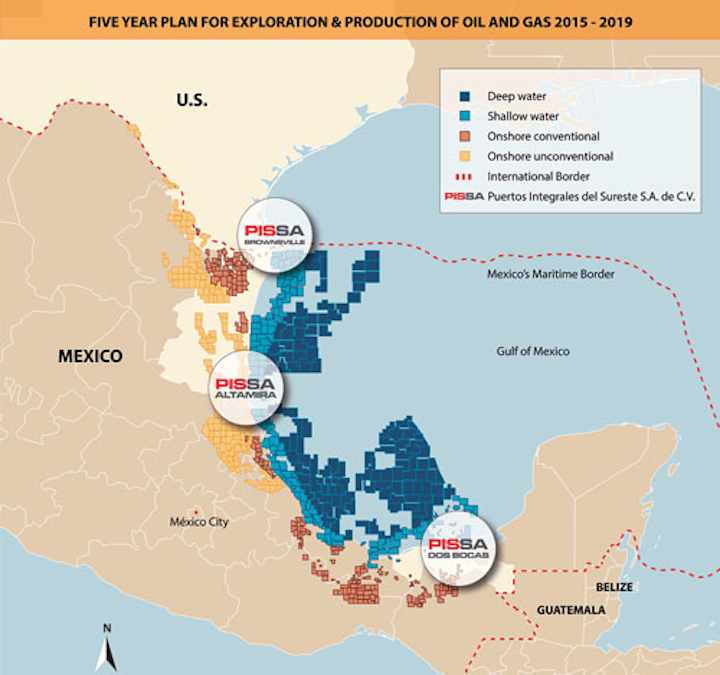 Bruce Beaubouef
Managing Editor
Mexico is working on a portfolio of nine port projects, all in Gulf Coast states, to meet the increased demand for logistics and supply services that is expected in coming years. That demand is being driven by expectations of increased E&P activity offshore Mexico, which is itself made possible by the nation's efforts to reform its energy market, and new openness to international oil and gas investment.
Overall, Mexican authorities are investing about 48 billion pesos ($3.2 billion) in the projects, according to information on the country's Ministry of Transport and Communications (SCT) website. "It's necessary to prepare Mexican ports for the current reforms such as in energy," Julio Martínez Hernández, president of the Mexican association of port infrastructure (AMIP) told BNamericas.
The ports of Matamoros and Altamira in Tamaulipas state are preparing to meet demand from the energy industry, while the ports of Veracruz, Coatzacoalcos and Dos Bocas are preparing to meet demand from the petrochemical industry, he said.
"Altamira port is very important, it has the capacity to grow enormously, this port has 40,000 hectares of land to be used," Martínez Hernández noted. The expansion of Altamira port will require around 10.7 billion pesos, according to the BNamericas report.
In addition to the port of Altamira, the city of Matamoros farther north is the shortest port by distance to the country's emerging deepwater province in the Perdido foldbelt. The logistics needed to service and supply that deepwater play will be important for PEMEX - which has announced a number of deepwater discoveries in recent months - but also for the companies that won blocks in the country's inaugural Round 1.4 bid offering last December, including CNOOC Ltd., Chevron, and Total.
Another key player will be Australia's BHP Billiton, which won rights to partner with PEMEX to advance development of its key deepwater Trion discovery in the region.
Supplies for PEMEX's offshore operations have historically been sent out of Tampico, farther south in Tamaulipas, but last year's Round 1.4 process to award deepwater blocks has renewed interest in Matamoros-based logistics.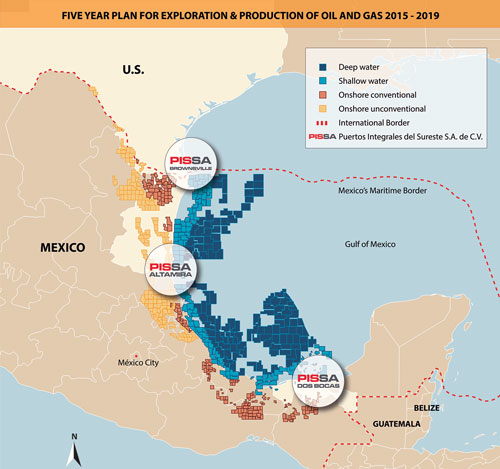 Puertos Integrales del Sureste S.A. de C.V. reports that it is expanding its facilities at three major ports along the Mexican Gulf Coast. (Courtesy PISSA)
Officials with the Port of Matamoros hope that their facility will become the "first port for offshore deepwater operations" in Mexico. Their plans are expressly targeted toward servicing the Cinturon-Plegado-Perdido deepwater play, which lies just south of the US maritime border line. They note that Matamoros is the nearest Mexican port to the Perdido area.
In 2015, the Mexican ports authority (CGPMyM) and SCT announced plans to expand three ports on the Gulf of Mexico. This included Matamoros as well as the ports of Seybaplaya and Ciudad del Carmen in Campeche. A total of 2.5 billion pesos was allocated in the 2015 federal budget for the development of strategic seaports. That funding included an investment of $95 million at the Port of Matamoros to build a dock capable of receiving the latest generation of vessels.
Development at the port of Matamoros is also expected to improve links with the United States. The Port of Matamoros is already linked with the Port of Brownsville in Texas via the Gulf Intracoastal Canal, the second longest man-made inland canal in the world.
Meanwhile, Seybaplaya port in Campeche state, in the south of Mexico, will satisfy the demand of national oil company PEMEX, Martínez Hernández said, adding that approximately 188 million pesos will be invested there. New docking berths and piers will be built at Seybaplaya as part of general modernization at a cost of $5 million.
Meanwhile, Ciudad del Carmen will require an investment of 1.1 billion pesos to modernize the entire port. Public works involve the construction of 312 m of dock, according to local media reports.
Other ports to feature in the government's strategic plans include the port of Tuxpan, Veracruz, which will be converted for strategic vehicles exports; and Tampico, in Tamaulipas, which will be converted from an oil terminal to a tourism port.
Progreso port in Yucatán state is investing 1.6 billion pesos to modernize its facilities and build a new logistics platform.
Private groups are also investing in Mexico's port infrastructure. Puertos Integrales del Sureste S.A. de C.V. (PISSA), a Mexican subsidiary of DPH Group, reports that its premises in the port of Altamira have authorization from the port authority to provide integrated services for the offshore oil and gas industry. The authority has granted PISSA with a 300-metric ton quayside base to serve marine activities.
PISSA also reports that it is developing a new facility in the Port of Dos Bocas, Tabasco, located near the most important offshore and onshore oil fields in the South of the Gulf of Mexico. Plans call for the Dos Boca facility to contain seven acres of land and 3,000 sq m of warehouses for storage and distribution of different types of cargoes, supplies and machinery, as well as a storage yard for pipes, materials, bulk and various fluids.