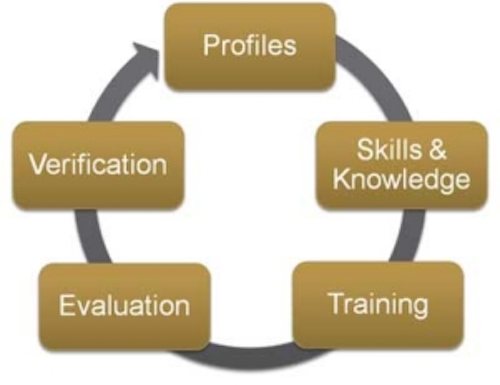 Competence assurance programs offer key tool for compliance
Tony Littler
Petrofac Training Services
The 2010 Macondo oil spill in the Gulf of Mexico led to a number of investigations, reactions, and conclusions about the future of the US oil and gas industry, particularly regarding safety standards. In light of this, the Bureau of Ocean Energy Management Regulations and Enforcement(BOEMRE) created new regulations with the aim of enhancing safety standards.
These new regulations require offshore operators to maintain comprehensive safety and environmental programs to strengthen drilling safety and reduce the risk of human error. As part of the new Workplace Safety Rule, all operators will be required to develop, implement and maintain a Safety and Environmental Management Systems (SEMS) plan byNovember 2011.
BOEMRE defines SEMS as a comprehensive management program for identifying, addressing and managing operational safety hazards and impacts, with the goal of promoting human safety and environmental protection.
SEMS is not entirely new to the industry. BOEMRE's predecessor, Minerals Management Services (MMS), introduced SEMS as a recommended practice for operators years ago. Further, in 1994, MMS endorsed the American Petroleum Institute RP75, Recommended Practice for Development of a Safety and Environmental Management Program for Offshore Operations and Facilities. The difference now is that such systems will be mandatory.
Understanding the implications
As stated in the Federal Register on Oct. 15, 2010: "It is the intent of this rule [SEMS] to hold the operator accountable for the overall safety of the offshore facility, including ensuring that all contractors and subcontractors have safety policies and procedures in place that support the implementation of the operator's SEMS program and align with the principles of managing safety set forth in API RP 75."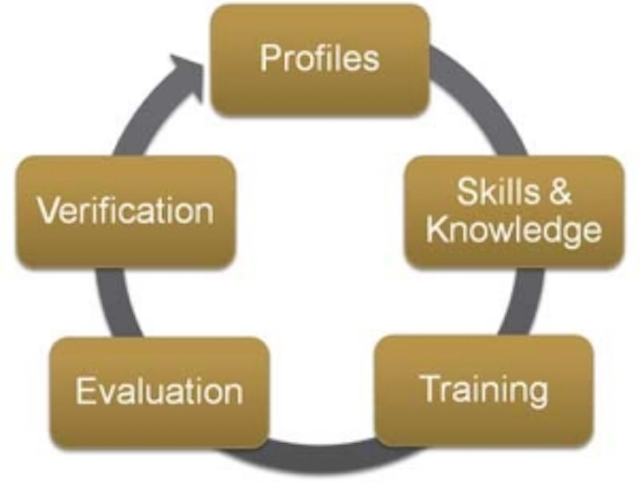 The key components of a competence assurance program.
It is the responsibility of the operator to ensure its contractors understand and comply with its SEMS plans. The operator must therefore ensure contractors have their own written safety policies and procedures as well as records to verify the skills and knowledge of their workforce. While the burden is on the operator to ensure that contractors comply with their SEMS plan, both parties must uphold the requirements of the plan. The SEMS rule does allow for the implementation of a bridging document which enables a contractor to use an operator's SEMS plan if they do not already have a SEMS-type program in place to support the implementation of these new requirements.
Upcoming challenges
More difficult than meeting the November deadline will be the challenge of ensuring that industry operators and contractors work together to agree on a consistent, standardized solution that defines the minimum skills and knowledge requirements for personnel. The industry must address how to standardize training, assessment, and record keeping going forward.
Imagine the complexity, inefficiency, and difficulty that will ensue if all operators require contractors to follow different SEMS plans. Contractors will never be able to keep up with the differing systems, plans, processes and requirements necessary to move from one job site to the next. Further, if industry agreement cannot be reached, undoubtedly there will be inconsistent training requirements between operators. Thus, costs will likely balloon because of the burden placed on contractors to meet the varying SEMS requirements.
Another lurking challenge: the industry must collectively agree that the solution will require more than a "tick-in-the-box" training approach. It is an unreasonable expectation that training alone will automatically result in the achievement of skills and knowledge. Further, it must be understood that simply adding on more training requirements to existing training programs will not deliver a viable solution either.
Competence assurance programs
While they are referred to by a variety of names, Competence Assurance Programs (CAPs) have been used throughout the oil and gas industry and across various parts of the globe for decades. CAPs provide a practical, logical approach to managing and enhancing the skills and knowledge base of employees.

Competence assurance programs provide a practical, logical approach to managing and enhancing the skills and knowledge base of employees.
They are designed to address the training, development, and assessment requirements of an organization, and ensure that the staff can demonstrate their competence in a practical work environment. Risk is mitigated by ensuring that employees are not put in danger of personal harm from the tasks they perform.
Regardless of title, CAPs involve the same key components:
Job profiles. Define required competencies, responsibilities, accountabilities, and activities. These discipline-specific profiles differentiate the knowledge and skill requirements of the job.
Training programs. Enhance competencies and enable skills or knowledge gap closure. Training needs are identified based on role-specific job profiles and typically include generic and site-specific training.
Evaluation process. Identify and record individual competence and competence gaps. The evaluation allows personnel to demonstrate whether they have sufficient knowledge and skills to safely carry out their jobs.
Verification process. Ensure consistent evaluation standards and recordkeeping. Verification is essential to assure the integrity of the overall program.
An IT database, often called a Learning Management System, is typically integrated to record, track, and report on all training activities and competence evaluations across the organization and throughout the individual's career. It allows the organization to provide an auditable report on the capability of its workforce at the press of a button. This will become increasingly important once operators are required to undergo the auditing process as part of the SEMS ruling.
In the United States, a number of operators and service companies are developing CAPs to aid in SEMS compliance, as they offer a viable solution for evaluating and assuring the skills and knowledge base of employees, while also providing training and evaluation records and documentation. While CAPs alone will not be the complete solution to SEMS compliance, they provide a consistent approach to competency management.
Path forward
As the requirements of BOEMRE are beginning to emerge more clearly, operators and contractors will need time to establish how learning, training and workforce capability processes should change in order to meet SEMS regulations.
If operators and contractors can work together to agree to standardized competence requirements and processes, we can bring about a step change in the way personnel are trained and deemed competent to perform their jobs, ultimately minimizing risk and improving workplace safety.
SEMS: What you need to know
As part of the Workplace Safety Rule, all operators will be required to develop, implement and maintain a SEMS plan.
SEMS plans must be modelled against API's RP75 and include 13 elements ranging from hazard analysis to management of change to records and documentation.
SEMS plans must be available for auditing purposes by November 15, 2011.
As a component of SEMS, the operator is responsible for ensuring that all staff and contractors have the skills and knowledge required to safely perform their assigned duties.
The operator or an independent third party must audit the program two years from the initial implementation and at least once every three years thereafter. BOEMRE may participate in the audit or conduct its own audit of the SEMS plan.
More Offshore Issue Articles
Offshore Articles Archives
View Oil and Gas Articles on PennEnergy.com