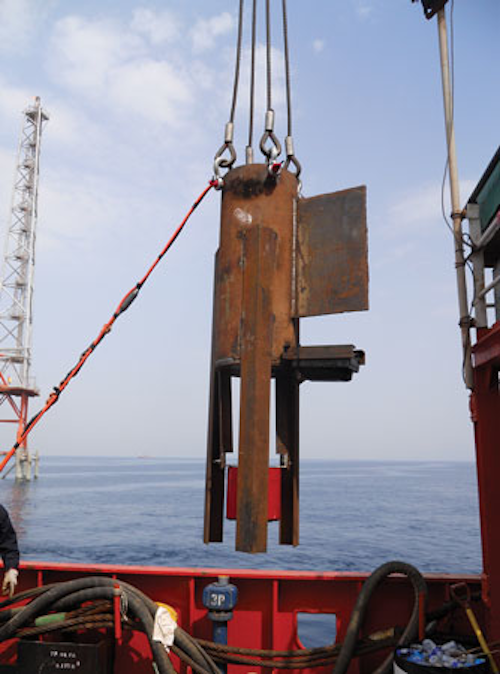 Pipeline inspection specialist Co.L.Mar has sold its first acoustic leak detector (ALD) for installation on an autonomous underwater vehicle (AUV) to a major oil company. This follows a three-year test campaign, initially with a prototype in a test pool and culminating in a maintenance program on various pipelines up to 21 km (13 mi) long connected to an oil and gas field in the Mediterranean Sea. In this case, the AUV performed integrity pipeline inspection including detection of free-span and cathodic protection.
The ALD-AUV comprises an underwater acoustic sensor which acquires data along the pipeline, records, and pre-processes it. Following completion of the mission, the data is processed by dedicated software in order to detect any eventual leak.
For this project, Co.L.Mar developed a second-generation version of the equipment which can part-process data during inspection in real time, as opposed to merely delivering recorded data, and also generate a real-time leak probability parameter.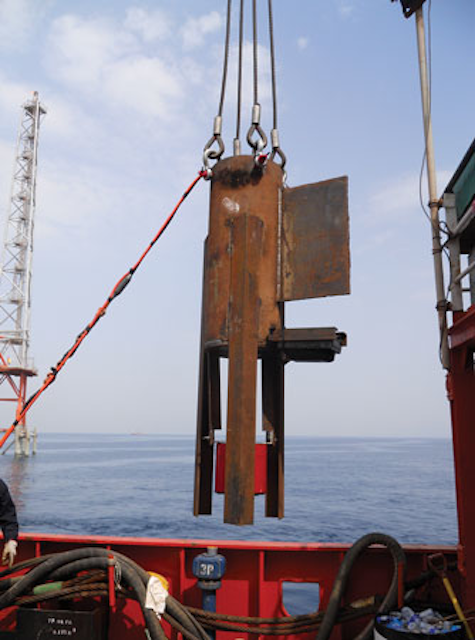 Clump weight with ALD suspended vertically. (Photo courtesy Co.L.Mar)
"In real-time mode, the draft processing can be useful in case the parameter reaches a threshold level," explained the company's managing director Luigi Barbagelata. "The AUV might then decide, also in real time, to come back and check where the suspicious area might be." The main advantage of an AUV for pipeline inspection, and for this particular operator, is cost, he added: unlike a larger ROV, an AUV does not need to be deployed from a specialist vessel kept on standby in DP mode.
For this first commercial AUV version, the ALD's payload includes some free channels where optional sensors can be added. The hardware is based on the latest-generation embedded processor developed by National Instruments.
This year, Co.L.Mar teams have detected leaks from five different offshore pipelines. One in the Middle East - a very small leak of 0.08 l/min - came to light during a hydro-test which recorded a pressure drop. "We were called out urgently," Barbagelata said, "and using an ALD in a diver configuration, we were able to pinpoint the leak.
In the same area we were called out to deal with a smaller leak on another line, just 0.04 l/min, which again we detected using divers. This was the smallest offshore leak that we had ever been detailed to detect. After inspecting the flanges -- normally the most suspect areas − this was where the leak was coming from in both cases. Once our team was on site, it took less than 24 hours to get the jobs completed."