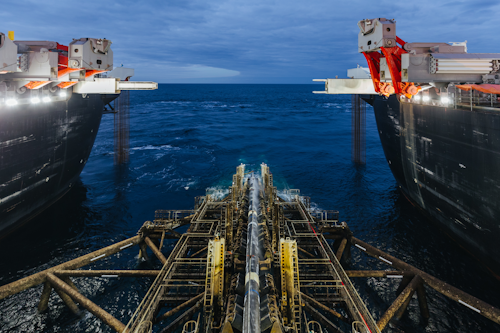 (Courtesy Gazprom)
Operators are advancing several pipeline projects offshore Europe as they seek to develop new routes for delivering natural gas to onshore continental markets. Construction projects are ongoing or are wrapping up in the North Sea, as well as the Baltic, Black, and Adriatic seas.
Work is continuing on Nord Stream 2, Europe's largest offshore pipeline construction project. To date, around 1,450 km (901 mi) have been laid of the Nord Stream 2 pipeline in the Baltic Sea (more than 59% of the total length). Pipelay is currently taking place in Finnish waters, while construction continues in the Russian and German sections.
Also in Russian territory, Gazprom continues to work on development of facilities (including compression) for the northern gas transmission corridor that will feed gas into Nord Stream 2.
The new pipeline will have an annual capacity of 55 bcm from Russia to Germany. ENGIE, OMV, Royal Dutch Shell, Uniper, and Wintershall Dea are financing 50% of the total project cost.
Meanwhile, the Nord Stream 2 consortium has withdrawn its application for a route that would have run through Danish territorial waters south of Bornholm island. In July, it sent a formal notice letter to the Danish Energy Agency. CEO Matthias Warnig explained: "We felt obliged to take this step because in more than two years since we filed this application, the former Danish government has not given any indication of coming to a decision."
Both Nord Stream 2 and its investors need legal certainty and protection of expectations, he added, "especially against the backdrop of the advanced construction progress in the waters of the four other countries through which the pipeline stretches."
Nord Stream AG says that the procedure for handling the application for the route northwest of Bornholm, which has been completed, shows that all technical and environmental prerequisites can be fulfilled; while the application for the route southeast of Bornholm is still being processed. The consortium says that Nord Stream 2's focus is now on these two routes.
There are two further pending applications and environmental impact assessments: one for a route northwest of Bornholm submitted last August and another for a route southeast of Bornholm submitted this May.
Both routes are fully within the Danish exclusive economic zone, outside of Danish territorial waters. So, a recommendation from the Minister for Foreign Affairs is not required and the decision on the consent is only subject to a process in accordance with the United Nations Convention on the Law of the Sea, under which laying of pipes must take into account the environment and ship traffic safety.
As for TurkStream in the Black Sea, Gazprom reports that pipelay activities have been completed on the offshore section, and the Russkaya compressor station and the landfall in Russia are both in the start-up phase. A reception terminal for the gas in Turkey is more than 80% complete. The two strings of TurkStream will each have throughput capacity of 15.75 bcm/yr.
Elsewhere, Allseas reports that its pipelay vessel Lorelay has completed construction of the offshore section of the Balticconnector gas pipeline across the Gulf of Finland. Offshore pipelay started on May 20 at Inkoo, Finland, and finished on June 24 with the final section in place at Paldiski on the Estonian coast. Rock dumping was expected to be completed in July. The next major step will be an offshore pipeline pressure test during July and August, after which the pipeline will be emptied and dried. It will then be connected to the onshore pipelines in Finland and Estonia during the fall, with the entire Balticconnector system due to be fully commissioned by the end of 2019.
In the Norwegian North Sea, Subsea 7 has received an EPIC contract from Equinor for the Johan Sverdrup Phase 2 project. The contract comprises project management, engineering, procurement, construction, and installation of about 100 km (62 mi) of rigid pipelines, including 40 km (25 mi) of pipe-in-pipe flowlines, 27 km (17 mi) of water injection, and 37 km (23 mi) of gas injection pipelines.
The marine operations scope includes the installation of 23 km (14 mi) of umbilicals, tie-in spools, and pre-commissioning. Project management and engineering are underway at Subsea 7's offices in Stavanger, Norway. Fabrication will take place at its spoolbase in Vigra, Norway, and offshore operations will be carried out in 2021. 
The first phase of the Johan Sverdrup development is nearly 90% completed, with production expected to start in November, Equinor said. In Phase 1, Subsea 7 was responsible for delivery and installation of several subsea components and tie-in of pipelines at the field.
In the UK North Sea, Tata Steel says it will provide high frequency induction (HFI) line pipe for an oil and gas project northeast of Shetland. The company says it will manufacture more than 10 km (6.2 mi) of HFI line pipe at its 20-in. mill in Hartlepool, northeast England, for a 'sleeve pipe application' as part of a bundle system for the project. Tata says that its delivery will involve five different wall thicknesses and five different diameters.
Meanwhile, work on the Trans Adriatic Pipeline (TAP) is wrapping up, and the 105-km (65-mi), 36-in. offshore portion has been installed. It runs from Fier, Albania, to a landfall point near San Foca, Italy. The TAP system will be part of a larger transportation network that will move Caspian natural gas from the Shah Deniz 2 field to European markets. Saipem installed the offshore portion of the system using its pipelay barge Castoro 10. •