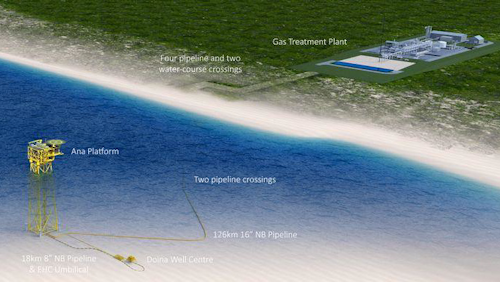 Black Sea Oil & Gas SRL
Offshore staff
ATTIKI, Greece – Corinth Pipeworks (CPW) will supply steel pipes for the Midia gas development in the Romanian sector of the Black Sea.
These will comprise 8-in. pipes for the infield line and 16-in. steel pipes for the project, operated by Black Sea Oil & Gas, which is harnessing 320 bcf of gas from the Ana and Doina fields, 120 km (75 mi) offshore in 70 m (229 ft) water depth.
CPW's scope extends to external 3LPE anti-corrosion coating and concrete weight coating applied at the same location as pipe manufacturing in Thisvi, Greece.
Offshore installation should start in 2020.
The Midia project, carrying an estimated investment cost of $400 million, is due to be commissioned by early-2021 and will produce 1 bcm/yr, equivalent to 10% of Romania's consumption.
It involves drilling of five production wells, and installation of a subsea production system at the Doina field which will be tied back to an unmanned production platform at the Ana field via an 18-km (11-mi) pipeline.
From there, a 121-km (75-mi) pipeline will transport the gas to an onshore location for onward delivery to a new gas treatment plant.
05/24/2019