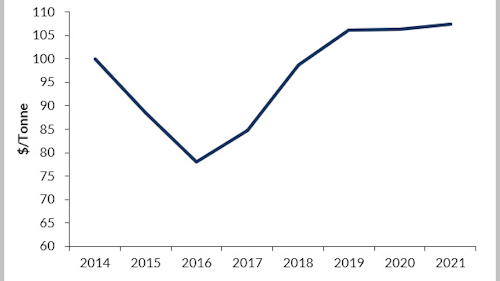 Westwood Global Energy
Offshore staff
LONDON – Current demand for corrosion resistant alloys (CRAs) for oil and gas production is unprecedented, according to consultant Westwood.
Kashagan in the Caspian Sea, one of the largest sour gas field developments to date, required 60,000 metric tons of clad pipe material, said Matt Loffman, associate director, Rigs & Wells, in part due to widespread equipment failures in the transportation facilities.
RasGas' Barzan project offshore/onshore Qatar, harnessing gas from the offshore North field, eventually needed 90,000 metric tons of clad pipe due to design and equipment failures, he added.
Now the design phase of ADNOC's Hail and Ghasha sour gas project offshore Abu Dhabi is progressing toward completion, with indications that another 50,000 metric tons of clad and other CRA pipe will be necessary.
Demand for special pipe has risen steeply as a result since 2014 of these and other projects and will likely remain high over the next five years, with the oil and gas industry in investment mode. Due to concerns over clad pipe capacity limitations, and associated capacity for substrate material, demand will also likely grow for weld overlay CRA pipe, Loffman suggested.
Historically weld overlay has been sparingly deployed, because of the higher lead times and issues with repair and maintenance. But project developers appear to be increasingly comfortable using this technique for lower tonnages of CRA pipe, particularly in the Middle East market where weld overlay methods are widely accepted.
The broader demand/supply imbalance is affecting pricing, material selection, and project schedules, and alternate CRA pipe manufacturing methods, including mechanically lined and solid alloy pipe, look set to feature in projects that in former times would have employed carbon or clad pipe, he concluded.
05/24/2019