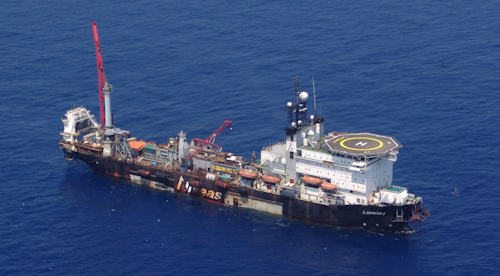 Allseas
Offshore staff
HELSINKI, Finland – Offshore pipelay was due to start today of the new Balticconnector gas transmission system between Estonia and Finland.
All the 6,400-plus offshore pipes, with a total weight of 36,000 tons, have arrived in the Port of Paldiski from Greece.
Allseas' Lorelay sailed into the Port last week and then to the south side of Skämmö Island in Inkoo, Finland. The vessel is due to lay at a rate of 2-3 km/d (1.2-1.86 mi/d) toward Estonia. Pipe post-lay intervention work should start next month and continue in parallel with the pipelay.
After installation has finished in July the offshore pipeline will undergo pressure testing followed by drying and connection to the onshore pipelines in Finland and Estonia.
"The completion of this phase of the project will ensure opening of the Balticconnector-pipeline and consequently also the Finnish gas market at the beginning of 2020," said Herkko Plit, president and CEO of Baltic Connector Oy.
Construction also continues onshore in Finland, with welding of the onshore pipeline due to finish in June followed by mechanical completion in August.
Inkoo compressor station construction works remain on schedule with mechanical completion expected in August.
Test runs with gas will start in September and the onshore components in Finland will be ready for commercial operation in December.
05/20/2019