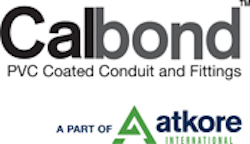 Calbond, a division of Calpipe Industries, Inc., provides superior corrosion protection with a complete line of PVC coated conduit and fittings for electrical systems. Calbond products are designed to withstand extreme temperatures along with the harsh, toxic and flammable elements often found in the oil and gas industry. Calbond conduit and fittings come standard with a 40 mil PVC coating over the outside of the conduit, as well as a 2 mil urethane coating on the interior of the conduit. All Calbond products are fully UL-listed and NEMA RN-1 compliant with both the PVC and underlying zinc as the primary protection against corrosion. Calbond provides a broad offering of corrosion resistant products for use in the harshest environments. With 3 manufacturing facilities, 2 distribution centers, and 11 stocking locations, Calbond products are readily available for quick shipment both domestically and internationally.
Please visit us atwww.Calbond.com.
Request More Information
Fill out the form below to request more information about Calbond.
---