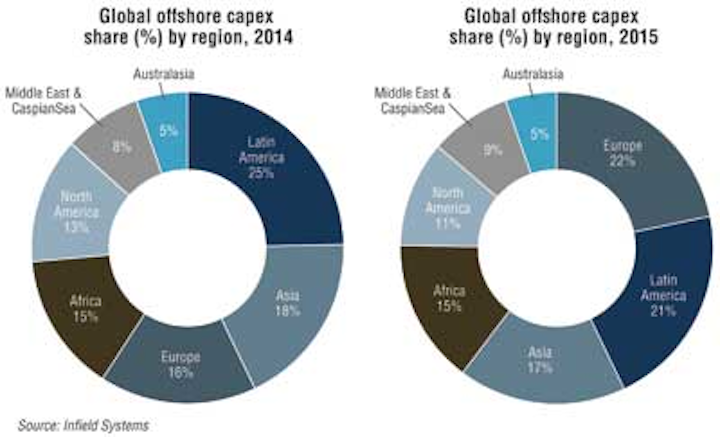 Latin America to have largest share of deepwater investment
George Griffiths
Infield Systems Ltd.
Despite uncertainty in global energy prices, which are likely to prompt operators to re-evaluate their development budgets, Infield Systems expects the offshore oil and gas industry to see continued increases in capex demand in 2015 compared to 2014 (+6%), albeit a lower increase compared to the 2013-2014 period (+19%). Although the majority of regions will see increases in offshore capex demand, a few are likely to see a slight fall. Capex demand is defined here as the amount of capital expenditure projected to be required by an operator, or how much they are expected to spend on projects over the forecast period.
At a regional level, Europe is expected to have a positive outlook, with a forecast increase in offshore expenditure of almost 42% compared to 2014, propelling the region into first place in terms of its share of global offshore capex.
Offshore Europe, capex will continue to be driven by developments in the North Western European continental shelf (NWECS) which has historically been the mainstay of activity, with both the UK and Norway projected to account for the largest combined share of offshore expenditure in Europe (57%). From an operator perspective, Statoil is likely to dominate the market, and is expected to account for a fifth of Europe's offshore capex. Statoil's Aasta Hansteen gas field in Norway and the Mariner heavy-oil field in the UK are forecast to require significant investment throughout 2015, both of which are currently expected to come onstream during 2017.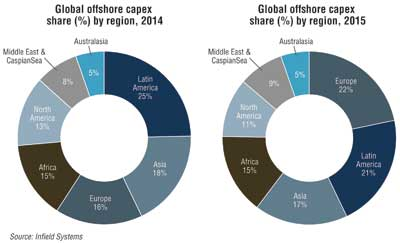 Projects in Eastern and Southern Europe will contribute towards the large increase in the region's overall projected expenditure levels. Almost 67% of offshore capex demand in Eastern Europe in 2015 is anticipated to be associated with the offshore sections of the South Stream pipelines which will transport gas from Russia into Europe. However, with the current turbulent political situation between the West and Russia over Ukraine, the progress of the pipeline development could see potential difficulties in 2015 as it has in 2014. In Southern Europe, Italy is likely to drive growth in offshore capex demand during 2015, with the possible construction of the Trans-Adriatic Pipeline and the development of a gas interconnector between Sardinia and Italy.
Despite a slight reduction in forecast expenditure, Latin America will account for the second largest share of global offshore capex demand in 2015, mainly as a result of activity in Brazil, which is projected to account for 84% of the region's total capex demand. The slight reduction in forecast expenditure relates to the decrease in spend associated with Petrobras' Roncador, Sapinhoa North, and Iracema Sul fields in Brazil. With Brazil dominating activity in the region, the country's national oil company, Petrobras, will continue to account for the largest share of the region's offshore operator capex. Projections indicate that the largest proportion of the Petrobras's expenditure will be on its ultra-deepwater Iracema North FPSO development in the Santos basin, which is expected to start production in 2015. As a result of its significant investments offshore Latin America, the operator is also expected to continue to hold the largest share of global operator capex demand during the year. From a sector perspective, Latin America will not only account for the largest share of deepwater and ultra-deepwater investment in 2015, but is also likely to account for the highest levels of floating production systems spend, driven by Brazil's demand for FPSOs to develop its deep and ultra-deepwater fields. The subsea market is also expected to be boosted by the deepwater developments in Brazil during 2015, with the country accounting for 28% of global subsea market capex. Mexico is also likely to have a positive future outlook due to the Mexican government passing the Energy Reform act in the summer of 2014; it is designed to allow foreign companies to invest in the country's energy infrastructure. This is likely to open up deepwater areas of the Gulf of Mexico which require foreign investment and technology to unlock any potential reserves.
Asia is expected to hold the third-largest share of global capex demand during 2015, driven by offshore developments in Southeast Asia. Malaysia, which has traditionally been a key player in the region alongside China and Indonesia, is expected to lead offshore expenditure demand going forwards. Dominated by state operator Petronas, the Malaysian government aims to increase the country's production capacity to meet its domestic and foreign energy demand, with the country also positioning itself to become a major oil and gas hub by 2017.
The country will continue to expand its world leading LNG industry with the continued construction of the country's first FLNG project. All the topside modules of Petronas' PFLNG-1 FPSO are scheduled to be installed during 2015, and the FLNG FPSO is expected to start production in 2016. Asia will continue to dominate global shallow water (0-99m [325 ft]) expenditure throughout 2015. Indeed with the region characterized by many shallow-water developments, Asia is expected to continue to be a major driver for fixed platform developments.
Africa is projected to see a 10% increase in offshore expenditure during 2015, with West Africa remaining the primary driver, accounting for just over 83% of African offshore capex demand. Angola is expected to continue to lead capex demand in the region throughout the year, with key operators Eni, Chevron, and ExxonMobil expected to account for 71% of the total capex in the country. Noteworthy projects likely to be developed offshore Angola during the period of analysis include Cabinda Gulf Oil Co.'s (Chevron) Mafumeira oil field and Eni's N'Goma oil field, both of which are expected to require significant expenditure throughout 2015. Other important West African countries which are expected to support the region's offshore activity include Nigeria, Ghana, and Congo (Brazzaville). Key projects driving offshore expenditure in these countries throughout 2015 include Total's Egina and Moho Nord Marine oil fields and Tullow's Tweneboa oil field, which is a part of the TEN developments in the deepwater Tano license area. While South and East Africa are projected to account for the smallest share of African offshore capex demand in 2015, they hold great potential for the future, with a number of frontier countries such as Mozambique and Tanzania emerging as important players. Mozambique is expected to see the start of its first offshore field developments in 2015, which include Eni and CNPC's ultra-deepwater Mamba South field and Anadarko's Golfinho/Atum field. However, with low oil prices, offshore developments in these frontier countries could suffer delays.
Offshore North America is expected to see an 11% fall in expenditure in 2015, caused by a decline in operator spending in the US Gulf of Mexico (US GoM). This decline is due to a number of projects that will require less expenditure as they progress through their construction phases, such as Anadarko's Lucius field, LLOG's Delta House field, and Chevron's Big Foot, Jack and St Malo fields. The US GoM, along with West Africa and Brazil, forms a deepwater locus, and as production declines from the shallow-water fields, operators have the opportunity to explore deeper waters. With the US GoM projected to account for 86% of the North American region's offshore capex demand, almost 80% of this expenditure is likely to be focused on developments situated in water depths of more than 1,000 m (3,280 ft). Examples of projects contributing towards deepwater capex demand in the US GoM throughout 2015 include Shell's Stones field, the first phase of the ExxonMobil-operated Julia field, and Anadarko's Heidelberg field. Although there are deepwater opportunities in the US GoM, the current low oil price is likely to have an adverse effect on the economic viability of deep or ultra-deepwater developments, which require higher levels of expenditure compared to shallow water developments.
In terms of North American operator capex demand, ExxonMobil is expected to account for the largest share, with the IOC's Hebron oil field offshore Canada comprising the largest proportion of the company's 2015 offshore investment. Hebron will consist of a gravity platform which will be installed in water depths of around 93 m (305 ft). The platform is designed to withstand sea ice, icebergs, and harsh meteorological and oceanographic conditions. The gravity platform will store around 1.2 MMbbl of oil. The field is expected to come onstream in 2017.
The forecast for the Middle East and Caspian Sea market shows an increase in offshore expenditure (11%) during the year, with Azerbaijan forecast to see a massive increase in expenditure caused by the second phase of BP's Shah Deniz field. The largest proportion of offshore expenditure for the field development will be focused towards the three 90-km (145-mi) export lines from the field to the onshore Sangachal terminal which is currently undergoing major modifications. Besides Azerbaijan, Qatar is also likely to see stronger levels of offshore investment in 2015. The main driver of capex demand in Qatar will be the Bul Hanine oil field operated by Qatar Petroleum. The field has produced since the early 1970s but requires redevelopment to continue production. The redevelopment will require a new offshore central production facility and a new onshore gas liquids processing facility at Mesaieed.
Australasia has the lowest offshore capex demand forecast in 2015, with the majority of the region's expenditure likely to be focused on projects offshore Northwest Australia, which has emerged as the regional hub of offshore oil and gas activity in recent years. Australia is becoming an increasingly important LNG exporter and could one day rival Qatar. The country is expected to continue to capitalize on FLNG throughout the year with the country projected to account for almost 55% of global FLNG capex demand, with Shell's Prelude FLNG FPSO remaining the primary driver of the country's projected FLNG expenditure during the period. INPEX is likely to dominate investment in the region during the period, with its Ichthys development expected to form 100% of the operator's expenditure in the region. Chevron is also expected to invest heavily during 2015, and like INPEX, is forecast to focus all of its Australasian offshore expenditure in Australia. Collectively, field developments in the Greater Gorgon area are projected to account for the largest proportion of the company's offshore expenditure during the year, with the offshore section of its Wheatstone LNG project also likely to require significant investment.
Overall, Infield Systems expects capex demand to continue to increase during 2015, albeit at a lower rate compared to the previous year. Although 2015 will be a year of growth, uncertainties surrounding energy prices could affect the progression of some projects, especially those in challenging and risky environments. The fragile global economy and the political issues surrounding the Ukraine crisis could also impact the global offshore oil and gas industry during 2015, ultimately affecting offshore capex demand.
The author
George Griffiths is Senior Energy Researcher for Infield Systems Ltd.