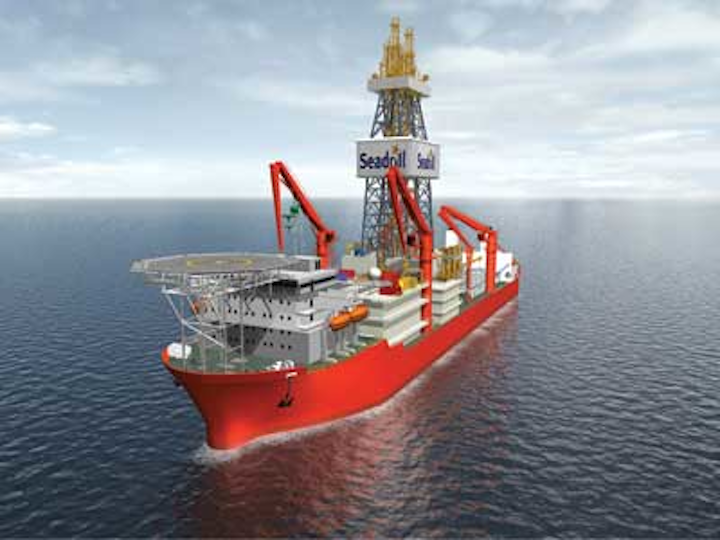 Displaying 3/3 Page 1, 2, 3
View Article as Single page
In November 2014, Seadrill Ltd. entered into an agreement with Seadrill Partners to sell all of the ownership interest in the entities that own and operate the drillshipWest Vela to Seadrill Capricorn Holdings LLC, Seadrill Partners' 51%-owned subsidiary.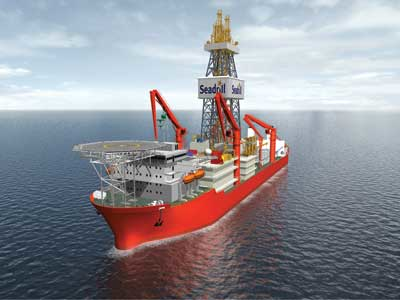 West Vela (Photo courtesy Seadrill)
TheWest Vela is a sixth-generation, dynamically positioned drillship delivered from the Samsung shipyard to its current customer, BP, in November 2013. The West Vela is expected to carry out operations in the US GoM until the end of its contract in November 2020.
The implied purchase price of the acquisition is $900 million, less $433 million of debt outstanding under the existing facility financing the West Vela. Based on Seadrill Partners' 51% ownership of Capricorn Holdings, its portion of the net purchase price after debt will be $238 million.
•••
Noble Corp. predicts that 2015 will pose a challenge for the drilling industry, but officials deem the company to be well positioned to move forward during this down cycle.
"We believe younger fleets are preferred in this business as we go forward," said Noble's John Breed, "because they will have limited exposure to the market meaning utilization will remain high and they will get the best rates that the market is paying at the time. Ultimately, the company will receive a premium evaluation as the result of our new fleet."
As for its fleet going into 2015, there are several secured contracts, but a few rigs will sit idle:
Noble Paul Wolff has sat idle in a shipyard in Singapore since late October 2014, and the company plans to leave it idle in 2015. Noble states that it is undergoing regulatory survey and repair and maintenance projects.
Noble Homer Ferrington has been cold-stacked and will not be active in 2015.
Noble Max Smith has sat idle in a shipyard in Singapore since late October 2014 and it is currently available.
Noble Paul Romano is currently in the Canary Islands and is available.
Noble Sam Hartley will remain idle in 2015.
Noble Tom Prosser's contract is expected to begin in 1Q 2015, following transit from Singapore to Australia, and upon successful acceptance testing by Apache. The rig will stay with Apache until 2Q 2016 at a day rate of $203,500.
Noble Lloyd Noble is under construction at the Jurong Shipyard. Statoil contracted the rig for four years and it is anticipated to commence during 3Q 2016. The ultra-high specification jackup is an enhanced version of Statoil's "Cat J" specifications, and will be designed to operate in water depths of up to 150 m (492 ft) in harsh environmental conditions, with a maximum total drilling depth capacity of 10,000 m (approximately 33,000 ft).
•••
In its 3Q earnings call, Hercules Offshore stated that it had cold-stacked four jackups:Hercules 202, Hercules 204, Hercules 212, and Hercules 213.
It is expected that theHercules 208 will come off the contract from Cairn in March, and will then be sent to Singapore. "The outlook on that rig is [that] it will sit idle until at least October 2015 with opportunities, hopefully, presenting itself later in the year," said Rynd, "but [we expect] nothing in the interim."
As forHercules 261 and 262, both have secured contracts until 2019; and the outlook for Hercules 266 and 267 is very good. "We are looking to contract them through 2015," Rynd added.
•••
Rowan Companies, last on the Top 10 list, has several projects in the works.
Rowan Relentless, contracted for construction by Hyundai Heavy Industries (HHI), is expected for delivery at the end of March 2015. The rig is contracted for a two-year drilling term commencing 3Q 2015.
TheRowan Reliance rig departed HHI shipyard early November 2014. The rig is contracted for a three-year drilling term commencing late February 2015. The expected off-rate time for annual dynamic positioning trials will occur sometime during 2015, the company stated in its 3Q earnings call.
Middle East:Hank Boswell, Bob Keller, Scooter Yeargain, Rowan Mississippi, and Bob Palmer all secured contracts with Saudi Aramco.
Southeast Asia:Gorilla II has secured a contract through late 2015. This may be mobilized out of Southeast Asia after the contract ends, the company said.
Rowan Juneau and Rowan Alaska have been cold-stacked and are available.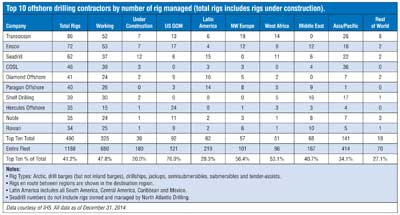 Click image to Enlarge