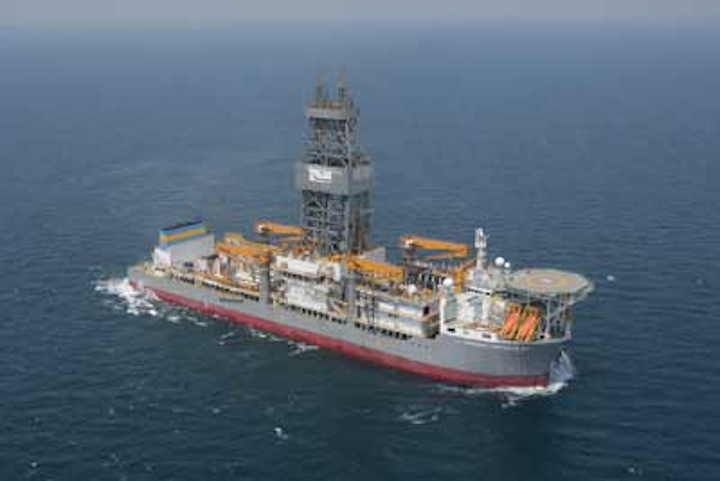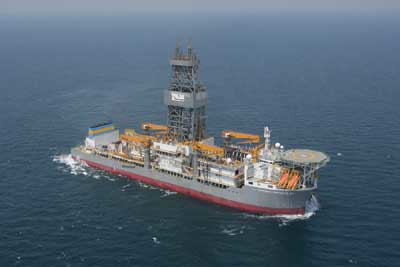 The drillshipDhirubhai Deepwater KG1 will operate offshore Brazil at a rate of $440,000/d. (Photo courtesy Transocean)

Petrobras revs up its deepwater drilling program
Justin Smith
IHS Petrodata
Brazil has ambitions to become one of the largest oil exporters in the world over the next decade or two, but the country's ability to reach that goal is the pressing question. In September 2014, Brazilian federal energy planning company Empresa de Pesquisa Energetica (EPE) laid out its 10-year plan for energy expansion, which foresees that the country will be able to produce 5 MMb/d of oil by 2023. That would be a significant jump from the roughly 2 MMb/d of oil the South American nation currently produces. According to the EPE, domestic demand will only consume approximately 3.5 MMb/d, leaving 1.5 MMb/d to be directed for export to the international market.
A significant level of investment will need to be placed in Brazil's hydrocarbon segment if this goal is to be reached. Of the BRL 1.26 trillion ($540 billion) the EPE believes will be spent on energy projects in the country over the next decade, including electricity generation and biofuels, 61.6%, or BRL 778 billion ($332.7 billion), will need to go toward the exploration of oil and natural gas. It is likely that a large portion of that investment will be spent on presalt areas, as the EPE expects two-thirds of oil production to come from those fields by 2023.
Libra to lead presalt movement
To meet these targets, Brazil's largest producer, Petrobras, will need to keep ramping up production, which is something the operator has been doing with regularity during 2014. The company achieved new record production levels in December, hitting 2.286 MMb/d of oil and natural gas liquids. The majority of this volume is coming from the historically prolific postsalt areas of the Santos and Campos basins, and new facilities came online in 2013 and 2014 at several fields including Papa-Terra, Roncador, Baúna, and Parque das Baleias.
However, presalt production also hit a new high point in December when Petrobras crossed the 700,000 b/d mark, which is a fairly significant jump from the 500,000 b/d the company was drawing from presalt fields only six months earlier. Each presalt well is highly productive, because while a total of 12 facilities are currently pumping from presalt fields, including newer FPSO vessels at Sapinhoá, Lula and Iracema, the entirety of the volume is coming through a mere 34 wells.
While this clearly demonstrates that presalt fields are increasing in importance, one in particular, Libra, is the field du jour in Brazil. Discovered in 2010 and covering an area of 1,548 sq km (598 sq mi), the Libra oil field is located in the Santos basin presalt layer in water depths of around 2,000 m (6,562 ft). This gigantic field is of such importance in the mid-to-long-term future in Brazil that national regulator Agencia Nacional do Petroleo, Gas Natural e Biocombustiveis (ANP) held a lease sale for solely this field in 2013. Petrobras, which was guaranteed at least a 20% operating interest in the block, now holds 40% interest, while Shell and Total each hold 20%, and CNPC and CNOOC each hold 10%. In addition to the signing bonus of $6.9 billion, the group will have to conduct a minimum exploration program valued at approximately $281.1 million.
The reservoir depth at Libra is around 3,500 m (11,483 ft) below the seafloor, for a total depth of approximately 5,500 m (18,045 ft). According to estimates by the ANP, the field holds an expected recoverable volume of 8 to 12 Bbbl of oil, plus total gross peak oil production could reach 1.4 MMb/d. That said, further appraisal is required to firm up that estimate, as well as the full development plan and a first oil date.
To that end, Petrobras started drilling the first two appraisals well in the Libra area in August. Being drilled by Schahin drillship Cerrado, this is the first of two wells planned for the first phase of the block's minimum exploration program, while the second well is being drilled by another Schahin drillship, Sertao. Both of these wells have encountered oil and gas in the anticipated layers. The exploration program also calls for the acquisition of 3D seismic data over the block, which the operator has already completed, as well as an extended well test (EWT). Petrobras plans to start the EWT in December 2016 and wrap up the appraisal program by the end of 2017.
Frontier areas beckon
Libra may have gotten its own bidding round in 2013, but it was not the only recent lease sale. The ANP's 11th Licensing Round, the first such bid round held in five years, earned record revenue with signing bonuses in the amount of $2.8 billion. Of the 289 blocks that were offered across 11 sedimentary basins both onshore and offshore, 142 were sold.
Presalt areas were not the focus of that sale, which instead favored mature and frontier areas. Blocks located in the frontier regions of the country, primarily those around the north and northeast coasts, garnered serious attention from international operators. In fact, the largest signing bonus during the sale, which was approximately $171.4 million, was offered for block FZA-M-57 in the Foz do Amazonas basin by a consortium operated by Total (40% interest) with partners Petrobras (30%) and BP (30%). That consortium beat five other bidders to secure the block.
At least one operator has already started making moves to explore the frontier areas it won in that sale. In July, Premier Oil released a request for information for a floater capable of working in at least 2,100 m (6,870 ft) of water to undertake an exploration program in the Ciara and Potiguar basins. The 400-day firm program, for which a tender should be launched soon, is scheduled to begin in late 2016 or 1Q 2017, and could be made into a rig-share. It is understood that the requirement covers seven firm wells plus four optional wells, with work involving at least two wells for Premier Oil and the rest to be divvied up among its rig-share partners.
However, it should be noted that obtaining drilling permits, and even seismic permits, in Brazil's frontier areas is becoming a lengthy process. Operators are looking at roughly two years to get an environmental permit to drill in these relatively unexplored areas, although that period could shrink somewhat over time. The odds of numerous operators using one rig to fulfill all of their drilling requirements on those blocks before the deadline, which is 2018 in most of the cases, would be a tall order considering permitting issues alone could prevent them from starting much prior to 2017. With that in mind, it is likely at least a few rigs will be needed to meet the demand in these areas.
In the long term, the ANP is looking to hold its next licensing round, the 13th overall, probably in June 2015. ANP Director Helder Queiroz said the regulator plans to include a diverse set of blocks in both mature and frontier regions in the offering. According to local media reports, Queiroz also indicated that future lease sales for standard concessions, like the planned 13th round as well as the 11th round held in 2013, could take place annually, while presalt lease sales, for the time being, will still be held once every two years.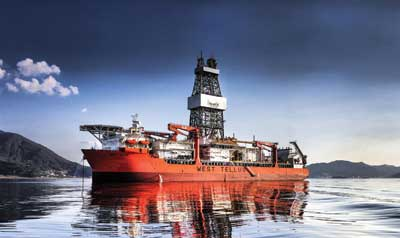 The deepwater drillshipWest Tellus will work for Petrobras at the Libra oil field in the Santos basin presalt layer. (Photo courtesy Seadrill)
Petrobras returns to the rig market
While it is good for Brazil to have a diverse group of operators working in country, Petrobras has been and will continue to be the overwhelming juggernaut there, so when the state operator decided to take an almost complete hiatus from rig contracting for over two years, it did not go unnoticed.
Petrobras signed a plethora of long-term contracts for Sete Brasil's newbuild units in February 2012, but since then, the operator signed only seven charters for floating rigs through April 2014, all of which were extensions for rigs already in the country, and only two of those were for more than a year (five-year jobs for semisubmersibles ENSCO 6001 and ENSCO 6002). In fact, of those seven charters, two went to semi ENSCO 6000, a unit that has since completed both gigs and left the country. From February 2012 until now, the number of drillships in the country has only seen a small decline of a couple units to 23, according to IHS Petrodata's online database RigPoint, but the number of semis in Brazil has tumbled from 56 to 39, with at least two more scheduled to depart soon.
In the meantime, Petrobras started and stopped several tenders and renewal programs for deepwater rigs. Finally, in May 2014, the company signed contracts for two ultra-deepwater drillships based on offers contractors made during the previous tender, which had actually been canceled. Petrobras awarded three-year charters to Transocean drillship Dhirubhai Deepwater KG1 and QGOG Constellation newbuild drillship Brava Star, with day rates of $440,000 and $530,000, respectively. Dhirubhai Deepwater KG1 arrived in Brazil in December, while Brava Star is scheduled to commence its contract in late 1Q or early 2Q 2015.
Since those deals were done, several more floater contracts were signed in October and November, all of which are for three years each. The company approved contracts for Seadrill deepwater drillships West Tellus and West Carina for work on the Libra field. West Tellus is currently stacked in the Canary Islands, and West Carina's delivery from Samsung in South Korea is expected in late 1Q 2015. The operator also approved three-year contract extensions for Seadrill semis West Eminence and West Taurus, drillships Ocean Rig Corcovado and Ocean Rig Mykonos, and Diamond Offshore semis Ocean Baroness, Ocean Courage, and Ocean Valor. All of these units will now be working in the country into 2018.
In addition, the Brazilian company recently opened up two tenders for work offshore Brazil, one for rigs rated to operate in up to at least 2,000 m (6,561 ft) of water, and the other for ultra-deepwater units that can work in water depths of at least 2,400 m (7,874 ft). The operator is looking to sign at least one rig from each tender. Market sources indicate that the term period for any eventual contracts is likely to be two or three years, starting in late 2015 or the first half of 2016. It is also possible that another extension or two could be in the works for rigs already in the country.
Setting up Sete Brasil
As mentioned previously, Petrobras has contracted a large number of newbuild floaters from domestic, presalt-focused contractor Sete Brasil, in which Petrobras also holds 10% interest. All but one of the 29 rigs Sete has ordered from five yards across Brazil have contracts with Petrobras with firm periods ranging from 10 to 20 years. Options could extend those terms by an additional five to 10 years each. However, the issue with these units is the time and money it will take to build and deliver them.
Construction has started on a number of them, but primarily at yards in Asia, including at Jurong in Singapore, Kawasaki in Japan, and Keppel in the Philippines and Singapore. When those hulls are done, they are then mobilized to the builder's corresponding yards in Brazil for the installation of engines, drilling equipment, and other topsides.
The primary reason the construction of these rigs starts overseas is because some of the Brazilian shipyards themselves are not yet completely built. Keppel's BrasFELS has made significant process on the semis it is assembling since the pontoons arrived from Asia, and the first two, which are named Urca and Frade, could very well meet its previously expected delivery of December 2015 and December 2016, respectively. Conversely, the first of all the rigs that was scheduled for delivery, drillship Arpoador, was originally slated to leave Singapore last year, but construction of its destination yard in Brazil, Jurong Aracruz, fell considerably behind schedule and the unit only arrived in late 2014. To compensate, Jurong had to do much more work on the rig in Singapore, so while it is still expected to meet its currently scheduled delivery date in August 2015, this could now potentially conflict with the company's local content requirements.
That said, following this initial batch of hulls being built overseas, Sete plans to build the remainder of the rigs almost entirely in Brazil, which should fulfill the high local content requirement mandated for the construction of this fleet. It is still very much a question as to when, and possibly even if in some cases, all 29 of these rigs will be delivered, partially because of the time it will take to build them, but also due to growing concerns regarding Sete's ability to amass the funds necessary to build them. Consequently, Petrobras may need to look to the international drilling fleet to meet its demands until these rigs are available, especially as the operator, and the nation, strives to keep expanding oil production in the future.
The author
Justin Smith is senior rig specialist, IHS Petrodata, Houston, Texas.