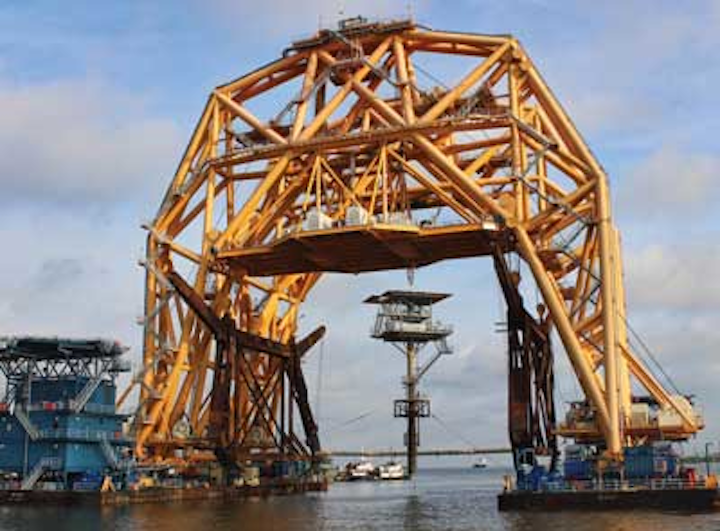 Displaying 2/2 Page 1, 2
View Article as Single page
Meanwhile, the company's engineers addressed the delivery system for the cutting wire. They needed to develop a structure strong enough to support the wire during the cutting process while affording the capability to penetrate and anchor itself to the sea-bottom to maintain operational stability. It also needed to accommodate the winches, hydraulic power units, and other equipment needed to operate the system.
Khachaturian said the Versacutter prototype was purpose-engineered to be used in conjunction with the VB 10,000 heavy-lift vessel. The result was a lift frame composed of two multi-pronged anchor arms to stabilize the cutter in place, and two sharply pointed digger arms to penetrate the mud with the cutting wire and guide it into position against the structure. The 1,300-ton cutting frame itself was lowered from the twin gantries of the VB 10,000, which also provided the deck space needed for the winches, hydraulic power units, and operators' stations.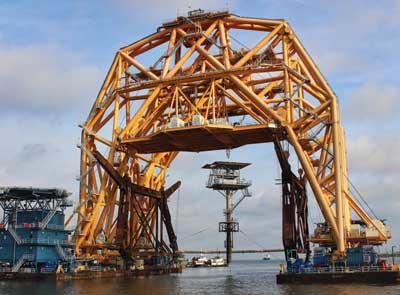 The VB 10,000 lifted the structure and carried it back to port.
On April 22, 2014, after dockside testing was complete, the prototype was deployed to the project site. With anchor arms and digger arms working in unison, the cutting wire sawed through the mud and cleanly severed the 60-in. caisson along with both internal and external conductors, a total of eight interfaces of steel and concrete. Total elapsed time for the entire process was 10 hours. "As far as personnel exposure goes, our technicians basically stood by and watched while the cutter did its job," said Khachaturian.
Following the successful cut, the VB 10,000 lifted the entire structure and carried it back to port where it was placed on a barge for the trip to a salvage facility, completing the assignment.
Ian Todd, Versabar's director of Marine Projects, said: "One of the most important features of this approach is that it removes the uncertainty that often accompanies conventional cutting methods. This system proves the cut by passing the wire through. You make the lift and go home."
Khachaturian and his team are quietly confident of the future of their technology. "Given what we learned by developing and operating the prototype, we're building a production model that will give us a powerful, efficient, and reliable cutting system which can be deployed on a wide range of structures in differing water depths," said Khachaturian. "Most important to the decommissioning industry, it will be an environmentally friendly and remotely operated system. We feel that this technology can have a positive impact."
The author
Peter Devine is a widely-traveled Houston-based writer, photographer, and graphic designer who serves as Versabar's director of publications. For 20 years, he has photographed and written about offshore Gulf of Mexico projects, including extensive coverage of the company's offshore heavy-lift vessels, Bottom Feeder and VB 10,000. More of his work can be found atwww.apeterdevine.com.