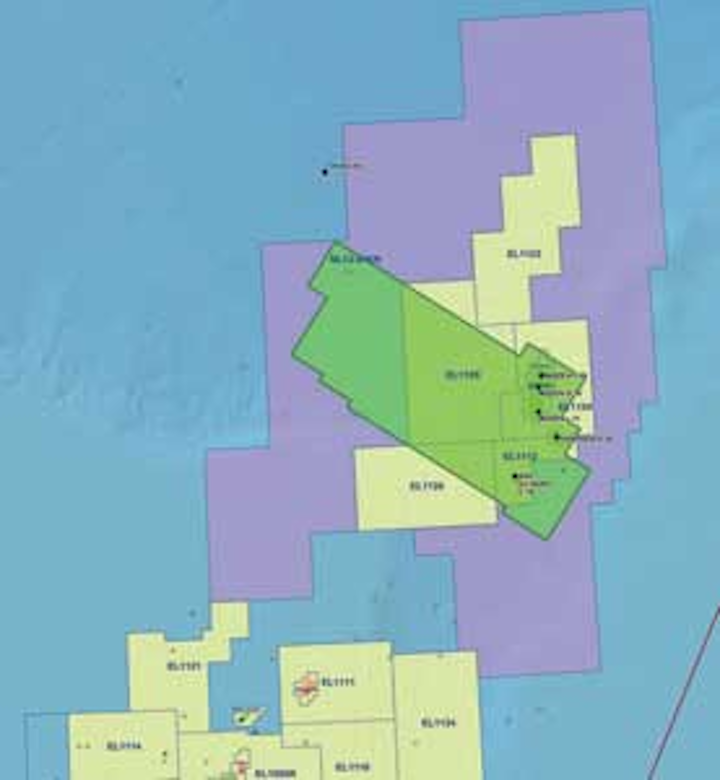 Displaying 2/3 Page 1, 2, 3Next>
View Article as Single page
Hodgson added: "If you follow the seismic reflectors northward Lebanon, the rocks are not 250 m [820 ft] thick, as in Tamar, but more like 1 km [0.6 mi] thick in the northern Levantine basin offshore Lebanon, where the quality is also best. The sands over Leviathan and Tamar both came from the source of the Nile River through the Nile Delta – they are very clean, filling up offshore Lebanon where the best reservoir in the area appears to be.
"In the southern half of the Lebanese offshore, in block 5, we have mapped 25 structures that are invisible on 2D, but clear on 3D seismic. That gives companies the chance to see big connected volumes of reservoirs. We can see potentially 30-60 tcf in these structures at Lower Miocene level, along with two large low-relief structures in the Upper Miocene."
PGS' seismic is over the near-shore Lebanese areas, from 50 to 1,100 m water depth (164-3,609 ft). Spectrum's coverage is over the western part, where water depths range from 1,100–1,500 m (3,609-4,921 ft). "It's not a huge difference in terms of exploration drilling, but that's where the big prospects are."
"In Croatia," Hodgson continued, "the Minister for the Economy wanted the licensing round to serve as a legacy to the country. So he put together a small, relatively young team to change the hydrocarbon law and set up an administrative body. They worked hard and made it happen. In Lebanon, the situation is much more complicated. The Lebanese Petroleum Administration comprises seven members, each from a different sect. Then the conflict in Syria arose, followed by the flight into Lebanon, a country of 2 million people, of 1.5 million Syrian refugees. That delayed the licensing round – each time the decrees were to be signed by Parliament, other matters arose that were much more important.
"Now Lebanon has stabilized, so the two decrees are back on the agenda for Parliament to sign and finally close the licensing round. That will energize the oil and gas community. They may also re-do the qualification exercise, giving opportunities to companies previously excluded from bidding. This situation has stopped Spectrum from promoting the round these past two years, but hopefully 2015 will be a success."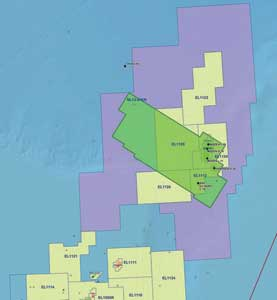 Area over eastern Newfoundland covered by EMGS 3D EM survey. (Image courtesy EMGS)
Iceland's experience
Iceland's Hydrocarbons Act became law in 2001 and the country opened its first offshore licensing round eight years later in January 2009, over areas in the north of the Dreki area offshore eastern Iceland. However, the deadline for applications of May 2009 proved to be too short – only two bids were submitted, and both were withdrawn shortly afterwards.
The timing was unfortunate, explained Thorarinn Sveinn Arnarson, hydrocarbon exploration manager for Iceland's National Energy Authority (NEA). "It coincided with the previous slump in the oil price, and it was a frontier area with only limited available data – at the time there were difficulties attracting funds for frontier exploration. We were also still working on our fiscal framework and got a lot of criticism for that, with no standard joint operating agreement [JOA] in place."
NEA sought meetings with applicants to ascertain what went wrong, and how it could improve the bid process in future. For the second Icelandic licensing round, NEA prepared a standard JOA, modeled on the Norwegian version, and rewrote the Hydrocarbons Act. "And we cooperated with Norway on gathering more data," Arnarson said. "So for the second round there was no pre-defined limit on the size of the license areas." Revised fiscal terms included a 5% levy on production and a corporate income tax rate of 20%.
During 2011, TGS performed a seabed sampling survey over the Jan Mayen Ridge area that connects Iceland with Norway. Results suggested evidence of a petroleum system, with seepage of Jurassic oil. This data was made available for the 2nd round over the North Dreki area, announced in late 2011, with the Norwegian state given the right to participate in 25% of any of the three licenses subsequently awarded in 2013.
The consortium of Faroe Petroleum, Petoro, and Iceland Petroleum has since relinquished license 2013/01, after completing the initial two-year work commitments. Their studies suggested that the presence of basalts on the eastern edge of the Dreki area would complicate imaging of underlying sedimentary sequences. However, Ithaca Energy and the Eykon Energy/CNOOC partnership are still committed to their work programs, and plan to acquire seismic this summer over their concessions under a vessel-share arrangement, according to Arnarson.
Newfoundland & Labrador
Nalcor Energy is the provincial energy company for the province of Newfoundland & Labrador. It holds minority interests in three of the main oilfield developments off Newfoundland – Hebron, White Rose, and Hibernia South Extension – and promotes oil and gas exploration in the province's established and emerging basins.
Dr. Richard Wright, Nalcor's exploration manager--oil and gas, said: "We are active at the front end of exploration, de-risking the province's basins and evaluating its offshore resources. We are not competing with private sector companies. If there is a discovery anywhere, Nalcor has the right to back in with 10%, so it is in our interest that the industry finds more, in order to maximize the province's resources."
Newfoundland & Labrador's offshore area extends over 1.5 million sq km (579,000 sq mi). To date, 150 exploration and appraisal wells have been drilled, of which 70 have been in the Jeanne d'Arc basin, where 3.5 Bbbl of discovered reserves are either in, or coming into production, Wright said. The province's other 20-plus basins are all frontier offshore plays, with until recently sparse seismic coverage. Nalcor has been evaluating all of them in terms of potential seal, trap and oil and gas charge, he added, via a series of commissioned studies designed to reduce the geological uncertainties.