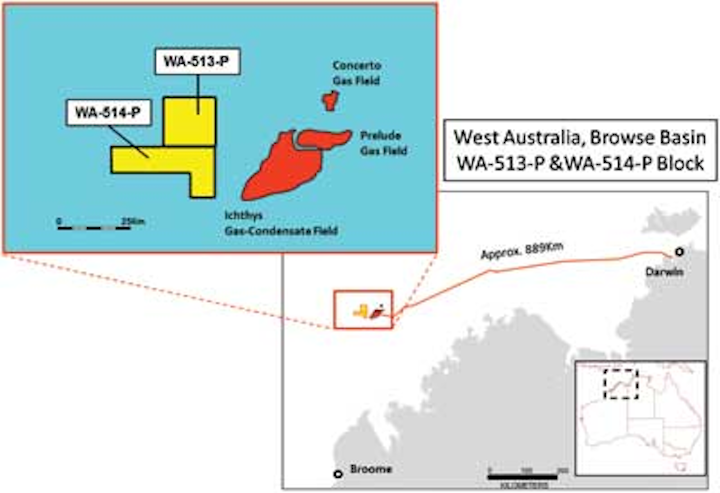 Displaying 2/2 Page 1, 2
View Article as Single page
Mediterranean Sea
PA Resources (PAR) has canceled a proposed sale of operating interests to EnQuest in the Didon oil field and the Zarat permit offshore Tunisia. This follows the failure of the Tunisian authorities to issue a letter of non-objection to the transaction. PAR says it is continuing studies on Zarat, the country's largest unexploited gas discovery, and aims to submit a development plan later this year.
•••
Subsidiaries of Israeli conglomerate Delek Group have accepted a request from Cyprus' government for an extension to negotiations on gas imports via pipelines from the deepwater Leviathan field offshore Israel. The period of validity now runs until April 30. Noble Energy operates Leviathan in the Levantine basin offshore Israel.
Black Sea/Caspian Sea
The semisub Ocean Endeavour has been drilling the Pelican South-1 exploration well in the Romanian sector of the Black Sea for ExxonMobil and partner OMV Petrom. Earlier, the rig completed an appraisal well on the Domino gas discovery. The partners plan additional drilling to evaluate the deepwater Neptun block's potential.
•••
North Caspian Operating Co. has contracted Saipem for further pipelay for the shallow-water Kashagan field in the Kazakh sector of the Caspian Sea. Under the $1.8-billion program, Saipem will install two 95-km (59-mi), 28-in. carbon steel pipelines, internally clad with a corrosion alloy layer, connecting the offshore D island with the onshore plant at Karabatan. The offshore sections of the lines will be around 65 km (40 mi) long. Work is expected to be completed by the end of 2016.
Production at Kashagan had to be suspended soon after start-up in late 2013 following stress cracking in the pipeline system caused by hydrogen sulfide (H2S) in the field's wellstream.
Middle East
The heavy-lift barge Lan Jing has installed the Hasbah tie-in platform (TP) for Saudi Aramco offshore Saudi Arabia. The vessel's 7,500-ton crane lifted a weight of around 5,000 tons, a new record for an Aramco heavy-lift operation.
Additionally, the vessel installed the 4,600-ton Arabiyah field tie-in platform and a 1,800-ton intermediate injection platform. The Arabiyah-Hasbah gas fields project is designed to supply 2.5 bcf/d to the onshore gas plant at Wasit.
•••
Iran Offshore Oil Co.'s new 2.2-MMbbl floating storage unit/export terminal has started operating in the Persian Gulf. It is designed to receive and store 200,000 b/d of produced crude from the offshore Norouz and Soroush fields. News service Shana claimed the double-hulled FSU is the largest of its type in the world, at 337 m (1,105 ft) long, 60 m (197 ft) wide, and 33 m (108 ft) high.
East Africa
Anadarko proved gas from two reservoirs with its latest appraisal well on the deepwater Orca discovery in Mozambique's Offshore Area 1. It has since drilled a further well on the 2014 Tubarão Tigre gas discovery. The Area 1 partners continue to negotiate long-term gas sales from their various fields which they plan to develop via LNG. They currently have heads of agreement in place to supply more than 8 MM metric tons/yr (8.8 MM tons/yr), Anadarko said.
•••
A 3D seismic survey was due to start last month over the Ambilobe block offshore Madagascar, operated by Sterling Energy. The company and partner Pura Vida recently won an extension to the production-sharing contract until July 2016.
India/Southeast Asia
Technip has completed the floatover installation of the 8,200-metric ton (9,039-ton) integrated production deck for the HRD process platform at ONGC's Heera field offshore western India. The contractor's Indian office designed the topsides for the Unideck method, which allows installation of large decks in a single operation in long-period swells via a series of jacks that lower the topsides into place.
•••
South Korean company SK has secured operatorship of two blocks in the Pearl River Mouth basin in the South China Sea. Blocks 04/20 and 17/03 are in water depths of 50-100 m (164-328 ft). The company and partner CNOOC will acquire 2D seismic and drill exploration wells.
In the offshore Bohai region, CNOOC has produced first oil from its Jinzhou 9-3 field adjustment project in the North Liadong Bay, where water depths vary from 6.5-10.5 m (21.3-34.5 ft). Main facilities are a central processing platform, a wellhead platform, and 21 production wells. Later this year, output should reach a peak of 12,000 b/d.
•••
Myanmar's government has awarded Shell operatorship of deepwater blocks AD-9, AD-11, and MD-5 under the country's 2013 offshore bidding round. Shell has a 90% interest in each case, in partnership with Mitsui.
•••
Talisman Energy is working on a development for the CRD oil and gas discovery in block 07/03 offshore Vietnam. According to partner Pan Pacific Petroleum, the favored concept is a tension leg wellhead platform and an FPSO, with first oil potentially in 2018.
Australasia
Santos and INPEX have been awarded two exploration permits off northwest Australia, 500 km (310 mi) northeast of Broome, in water depths of 300-400 m (984-1,312 ft). Release Areas WA-513-P and WA-514-P are close to large gas discoveries that include the INPEX-operated Ichthys field, Shell's Prelude, and last year's Lasseter find.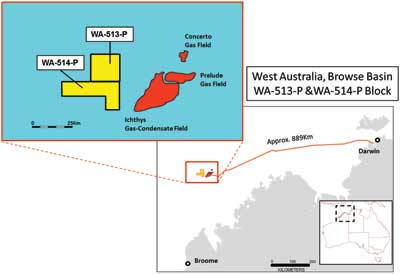 Santos and INPEX were awarded two new blocks in the Browse basin. (Map courtesy INPEX)
INPEX hopes to prove more gas to supply the Ichthys LNG project. In February, the ENSCO-5006 started drilling the first of 20 production wells in the Brewtser reservoir. The wells will be grouped around five drill centers.
•••
Woodside Petroleum has contracted Wood Group Kenny to perform front-end engineering and design (FEED) of a 16-in. corrosion-resistant alloy subsea flowline system. This will serve the proposed Greater Western Flank Phase 2 (GWF-2) development for the North West Shelf project offshore Western Australia. GWF-2 will harness gas from the Dockrell, Lady Nora, Keast, Rankin, and Sculptor accumulations. An investment decision is due later this year.
•••
Test results from two wells at the Kupe oil and gas field 30 km (18.6 mi) south of New Zealand's Taranaki coast look promising, according to partner New Zealand Oil & Gas. Operator Origin Energy commissioned fluid contact measurements and additional perforations below existing perforations to enhance production. Analysis suggests ultimate recovery may be higher than previously forecast and that untapped gas reserves may lie trapped beneath shale layers.