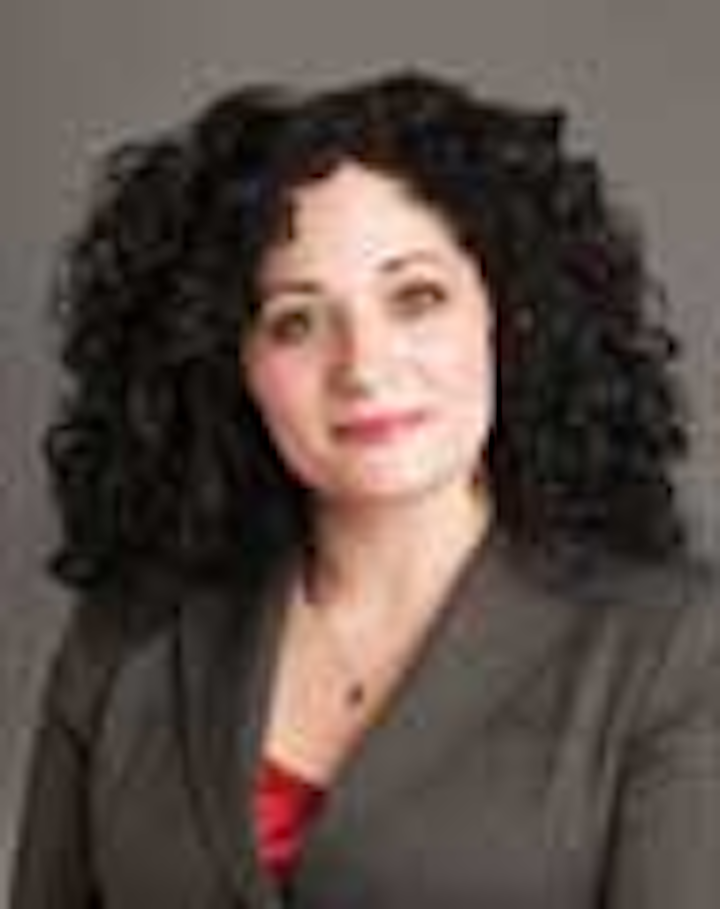 | | | |
| --- | --- | --- |
| | | Sarah Parker Musarra • Houston |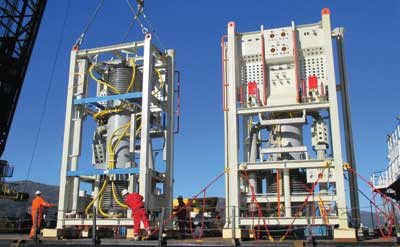 Two multiphase compressor units at the OneSubsea facility in Horsøy, Norway. (Photo courtesy OneSubsea)
OneSubsea, a Cameron and Schlumberger company, has delivered the world's first subsea multiphase compressor to Statoil for the Gullfaks South field in the North Sea. The compressor enables boosting of unprocessed wet gas production fluids, while eliminating the need for an upstream separation facility or an anti-surge system, making it what the company says is the industry's only true wet gas compressor. It is a contra-rotating machine specifically designed for pressure boosting of unprocessed wellstream, and is expected to increase the recovery rate for the Gullfaks South Brent reservoir by 22 MMboe.
Jee secures phase two of tidal energy development contract
Jee Ltd. has been awarded phase two of a contract with Scottish Enterprise to undertake the demonstration of its U-tube system in Scottish tidal waters.
Jee's protection system, the U-tube, features a pipe fixed to a J-tube which is secured to the turbine foundations at each end of the pipe. The cable is then pulled vertically into one of the J-tubes and through the pipe using a pre-installed messenger and winch line. Once the cable is pulled in, connections are made to the turbine nacelles using wet-mate connections. The U-tube system provides the marine contractor with full control of the cable installation, which can be stopped and reversed if necessary, offering a high level of flexibility.
In September 2014, Jee secured a phase one contract with Scottish Enterprise, which involved a study for the marine energy industry in Scotland. Aquatera Ltd. is responsible for installation.
FES to supply bend stiffener connectors for deepwater Egina project
Saipem has awarded FES International a $2 million contract to supply bend stiffener connectors to Egina project offshore Nigeria, Total's third deepwater offshore development in Nigeria. The Egina project consists of five dynamic umbilicals and the bend stiffener connectors will connect them to the FPSO vessel. FES International has started work on the contract, which will be delivered by May 17, 2015. The field is scheduled to start production by the end of 2017.
McDermott, Petrofac form subsea construction alliance
McDermott has formed a five-year alliance with Petrofac to pursue deepwater subsea, umbilical, riser, and flowline (SURF) projects. The two companies plan to offer a wide range of engineering, procurement, construction, and installation (EPCI) subsea services for deep and ultra-deepwater projects (above $200 million in value) across the US and Mexican sectors of the Gulf of Mexico, Brazil, the North Sea, Mediterranean, and West Africa.
The alliance will combine McDermott's SURF fleet, its new derrick lay vessel DLV 2000 and subsea fabrication capability with Petrofac's new deepwater JSD 6000 installation vessel, currently under construction.
JSD 6000 is designed for ultra-deepwater pipelay, subsea lowering and above surface construction work, through its combined j-lay, s-lay, and ultra-heavy lift capabilities.
INTECSEA lands Buckskin/Moccasin FEED
Chevron has selected INTECSEA to provide engineering and long-lead procurement services for the front-end engineering and design (FEED) phase of the Buckskin/Moccasin development in the Gulf of Mexico. The award comes as an integrated WorleyParsons and INTECSEA team recently completed pre-FEED for the development.
Under the contract, INTECSEA will execute the FEED and procurement services for a subsea tieback from the Buckskin and Moccasin fields to a nearby production facility located in the outer continental shelf of the Gulf of Mexico. INTECSEA offices in Houston will execute the project, with support also coming from the company's office in Hyderabad, India.
Cougar supplies buoy supported riser control system for Balltec use
Cougar Automation has developed and commissioned a control system for Balltec to use on the first buoy supported riser (BSR) system installed on Brazil's Guara-Lula project.
Cougar Automation was commissioned by Balltec to design a dedicated control and automation system consisting of a surface-mounted primary control that powers the movement of the buoy support system via tether adjustment, using a linear chain tensioner. This was required in order to manage the tension in the risers. The system allows surface control of the subsea tensioner system via an ROV. Once over-board, the ROV facilitates establishment of the data pathway to link the surface control to the subsea control modules. The surface control is then used to effect buoy movement as required.
Operated by Petrobras in the Santos basin, the BSR system consists of four submerged buoys each weighing approximately 2,000 metric tons (2,205 tons) which lie around 300 m (984 ft) below sea level.
Deep Blue Engineering plans ROV-based cargo carrier
Deep Blue Engineering Ltd. is developing the Shuttle Sub, a cargo carrier based on the concept of a large ROV with payload capacity, deployed from a support vessel at the surface. As planned, it could be used to conduct a range of installation, heavy-lift, and deployment operations. It will have a modular payload "cartridge" system, making it capable of pipe installation, cable deployment, salvage work, and subsea intervention. Installation functions will be conducted by the Shuttle Sub with no requirement for assistance from a smaller work class ROV during most operations.
Shuttle Sub will be capable of transporting and laying up to 100 tons (90 metric tons) of pipe during each trip from the support vessel. Each pipe will be extracted from the hopper by two manipulators, which can be used to position and align the pipe, and then insert it and make up a connection. To receive a fresh container of pipe, the Shuttle Sub would return to surface. The empty pipe cargo is replaced with a loaded container for the Shuttle Sub to return to the surface and continue with installation. Shuttle Sub is fitted with multiple manipulators, so it will not be limited to installing straight pipe.
Trials are planned for the prototype sub during October 2015.