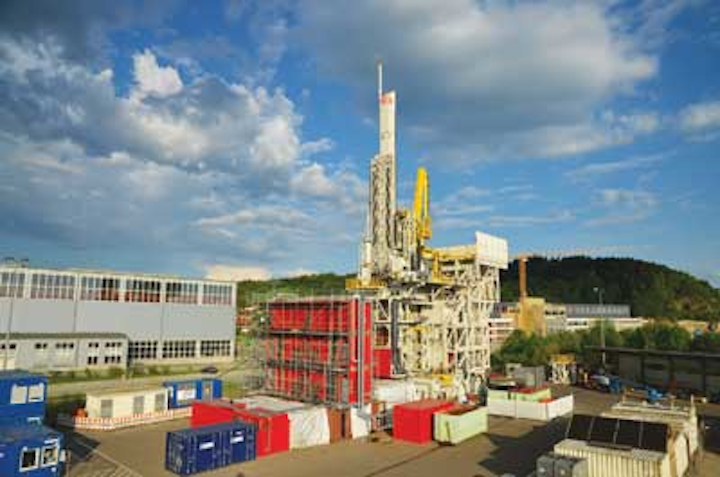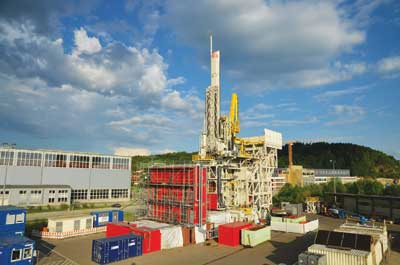 The newArcher Topaz modular rig fully assembled at the Streicher yard in Deggenau, Germany. (Courtesy Archer)
Crew-light rig eases platform personnel constraints
Jeremy Beckman
Editor, Europe
Statoil is preparing the Heimdal field platform in the Norwegian North Sea for an extensive well abandonment campaign, using an onboard modular drilling rig. Archer's new VDD 400.2 rig, the second in the company's fleet, will P&A 12 redundant gas production wells over a two-year period starting in late-2014.
Archer Topaz is a further development of the VDD 400.1 ArcherEmerald, which began its first assignment early last year drilling production wells from Shell Todd's Maui A platform offshore New Zealand, and which is scheduled to mobilize to the UK central North Sea early in 2016 for development drilling from Talisman Sinopec's new MonArb platform. Max Streicher's drilling division built both rigs in Deggenau, Germany.
Archer's modular rig is designed for swift assembly on most offshore platforms, typically over a period of up to three weeks, using the platform's cranes. Once assembled, the rig can undertake most standard tasks ranging from tophole to cased hole drilling, managed pressure drilling, through tubing rotary drilling, coiled tubing/e-line/slickline intervention, and P&A workover. However, it is lighter and more compact than existing modular or platform rig options, according to Archer, and therefore easier to accommodate on the space-constrained decks of most of the older North Sea installations.
It is also more cost-efficient, the company claims, for most conventional drilling/intervention tasks compared to reactivating or replacing a disused platform rig (along with the associated re-certification issues), or hiring a jackup or mobile offshore drilling unit. The drill crew compliment is relatively light, with 17 people needed to assemble and operate the rig, freeing more bed space on the platform for simultaneous maintenance and other programs. In Heimdal's case, there is a high level of congestion at present as the platform will also receive gas produced from Statoil's Valemon field development toward year-end.
The VDD 400 Super Single Rig series comprise three main components: the drill floor and associated equipment, the active mud system, and the power generation system. The rig and mud system typically occupy a footprint of 14 x 12 m (45 x 39 ft) and weigh around 890 tons. The footprint (and weight) of the power generation system varies depending on the available power supply on the platform. On Heimdal, the power package, including control rooms and HVAC equipment, weighs 128 tons.
Both the existing VDD 400 rigs are driven by rack-and-pinion systems, a new concept for North Sea drilling. Streicher, previously a specialist in land rigs, originally developed the technology early in the previous decade for horizontal drilling, including under river crossings, and later worked with Shell on a vertical format suited to onshore oil and gas wells in the Netherlands. Design and construction of the first modular offshore version, VDD 400.1, began in 2008.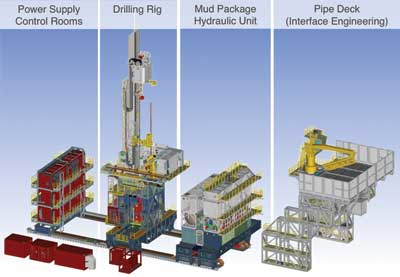 Overview of modular drilling rig VDD 400.2. (Image courtesy Streicher Group)
Aside from Deggenau, Streicher maintains yards near Berlin and in the Czech Republic that supply skids for the rigs. "This spread of facilities allows us to meet tight order schedules," said managing director Peter Romanow. "We also engineer and produce our own top drives (up to 200 tons) and our own hoisting systems."
According to Andreas Beck, Streicher's head of design and development, the VDD 400 series features an automated pipe handling system that can deploy single drill pipe Range 3 lengths, up to 14.5 m max, with 400-ton pull capability below the 190-rpm top drive. "Construction of the rig is fully modular, with a maximum module weight of 12 tons, so it is easy to lift the equipment onto a platform even in bad weather. If the platform's crane allows for heavier loads, complete packages can be lifted to save rig-up time, which is typically around three weeks."
All modules, including the self-erecting mast system, are certified and tested according to DNV's 2.7-3 standard for offshore lifting.
The VDD 400.2, which will initially work for two years on Heimdal in P&A mode, provides a maximum hoisting capacity of 363 tons, a maximum hoisting speed of 148 ft (45 m) per minute, and a maximum pushing capacity onto tubulars of 90 tons, thanks to the rack-and-pinion drive system. The rig can be moved on two axes and provides an optimal access to different well slots. The rig has a 19-m (62 ft) clear working height, ample for all casing/tool running operations.
The 28-m (91.8-ft) high mast comprises five main segments. On the back of the mast are two drag chains containing all hydraulic power supply/kelly hose mud supply lines, with no sections left to swing free on the drill floor, reducing the risk of injury to personnel. The pipe handling system, which has been adjusted to suit the limited space on the Heimdal platform (and the lack of an available pipe deck) can accommodate tubulars in diameters ranging from 2.5 to 20 in. Up to 150 tons of tubulars can be supported on the 220-ton pipe deck: these are lifted up by the pipe-handling crane (manually operated) and transferred to the pipe feeder machine; thereafter, deployment of the pipes is performed automatically by a PLC. "During this process safety arms close around the tubulars," Beck explained, "so if something goes wrong, the drill pipe cannot fall from the drill floor."
The BOP stack and well control equipment are rated to 10,000 psi. Other drill floor equipment includes a 37½-in. hydraulically driven rotary table, an automated Unitong casing/tubular running system (no specialist casing crew required for operation, and no need for separate rig-up to perform these tasks); and a poorboy degasser. The drillers' cabin features two control chairs and provides three modes for operation – drilling, mud systems, pipe handling and the auxiliary winch – with simultaneous remote monitoring from Archer's offices in Stavanger, Norway. Anti-collision systems incorporated in the drilling control systems reduce the likelihood of human error.
Down on Level 4 is the 5,000-psi mud package, comprising four 9.5-ton 750-hp mud pumps, modified by NOV to suit the 12-ton lifting limit; five 98-cu m (3,461 cu ft) mud tanks configured in four tank modules because of space constraints; two hydraulic power units for redundancy, in case one is out of service or undergoing maintenance; two shale shaker modules, each with a flow rate of 3,410 l/min (900 gal/min); and several trip modules.
On the ground-floor level is the power generation package – power for the VDD 400.2 will be supplied from the Heimdal platform and directed to the rig's two 1.75 MVA transformers. The electrical control room features two PLC systems, with an early warning system issuing a prompt if an item of equipment is about to fail, allowing spares to be ordered in advance. A CCTV system operates above the pipe-handling equipment, at the BOP deck, and over the mud pumps, shale shakers, and drill floor.
Following delivery of the rig in June, assembly offshore was due to start in August, mainly using the Heimdal platform's 30-ton lift capacity south crane. According to Beck first to be installed will be the power generation package on the north and east side of the wellbay, followed by the drag chains to connect the power and hydraulic cables to the rig, and then the mast, drill floor and pipe handling equipment. For the BOP control unit, Archer had to add minor support frames within the rig base structure as Statoil now needs the unit's original site for other purposes. These sections will then be skidded to the north to allow for installation of the mud package, block by block, with connection of the drag chains up the mast representing the final piece of the jigsaw. The completed rig will be able to skid in four directions, allowing it to access all well slots.
According to John Lechner, Archer's president North Sea region, the modular rig on Heimdal could be adapted at a later stage for other drilling tasks if required. It is built to Norsok Type 1 standards, with a rated drilling depth to 6,500 m (21,320 ft). "On Maui A, the Archer Emerald drilled three development wells, the longest being 6,534 m (21,431.5 ft)," Archer said, "but there is nothing to stop us using these rigs to go out to 8-10,000 m (26,240-32,800 ft) as well as anyone else."