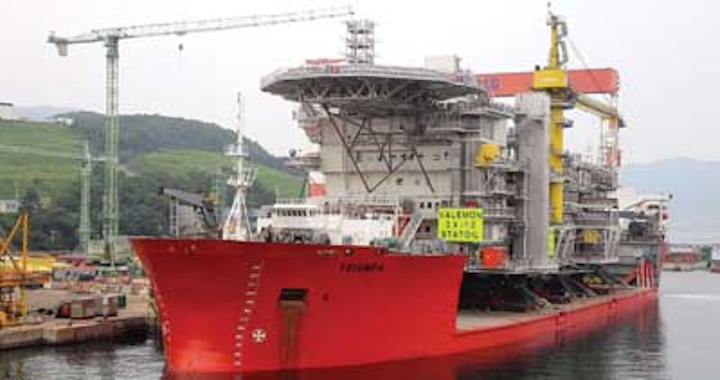 Displaying 2/2 Page 1, 2
View Article as Single page
Heerema also built a 201-metric ton (221-ton) wellhead module which was installed along with the jacket. North Atlantic Drilling's jackup West Elara began drilling through this module in October 2012. Drilling with a mobile rig allowed some of the wells to be pre-drilled prior to the topsides installation, which means that Statoil will be able to bring the field onstream at plateau.
The base case drilling program comprises 11 producers deviated at an angle of 30-40º through the reservoir section. There is also one shallow injection well for injecting drill cuttings and another for produced water. Thus, the Valemon field is a "green" development with minimal emissions to sea, Laastad claimed.
"The drilling operations are progressing well, and we plan to have finalized four production wells and the two shallow injectors by the time production starts later this year," said Laastad. "Furthermore, most of the conductors have been driven. We will have a drilling stop caused by the offshore hook-up work, and the drilling operations will continue when the relevant hook-up work is finished and before production starts."
Samsung Heavy Industries in South Korea fabricated the 9,700-mt (10,692-t) topsides, with the Agility Group (ex-Grenland), in Norway and Technip in Malaysia providing engineering. Hertel Marine's yard in Rotterdam built the 40-cabin living quarters. In mid-June the completed topsides set sail on the newbuildDockwise Triumph heavy-lift vessel for Norway, where it was expected to arrive in late July/early August. It was due to be installed by Saipem crane-barge S7000 in the first half of August. Agility Group is responsible for the platform hook-up, under subcontract to Samsung.
The base case in the development plan was to remotely control the platform from the neighbouring Kvitebjørn field, while also considering remote operations from shore. Following PDO approval, the Valemon license performed a concept selection process and selected remote operation from Statoil's Sandsli office, near Bergen as the optimum solution. Valemon will be the company's first platform remotely controlled from shore -- the Huldra and Sleipner B installations are also remotely controlled, but from other platforms. A 15-man crew will visit every six weeks for a fortnight's maintenance.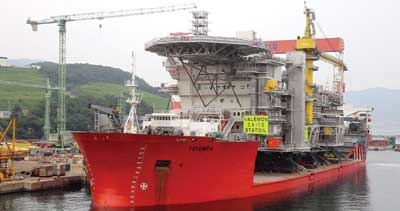 The Valemon topsides prepare to leave the Samsung yard in June on the heavy-lift vesselDockwise Triumph. (Photo by Ben Weller, courtesy Statoil)
Export solutions
Valemon's rich gas will be exported through a 28-km (17.4-mi), 22-in. pipeline to the existing 148-km (92-mi) gas line from the Huldra platform to Heimdal – the subsea connection is roughly 700 m (2,296 ft) downstream of the Huldra platform. As Huldra is due to cease production shortly, this project allows Statoil to keep the transport infrastructure in service.
Condensate will be exported to Kvitebjørn via a 10-km (6.2-mi), 8-in. pipeline. Allseas'Lorelay laid the pipelines in 2013. Power from Kvitebjørn will be imported through an 11.5-km (7.1-mi) subsea cable supplied by Parker Scanrope and installed earlier this year by Technip's Siem Daya 1.
An extensive modification program is under way on Heimdal to prepare the platform to receive Valemon's gas flow. Although several smaller gas fields are already tied back to Heimdal, Valemon will help fill the platform's capacity and prolong its operations as a processing and export hub. "Putting the gas through the Huldra pipeline and using existing infrastructure at Kvitebjørn and Heimdal have helped to reduce the costs of the Valemon field development," Laastad pointed out.
Plateau production in the base case will last for about four years. At some point pre-compression will be introduced to boost production. According to studies made for the PDO, this will take place in December 2019, but the decision on timing will be re-examined once production experience has been gained, Laastad said.
Valemon North, which is roughly 10 km (6.2 mi) north of the Valemon platform location and comes under the Valemon unit, was discovered this year by exploration well 34/10-54S and a side track, 34/10-54A, both drilled by the semisubmersibleTransocean Leader. Reserves are estimated at 20 to 75 MMboe. This is another challenging reservoir – complex and fragmented, with varying pressures and high temperature. Feasibility studies have been initiated to identify the best development solution.