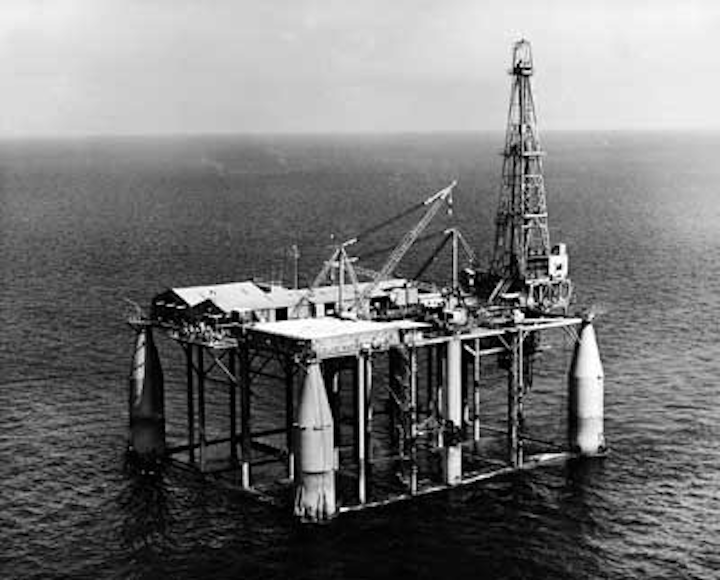 Shell's leadership in the 1960s paved way for deepwater development
Tyler Priest
University of Iowa
The first question people often ask about the history of offshore oil is "when did it all begin?" The answer is elusive. Do we place the origin in 1896, when real estate speculator H.L. Williams promoted the drilling of the first wells in the ocean, from piers built off Summerland, California, into the Santa Barbara Channel? Or did it happen five years earlier in Ohio, where the first oil well completely detached from land was drilled in a manmade reservoir called Grand Lake St. Mary's? Do we date the birth of the offshore industry with the Creole platform, the first freestanding platform in the ocean, completed in March 1938 by Pure Oil and Superior Oil, a mile-and-a-half offshore and 13 mi from Cameron, Louisiana? Or does the honor go to Kerr-McGee's Kermac 16, the first well "out-of-sight-of-land" that began producing oil on Nov. 14, 1947, 10.5 mi from the shore of Louisiana's Terrebonne Parish?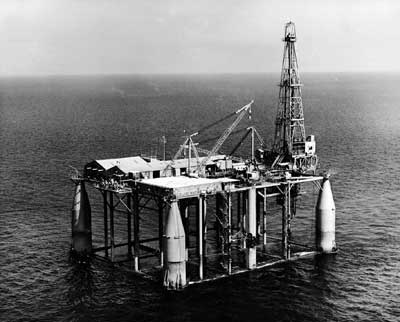 In January 1962, Shell spudded a record-setting offshore well in 297 ft of water in the Gulf of Mexico with theBlue Water 1, the industry's first semisubmersible drilling rig. (All photos courtesy Ronald L. Geer)
A persuasive case can be made for each of these "firsts." But none are technological precursors to the modern offshore oil industry. They all involved some kind of variation of land drilling techniques applied offshore. Such adaptations required great bravery and fortitude, but not the conceptual or imaginative leap that decoupled the rig from the seafloor and made possible the floating operations and subsea engineering of today, which are impossible to confuse with drilling on land.
That leap was first made in January 1962, when a strange contraption under lease to Shell Oil, called theBlue Water 1, spudded a record-setting offshore well in 297 ft of water in the Gulf of Mexico. This was at least three times deeper than wells drilled by other mobile drilling vessels, such as submersibles and jackups. Outside observers struggled to figure out how the Blue Water 1 could remain nearly motionless in those depths on the open seas. The New Orleans papers wondered at length what was happening. Rumors spread that it was sitting on a coral reef. Curious competitors spied from helicopters and workboats. One helicopter even brazenly tried to land on the rig's heliport before it was waved off. Oklahoma senator Robert Kerr, whose company Kerr-McGee was heavily committed to offshore, personally circled the rig for many days, first in an airplane and then in a boat. But like all others, he came away with few clues.
The maiden voyage of theBlue Water 1 took place a month before NASA astronaut John Glenn became the first American to complete an orbit of the earth. Both missions revealed a newfound human ability to explore frontiers beyond the comfort of terra firma. On Aug. 14, 1962, Shell Oil dramatically disclosed the details of its new "floating drilling platform." With an eight-anchor mooring system hidden under the water, this converted submersible was equipped to operate in 600 ft without resting on the bottom. Announcing successful drilling from the platform, Shell also reported technical progress in completing ocean-bottom wells by remote control from the surface.
The unveiling of theBlue Water 1 ended two years of speculation in the industry about what Shell had been up to with its mystery rig and captured national headlines heralding a double technical breakthrough. "Oilmen can now find and produce petroleum from the open sea regardless of depth of water or distance from land," reported the Wall Street Journal.
Shell's Blue Water breakthrough resulted from an exceptional combination of vision and creativity. No longer satisfied with gradually inching out into slightly less-shallow waters, the company's E&P leaders took a calculated risk in the mid-1950s to see if they could redefine the possibilities of finding oil in the ocean.
At that time, many people in the industry had come to believe that offshore development had reached its limits. None other than Shell Oil's New Orleans Vice President Bouwe Dykstra, a tall, steely-eyed Dutchman who had been a driving force behind Shell's successful moves into shallow water, argued that venturing deeper than 60 ft would be folly. Even if it were possible to develop the kind of equipment needed for those depths, he insisted, well costs would be prohibitive. Bothered by both safety and economic risks, Dykstra felt that the company would be better off managing its production in the shallow water.
Head office E&P management at Shell was more sanguine about what was then considered "deepwater." Exploration Vice President Ronald E. McAdams and Executive VP for E&P Ned Clark trusted in the company's technological capabilities, and they believed that offshore was the only place left in the United States where Shell could stake a competitive position. The other majors had tied up the best undeveloped properties onshore – Socony (Mobil) and Socal (Chevron) in California, Humble Oil & Refining along the Texas Gulf Coast, and Texaco in South Louisiana. For Shell Oil to remain a viable E&P company in the US, moving deeper offshore was imperative.
Soon after becoming executive vice president, Clark created a top-secret program to investigate ways to develop a complete system for drilling and producing in water depths ranging out to 600 ft of water. If Shell beat its competitors in finding the technology for deepwater exploration, the company could obtain leases at very reasonable prices for tracts that nobody else was prepared to develop. An inventive and enterprising young naval architect in the program, Bruce Collipp, immediately went to work designing and building scale models of ideas he had for drilling platforms that would float, partially submerged, in the water. These, he believed, would provide greater stability than theCUSS I, the ship-shaped drilling vessel with which Shell and a consortium of other companies (Continental, Union, and Superior) had been experimenting with off California.
Upon publication of the initial Call for Nominations for the 1960 federal lease sale in the Gulf, the head of Shell's New Orleans legal department, George Schoenberger, convinced the Bureau of Land Management (BLM) to withdraw the call and issue a new set of leasing maps with deeper acreage out to and beyond the 300-ft depth contour. With Shell's assistance, the BLM redrew the maps with "south additions" to all the old original blocks off Louisiana and issued a new call for nominations. It was a big sale. Offshore operators spent $285 million in high bids for tracts offshore Texas and Louisiana, more than double the amount spent in any previous sale. Shell Oil acquired a number of tracts in the Grand Isle Area South Addition, where no other company planned to drill.
The head office ordered up a floating drilling platform to evaluate its new deepwater leases. Time was short, however. The exploration managers wanted to drill and obtain information on these leases before the next scheduled lease sale in March 1962, which was going to be even bigger than the last.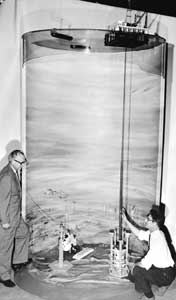 Shell engineers discuss the future of deepwater development as they review a scale model of theBlue Water 1 and the Remote Underwater Drilling and Completion System (RUDAC).
Building a new rig from scratch based on Collipp's experimental designs would take too long and cost too much. Fortunately, Collipp knew of an existing unit that could be converted into a floating platform. It was theBlue Water 1, a three-year-old, bottom-sitting, submersible owned by a consortium of four small producing companies called the Blue Water Drilling Corp. With four stabilizing columns resembling monstrous milk bottles, the Blue Water 1 had the desired hydrodynamic properties. The hull pontoons could be filled partway, making them buoyant enough to keep the vessel afloat but heavy enough to sink below the lash of the waves.
Collipp offered to lease the unit from Blue Water Drilling for five years, under the conditions that Shell could make changes to it and that Blue Water had to keep those changes strictly secret. Blue Water's president, Sam Lloyd, readily agreed. TheBlue Water 1 had been idle for about six months, and a five-year contract in those days was unheard of. "Do whatever you want with it," Lloyd told Collipp. "Paint it red and yellow if you have to."
As the conversion neared completion, Collipp met with a US Coast Guard official, Captain McPhall, in Mobile, Alabama, to have the rig certified. But there were no classification guidelines for something like theBlue Water 1. Ships were supposed to be long and pointy and go from point A to point B. But this vessel was roughly square, did not transport cargo, and did not transport people. Therefore, it was not a ship.
When McPhall unrolled the blueprints, he asked Collipp, "What is it?"
"It's like an iceberg," Collipp explained. "You see, all the hulls are underwater."
"I don't know what you are describing to me," replied the captain, "but this thing is going to sink if all the hulls are underwater."
"Well, no," said Collipp, trying his best to describe in simple terms how the vessel would remain afloat. After more discussion, McPhall agreed to register the rig, but he needed to know how to classify it.
"It is kind of a semi-submerged thing," Collipp told him. The term just popped into his head.
"All right," said the captain. "We will list it as a Super Manned Barge-Semi-submersible."
The name stuck, and Collipp would henceforth be known as the "father of the semisubmersible."
The semisubmersible vessel itself was only one piece of the deepwater puzzle, albeit the major one. Other fertile minds recruited into Shell's deepwater program attacked the problem of how the oil would be drilled and produced. The effort began in 1955 with the offshore task force set up at Shell Oil's Bellaire Research Center (BRC) to study the whole field of offshore operations. By 1958, the special development program for the Gulf of Mexico had come to focus on floating drilling and underwater wellhead completion.
The semisubmersible increased the depth of exploratory drilling, but new methods would be needed to produce oil from those depths. In conventional offshore producing operations, the deck of a fixed platform housed the wellhead equipment—the blowout preventer and the assemblage of control valves, pressure gauges, and chokes known as the "Christmas tree"—above the water surface. A conductor connected all this equipment to the bottom. Because platform designs had not even approached the water depths (300 to 600 ft) contemplated by the deepwater program, Shell engineers investigated the possibility of installing, completing, and maintaining a wellhead on the seafloor. Because the practical limit of diving at the time was only about 150 ft, everything had to be done by remote control. Like the semi-submersible, an underwater well represented a giant conceptual leap. But, as Ron Geer, a mechanical engineer who directed the design of the wellhead system, remembered: "We were limited only by our imaginations."
In 1958, Geer joined about a dozen other young engineers, some fresh out of college, at the Shell BRC in Houston to develop the underwater completion technology that would accompany floating drilling in the Gulf. What he and others ultimately created was complex, consisting of many specialized subsystems and components. Frank Poorman was responsible for the special blowout preventers. John Haeber helped put all this together with the wellhead suspension system. Lloyd Otteman and John Lacey designed the structure for guiding all the various components into alignment. Ed Lagucki devised an innovative "through-the-flowline" system of maintaining well production. Bill Foster came up with the instrumentation, and Ray Perner handled dimension control. Bob Carter, Keith Doig, and Art Williams were the overall project managers at BRC during the system and equipment development phase. The engineers invented many kinds of patented tools and equipment for the project.
Douwe "Dee" DeVries, a brilliant mechanical engineer from Holland with broad experience in both refining and oil production, developed all the innovative equipment-handling systems that connected the wellhead to theBlue Water 1. Assisting Collipp in the conversion, DeVries applied the "spider deck assembly" concept, devised by Bill Craig at BRC, under the drilling derrick and developed the riser equipment and controls for the blowout-preventer stack. He also designed, built, and installed the first telescoping joint and buoyancy chamber, which became standard in floating drilling. For motion compensation, he devised an elevator system with two buckets that served as counterweights. "It was a terrific opportunity because money was no problem," recalled DeVries. "But the money we spent was worth it. We didn't just develop existing concepts. We did all this stuff from scratch."
In December 1960, engineers completed a successful shallow-water test of what they called the Remote Underwater Drilling and Completion System (RUDAC). After the successful test, the engineers prepared the system for operation with the convertedBlue Water 1 in deepwater. As the crews sounded the bottom for the official depth of the first well, someone called out "297 feet." "Damn!" Collipp remarked. "Why can't we just move it over a little to 300?" But that was quibbling. The well set a depth record by a long shot.
During the spring and summer, theBlue Water 1 went on to drill six more exploratory wells. Even though most of them did not encounter oil, after seven years and $7 million of research, Shell Oil had finally proven the viability of drilling and producing oil from depths previously unthinkable. When the company loosened the secrecy around the project and announced its findings in August 1962, the offshore industry began to adopt a new way of thinking. As one Shell representative told reporters who visited the rig: "We're looking now at geology first, and then water depths."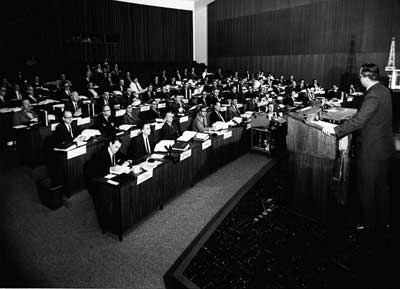 Ron Geer presents details about Shell Oil's RUDAC system at the company's unprecedented three-week 'school' for industry held at the Bellaire Research Center in Houston during January-February 1963.
The successful debut of the RUDAC/Blue Water 1 program gave Shell the confidence to bid on deepwater leases off Louisiana in the historic federal lease sale of March 1962. In this sale, the government had decided to speed up the pace of development. Some 20 operators nominated 3.67 million acres, 6,000 sq mi, most of which was off the coast of Louisiana (30 tracts were nominated off Texas) and in water deeper than 100 ft. Shell was the third highest bidder in money, but it acquired the largest number of tracts, including a few in 300-plus ft of water. With this acreage and its deepwater drilling program, Shell was better prepared than any company in the industry to take the next step offshore.
It was too prepared for its own good, however. On some of the deepwater tracts, Shell was the only bidder. "No one could operate in those depths," explained Ron Geer. "We were five to seven years ahead of the rest of our competitors." Because Shell's bids on deepwater leases did not have any competitors, the government did not honor them. This forced Shell E&P to reevaluate its secretive approach to deepwater research. Senior management concluded that there had to be competition, both to enable Shell to acquire the deepwater acreage and to stimulate the commercialization of the technology. Shell had pioneered a whole new frontier in offshore drilling, but it could not go at it alone. The costs and risks were too high. Other oil companies, as well as suppliers, manufacturers, and construction firms, could progress into deeper waters only together as an industry. "We realized that the only way we could ever have access to those frontier areas was to share our knowledge with the rest of the industry, to give them a base of technology from which they could expand," said Geer. "We'd still be ahead of the competition because of our hands-on experience and besides, we owned 160 patents on the technology."
Thus, in January and February 1963, Shell held an unprecedented three-week "school" on offshore technology for representatives from industry and government at the Bellaire Research Center. The company charged tuition of $100,000 per company, a sizeable amount of money for the time. Seven companies, along with the US Geological Service, signed up for the series on all facets of Shell's deepwater programs. Collipp conducted seminars on floating drilling, and Geer led classes on the RUDAC system and new producing methods. Yet, as the participants discovered, these were not the only technologies Shell had developed. Howard Shatto, a division mechanical engineer from Shell's Pacific Coast Area office, presented other Shell innovations that had been achieved through a parallel program of research and development for the West Coast.
While the Gulf Coast group had been working on the RUDACBlue Water 1 system, Bill Bates, vice president for the Pacific Coast Area, had conceived another approach, working on dynamic vessel positioning with the CUSS 1 and different ideas about making underwater completions. Bates had urged Ned Clark to establish the second research program in order to increase Shell's chances of finding a workable solution to the deepwater dilemma. "The stakes are so high in offshore oil production that we had to be sure we had at least one system which would work successfully," Clark explained.
In March 1961, theCUSS 1 successfully tested the concept of dynamic positioning using manually controlled thrusters to keep the vessel on location. Concurrently, Shell was preparing to outfit a small core drilling ship, the Eureka, with a manually controlled system. But Shatto felt that such a system was too difficult for a human operator to coordinate, and he convinced his bosses to equip the Eureka with an automatic system that he designed. It featured two thrusters and three analog controllers, which evaluated the three basic degrees of motion on the vessel—surge, sway, and yaw—and transmitted its drift-correcting orders to the thrusters.
In May 1961, two months after theCUSS 1 tests, the Eureka began core drilling with great success. Anchored coring vessels of its size took a day or two to set anchors, drill a core hole, and recover anchors. Their water depth was limited to 200–300 ft. By comparison, the Eureka drilled as many as nine core holes in one day and in water as deep as 4,000 ft. Beyond its success in core drilling, it validated the concept of automatic dynamic positioning and initiated a new trend in the evolution of drillships.
Shatto and other Pacific Coast engineers also developed an experimental underwater completion system that addressed the perceived need for diverless operations in a unique way. Code-named MO, for "manipulator operated," the system featured the use of a free-swimming remote-controlled robot "diver" designed by Hughes Tool, which had a mechanical arm capable of turning lock screws, operating valves, and attaching control hoses and guidelines. Driven by propellers and guided by sonar and a television camera, the so-called "Mobot" could be lowered by a wire cable and attached to the wellhead equipment. It then rode around the wellhead on a circular track to perform its tasks.
The dazzling array of new technologies demonstrated by Shell in its three-week "million dollar school," encouraged operators and contractors to tackle ever-increasing water depths and more hostile environments.
Most importantly, they established a new learning curve, redefining what was possible at the time, helping other companies in the industry see the potential of offshore, and fostering a new spirit of technological cooperation. In 1971, Shell received the Offshore Technology Conference's first annual Company Distinguished Achievement Award for its numerous advances in deepwater drilling technology from 1955 to 1967. Bruce Collipp and Dee DeVries were later awarded the prestigious Holley Medal from the American Society of Mechanical Engineers for their contributions to developing the semisubmersible. In 1984, 2001, and 2002, respectively, Geer, Shatto, and Collipp each received the OTC's Individual Distinguished Achievement Award for their pioneering contributions to deepwater drilling and underwater completion technology.
Acknowledgment
Adapted from Tyler Priest, The Offshore Imperative: Shell Oil's Search for Petroleum in Postwar America (College Station, TX: Texas A&M University Press, 2007), pp. 73-99.
The author
| | | |
| --- | --- | --- |
| | | Tyler Priest is associate professor in the Departments of History and Geographical and Sustainability Sciences at the University of Iowa. He is the author of The Offshore Imperative: Shell Oil's Search for Petroleum in Postwar America (Texas A&M Press, 2007), which won the 2008 Geosciences in the Media Award from the American Association of Petroleum Geologists. In 2010 he served as a senior policy analyst on the President's National Commission on the BP Deepwater Horizon Oil Spill and Offshore Drilling. He also serves on the Industry and Technology Pioneer Advisory Committees to the Offshore Energy Center and is a past member of the Scientific Advisory Committee to the Bureau of Ocean Energy Management. |