Displaying 3/3 Page 1, 2, 3
View Article as Single page
Douwe "Dee" DeVries, a brilliant mechanical engineer from Holland with broad experience in both refining and oil production, developed all the innovative equipment-handling systems that connected the wellhead to theBlue Water 1. Assisting Collipp in the conversion, DeVries applied the "spider deck assembly" concept, devised by Bill Craig at BRC, under the drilling derrick and developed the riser equipment and controls for the blowout-preventer stack. He also designed, built, and installed the first telescoping joint and buoyancy chamber, which became standard in floating drilling. For motion compensation, he devised an elevator system with two buckets that served as counterweights. "It was a terrific opportunity because money was no problem," recalled DeVries. "But the money we spent was worth it. We didn't just develop existing concepts. We did all this stuff from scratch."
In December 1960, engineers completed a successful shallow-water test of what they called the Remote Underwater Drilling and Completion System (RUDAC). After the successful test, the engineers prepared the system for operation with the convertedBlue Water 1 in deepwater. As the crews sounded the bottom for the official depth of the first well, someone called out "297 feet." "Damn!" Collipp remarked. "Why can't we just move it over a little to 300?" But that was quibbling. The well set a depth record by a long shot.
During the spring and summer, theBlue Water 1 went on to drill six more exploratory wells. Even though most of them did not encounter oil, after seven years and $7 million of research, Shell Oil had finally proven the viability of drilling and producing oil from depths previously unthinkable. When the company loosened the secrecy around the project and announced its findings in August 1962, the offshore industry began to adopt a new way of thinking. As one Shell representative told reporters who visited the rig: "We're looking now at geology first, and then water depths."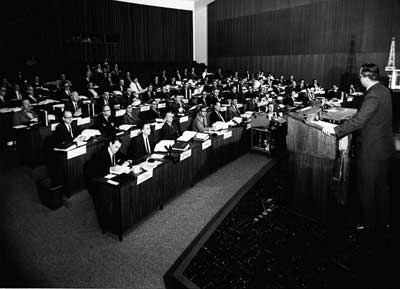 Ron Geer presents details about Shell Oil's RUDAC system at the company's unprecedented three-week 'school' for industry held at the Bellaire Research Center in Houston during January-February 1963.
The successful debut of the RUDAC/Blue Water 1 program gave Shell the confidence to bid on deepwater leases off Louisiana in the historic federal lease sale of March 1962. In this sale, the government had decided to speed up the pace of development. Some 20 operators nominated 3.67 million acres, 6,000 sq mi, most of which was off the coast of Louisiana (30 tracts were nominated off Texas) and in water deeper than 100 ft. Shell was the third highest bidder in money, but it acquired the largest number of tracts, including a few in 300-plus ft of water. With this acreage and its deepwater drilling program, Shell was better prepared than any company in the industry to take the next step offshore.
It was too prepared for its own good, however. On some of the deepwater tracts, Shell was the only bidder. "No one could operate in those depths," explained Ron Geer. "We were five to seven years ahead of the rest of our competitors." Because Shell's bids on deepwater leases did not have any competitors, the government did not honor them. This forced Shell E&P to reevaluate its secretive approach to deepwater research. Senior management concluded that there had to be competition, both to enable Shell to acquire the deepwater acreage and to stimulate the commercialization of the technology. Shell had pioneered a whole new frontier in offshore drilling, but it could not go at it alone. The costs and risks were too high. Other oil companies, as well as suppliers, manufacturers, and construction firms, could progress into deeper waters only together as an industry. "We realized that the only way we could ever have access to those frontier areas was to share our knowledge with the rest of the industry, to give them a base of technology from which they could expand," said Geer. "We'd still be ahead of the competition because of our hands-on experience and besides, we owned 160 patents on the technology."
Thus, in January and February 1963, Shell held an unprecedented three-week "school" on offshore technology for representatives from industry and government at the Bellaire Research Center. The company charged tuition of $100,000 per company, a sizeable amount of money for the time. Seven companies, along with the US Geological Service, signed up for the series on all facets of Shell's deepwater programs. Collipp conducted seminars on floating drilling, and Geer led classes on the RUDAC system and new producing methods. Yet, as the participants discovered, these were not the only technologies Shell had developed. Howard Shatto, a division mechanical engineer from Shell's Pacific Coast Area office, presented other Shell innovations that had been achieved through a parallel program of research and development for the West Coast.
While the Gulf Coast group had been working on the RUDACBlue Water 1 system, Bill Bates, vice president for the Pacific Coast Area, had conceived another approach, working on dynamic vessel positioning with the CUSS 1 and different ideas about making underwater completions. Bates had urged Ned Clark to establish the second research program in order to increase Shell's chances of finding a workable solution to the deepwater dilemma. "The stakes are so high in offshore oil production that we had to be sure we had at least one system which would work successfully," Clark explained.
In March 1961, theCUSS 1 successfully tested the concept of dynamic positioning using manually controlled thrusters to keep the vessel on location. Concurrently, Shell was preparing to outfit a small core drilling ship, the Eureka, with a manually controlled system. But Shatto felt that such a system was too difficult for a human operator to coordinate, and he convinced his bosses to equip the Eureka with an automatic system that he designed. It featured two thrusters and three analog controllers, which evaluated the three basic degrees of motion on the vessel—surge, sway, and yaw—and transmitted its drift-correcting orders to the thrusters.
In May 1961, two months after theCUSS 1 tests, the Eureka began core drilling with great success. Anchored coring vessels of its size took a day or two to set anchors, drill a core hole, and recover anchors. Their water depth was limited to 200–300 ft. By comparison, the Eureka drilled as many as nine core holes in one day and in water as deep as 4,000 ft. Beyond its success in core drilling, it validated the concept of automatic dynamic positioning and initiated a new trend in the evolution of drillships.
Shatto and other Pacific Coast engineers also developed an experimental underwater completion system that addressed the perceived need for diverless operations in a unique way. Code-named MO, for "manipulator operated," the system featured the use of a free-swimming remote-controlled robot "diver" designed by Hughes Tool, which had a mechanical arm capable of turning lock screws, operating valves, and attaching control hoses and guidelines. Driven by propellers and guided by sonar and a television camera, the so-called "Mobot" could be lowered by a wire cable and attached to the wellhead equipment. It then rode around the wellhead on a circular track to perform its tasks.
The dazzling array of new technologies demonstrated by Shell in its three-week "million dollar school," encouraged operators and contractors to tackle ever-increasing water depths and more hostile environments.
Most importantly, they established a new learning curve, redefining what was possible at the time, helping other companies in the industry see the potential of offshore, and fostering a new spirit of technological cooperation. In 1971, Shell received the Offshore Technology Conference's first annual Company Distinguished Achievement Award for its numerous advances in deepwater drilling technology from 1955 to 1967. Bruce Collipp and Dee DeVries were later awarded the prestigious Holley Medal from the American Society of Mechanical Engineers for their contributions to developing the semisubmersible. In 1984, 2001, and 2002, respectively, Geer, Shatto, and Collipp each received the OTC's Individual Distinguished Achievement Award for their pioneering contributions to deepwater drilling and underwater completion technology.
Acknowledgment
Adapted from Tyler Priest, The Offshore Imperative: Shell Oil's Search for Petroleum in Postwar America (College Station, TX: Texas A&M University Press, 2007), pp. 73-99.
The author
| | | |
| --- | --- | --- |
| | | Tyler Priest is associate professor in the Departments of History and Geographical and Sustainability Sciences at the University of Iowa. He is the author of The Offshore Imperative: Shell Oil's Search for Petroleum in Postwar America (Texas A&M Press, 2007), which won the 2008 Geosciences in the Media Award from the American Association of Petroleum Geologists. In 2010 he served as a senior policy analyst on the President's National Commission on the BP Deepwater Horizon Oil Spill and Offshore Drilling. He also serves on the Industry and Technology Pioneer Advisory Committees to the Offshore Energy Center and is a past member of the Scientific Advisory Committee to the Bureau of Ocean Energy Management. |