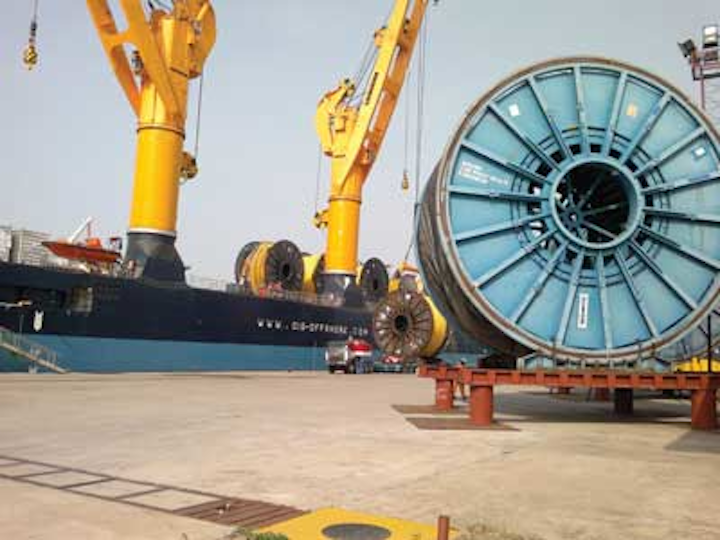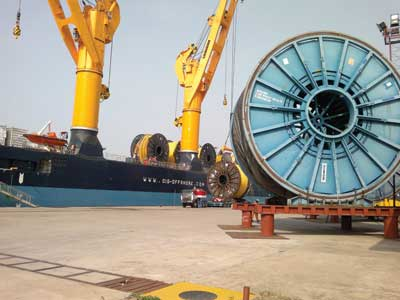 Nigeria's local content drive is expected to generate a boom in facilities construction and employment. (Photo courtesy LADOL)
Impact of new regulation should drive investments and employment
Dr. Amy Jadesimi
LADOL
In 2010, the Nigerian Oil and Gas Industry Content Act, or the Local Content Act as it is commonly called, became law. The act had been 10 years in the making and prescribes minimum thresholds for the use of local services and materials with the overarching objectives of ensuring on-going job creation and improving skills of the local labor force as well as participation and ownership for local Nigerians in the country's developing oil and gas industry. In this way it will ensure investment and growth in an industry crucial to Nigeria's ongoing economic growth.
Since the act came into force its impact has been striking. The Nigerian Content Development and Monitoring Board (NCDMB) reports that from 2009 to the end of 2013 the act's implementation generated $5 billion of investments for the Nigerian economy, and led to the creation of 38,000 jobs in the country's oil and gas industry. The board indicates that billions of dollars which otherwise would have been invested in foreign markets is being invested in Nigeria. This is generating significant new revenue for the economy and offers the chance for the Nigerian market to expand and develop. It also has an impact on Nigeria's GDP growth, and if this continues, Nigeria looks set to follow Brazil's pattern of economic success and will join the G20 within the next two decades.
A new model
The current situation is a marked contrast to the operating environment during the first 50 years of Nigerian oil exploration and production, and represents a new and sustainable model for economic development. The excitement around and the sustainability of Nigeria's current economic development and growth is rooted in the fact that this movement is being initiated, driven, and maintained by indigenous private sector investments.
This is the first time in Nigeria's history that its own people have had this level of control and involvement in this key area of the economy. Even those who were previously critical and skeptical about Nigeria in general are cautiously optimistic about the potential for Nigerian indigenous private sector driven local job and wealth creation.
The potential benefits to the country are enormous as this could also be a real driver not just of widespread economic growth, but equally for the development of civil and political stability.
The act has generated a sense of ownership of and pride in the oil and gas industry, as is obvious with the boom in the number of domestic investors and operators.
Engineering in Nigeria's oil and gas industry is now done 90% in-country, figures from the NCDMB show. And with an increasing number of facilities and assets owned by indigenous operators, the legacy of the Local Content Act should endure as local capacity and resources such as new fabrication and integration yards, pipe mills, technical colleges, and steel mills, are developed and used.
The largest local content capacity development since the act passed is the building of Africa's largest onshore vessel integration and fabrication yard, at a cost of $300 million. It is funded by LADOL, the only 100% Nigerian logistics base developer and operator. LADOL is building the yard in partnership with Samsung Heavy Industries, which will run the facility and use it for the integration of Total Upstream Nigeria'sEgina FPSO.
The development of this facility is a landmark achievement Nigeria has been trying to reach for almost a decade. Such facilities are strategic in that they create a multiplier effect on jobs and also trigger a significant increase in demand for direct and indirect services and resources – all of which will be developed and provided in Nigeria for the first time. Thus an estimated 50,000 direct and indirect jobs will be generated for Nigerians and billions in investment is expected across the country, thanks to this one facility. Private-sector investors are fasttracking new fabrication yards, steel plants, and engineering schools across the country to ensure that in-country capacity can meet the new local demand created, and can domesticate the lion's share of the estimated $70 billion projected to be spent in Nigeria on new upstream development projects in the next 10 years.
A win-win situation
By retaining crucial resources, building capacity, and developing skills and efficiency in the country, Nigeria is ensuring that it becomes the hub for oil and gas fabrication, engineering, design, repairs, and maintenance work for the Gulf of Guinea.
This first wave of successful local investment and ownership of critical infrastructure will attract a new cadre of high quality, long-term foreign companies and investors, who recognize that Nigeria is fulfilling its potential.
The enhanced infrastructure and state-of-the-art facilities which the Local Content Act has empowered the Nigerian private sector to create is an advantage to multinationals in the oil and gas and offshore industries looking to operate in West Africa. The pressure is on to develop enough highly skilled indigenous workers to enable these companies to set up easily and to operate without compromising efficiency and cost while relying on local facilities and infrastructure.
The sustainability and rapid growth also depends on the effective alignment of private Nigerian, private international, and government interests, which are now aligning in this sector for the first time.
Another example of the Nigerian government's commitment to achieving such alignment is its support of Free Zones, which are under the management of a new managing director, Gbenga Kuye, previously a banker, who has a government mandate to overhaul Free Zones and to make them havens for attracting foreign investment.
Securing local and international private investment also requires that the local facilities and infrastructure are run in partnership with international technical partners. The highest profile partnership is LADOL with Samsung, and several others are in the pipeline.
Nigeria is already seeing the benefits of this new cross-border alignment of public and private sector interests, with Shell recently saying that Nigeria could soon be its highest spend area in the world, with potential investments of $40 billion.
A bright offshore future
The Local Content Act comes with challenges, as does every significant change in governance and business practices. Having sufficient domestic human resources to staff the nascent oil and gas industry requires the training and up skilling of tens of thousands of workers in the country. This will cost both time and money in the short term, and some people will question whether this is a benefit when work can be outsourced relatively easily.
The real benefit of this domestic investment and development model will come in the medium to long term – both for Nigeria's oil and gas industry and the multinational companies looking to operating in it – when human and industrial capacity is in place in Nigeria, and when the return on investment for all stakeholders increases by several multiples. The long-term economic impact will be felt across all sectors of the local economy, improving the quality of life for locals and foreigners in Nigeria and West Africa. Soon, there are expected to be an increasing number of successful domestic companies operating across the region.
A stable and wealthy Nigeria will also be a boon to the global economy, with the evident commercial benefits of the more than 100 million consumers in Nigeria alone, as well as the likely positive impact that will flow to Nigeria's neighboring countries which take their cue from and are heavily influenced by Nigeria.
Nigeria has always had huge potential and largely untapped wealth. With the local private sector now empowered by the government to deploy that wealth, it is clear that the benefits will flow not only to Nigerians but also to the entire West African region and the world.