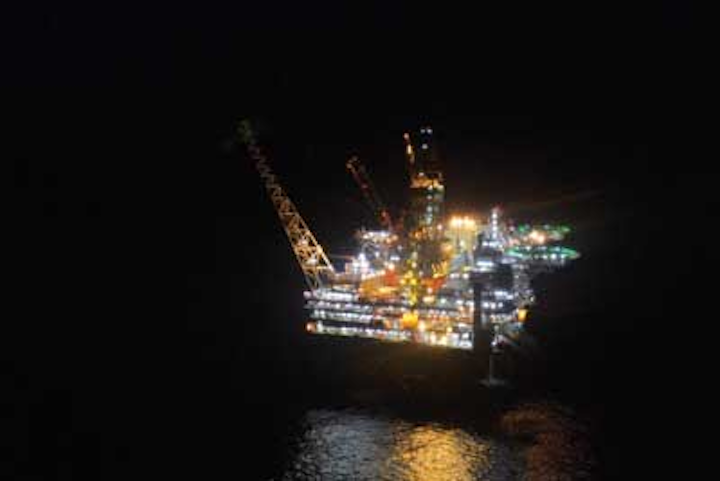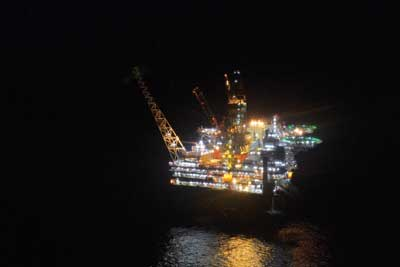 The Gudrun platform in the North Sea.
Project is the first Statoil-operated platform to come onstream since 2005
Robin Dupre
Sr. Technology Editor
Statoil ASA and its partners commenced production of the $3.4 billion development of the Gudrun oil and gas field in the North Sea on June 16, 2014, making it the first new Statoil-operated platform to come onstream on the Norwegian continental shelf since 2005.
Discovered in 1974, Gudrun is a high-temperature/high-pressure field that remained undeveloped for decades because new drilling technology was required to exploit it. Once the needed technology was born, Statoil hit the drawing board to engineer a fully constructed platform standing independently in the North sea. The operator expects to recover 184 MMboe from the field during its lifetime.
The field leverages existing infrastructures, with an export connection to the Sleipner A platform. Its expected peak production is about 90,000 boe/d. Statoil submitted Gudrun's plan for development and operation (PDO) in 2010 and received approval in June 2011. At the time of submission, Gudrun was Statoil's only mega-project (investments in excess of $1.7 billion).
"We delivered the Gudrun field on time and below the cost estimate in the PDO. Choosing a global strategy for Gudrun contributed to reducing the costs," said Margareth Ovrum, head of the Technology, Projects and Drilling business area in Statoil.
Gudrun's reservoir is located at a depth of 13,780-15,420 ft (4,200-4,700 m), and originates from the Jurassic Age. The pressure in the reservoir is about 860 bar (12,473 psi) and the temperature approaches 150°C (302°F). The need for new drilling technology of an HP/HT was the reason its reserves were left in the bank for such a long time, Statoil noted.
The field holds an estimated 26 bcm (918 bcf) of gas and 30 MMbbl of condensate. It was developed with an integrated processing platform with wellhead facilities and separation of gas, liquids, and water. The platform produces from seven production wells, including Gudrun Ost, a discovery made after the plan for development and operation of the Gudrun field was submitted. Its topsides has slots for 16, making it possible to incorporate new discoveries in the future, which is very likely given Statoil's penchant for fast-tracking developments using existing infrastructure.
Situated in production license P 025, the Gudrun field is located about 34 mi (55 km) north of the Sleipner installations in a water depth of 357 ft (109 m). Oil and gas is sent to the Sleipner platform, where it is processed before the oil is sent on to Kårstø and the gas to Europe, all through existing pipelines tied in to Sleipner. Sleipner A will also supply power to the Gudrun platform.
"This allowed us to benefit from previous investments made on the Norwegian shelf," Ovrum explained. "The Gudrun concept is a win-win situation. By using existing infrastructure, the Gudrun development costs less and Sleipner gains an extra customer. Gudrun's start-up came at the perfect time."
Modifications were carried out on Sleipner and at Kårstø as part of the Gudrun project.
Gudrun is operated from Statoil's offices at Vestre Svanholmen in Sandnes, Norway, and is the first new field Statoil operates from the Stavanger region since Sleipner in 1993. Statoil has a 46.8% stake, Marathon Oil Corp. holds 28.2% and GDF Suez SA holds 25%.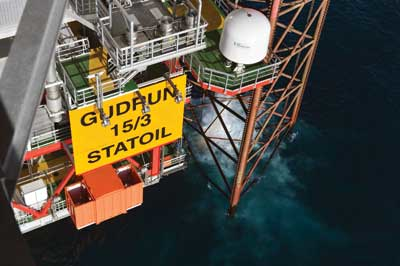 The Gudrun platform. (All photos courtesy Harald Pettersen, Statoil)
Project progress
The field was developed with a fixed processing platform supported by a 7,400 ton (6,713 metric ton) steel jacket, which was built at Kvaerner Verdal. The living quarters and helideck were constructed by Apply Leirvik at Stord. The contract included the delivery of a new living quarters module and a capacity of 40 single cabins, an administration center, central control room, and all other necessary facilities required for operation of an offshore camp. The living quarters and helideck were constructed in aluminum, and the design of the structure had to be low in weight with minimum maintenance in operation, and environmentally friendly.
In June 2010, Statoil awarded Aibel a contract to engineer and construct the platform deck, processing facility and to mate the deck with the steel jacket. The topsides were built with a process facility for partial treatment of oil and gas. Aker received a contract to construct the steel jacket, and Saipem received a contract for transport and installation of the platform jacket and topside facilities in June 2010. The company used its semisubmersible crane vesselS7000 to carry out the installation work.
Statoil laid 70 mi (112 km) of pipeline, as well as a 34-mi (55-km) cable on the seabed between Gudrun and Sleipner for electricity.
"On a scale of one to 10, this project is a nine," Construction Manager Askild Mokleiv said, pointing to the large number of people involved and all the supervision of various yards and subcontractors required.
The Gudrun structure is a cut-down version of earlier development concepts, and lacks a drilling derrick, noted Mokleiv. Vertical columns on the jacket mean a rig can slide next to the platform and extend its derrick over the topside well slots.
"Dry wellheads are very important in a high-pressure and temperature field like this," explained principal engineer Petter Gundersen at the Norwegian Petroleum Directorate. Gudrun could just as easily have been a subsea project, he notes, but the wellheads would then have been wet with interventions and workovers being more expensive and complex. By predrilling wells, production can start earlier, he added.
Gudrun was originally expected to stay onstream until 2016, but its producing life has now been extended by four years – partly because of the decision to develop Gina Krog.